Best Fashion Moments & Trends of the 1960s Influencing the Way We Dress Today
When it comes to fashion, not many decades can rival the sartorial impact of the 'Swinging Sixties.'
Drawing inspiration from the 'Space Race' of the Cold War, popular SCI-FI series, and the second wave of feminism, 60 fashion was all about self-expression and creativity.
For women, the 60s fashion revolutionized the concept of womenswear, bending gender norms with radical looks, bold colors, and a rebellious attitude.
With The Beatles leading the way, the 60 fashion for men was artful and defined by fun hues, moving away from the classic and proper looks of the past decade.
London's Modernists' social and stylistic movements took over in England, while hippie fashion was booming in the US as a visual protest against war and violence.
Covering the most iconic fashion trends of the 1960s, time to explore the impact music and art had on 60s men's fashion and gain inspiration from the 60s fashion hippie movement.
---
1
/15
The Skirt Suit
Ladylike wool skirt suits began to showcase lasting power with multiple color variations taking over 60s women's fashion.
Structural, polished but feminine, the suits consisted of a-line skirts and straight pencil skirts that ended right at the knee, accompanied by boxy jackets to create a long-necked effect.
Popularized by America's First Lady, Jacqueline Kennedy – often spotted wearing blue, yellow, lime green and white – the 60s fashion skirt suits became a status symbol that spoke of feminine ideal with a Parisian flair.
Prominent fashion designers like Givenchy, Paco Rabanne, and Balenciaga accessorized this beloved 60s fashion women trend with white gloves, pearls, and matching hats.
---
2
/15
Youthful Minidresses
Era-defining youthful minidresses in the 60s became an ode to rebellion, representing not just a fashion statement but a shift in societal dynamics.
Hemlines tend to shorten with the times, and during the 60s women's fashion era, body-skimming, youthful mini dresses gained international superstardom.
Women were rocking minis that fell at the upper thigh, mingling and dancing to The Beatles and the Rolling Stones.
The trend peaked in "Swinging London," the mecca of art, music, and fashion.
Youthful psychedelic prints in vibrant colors epitomized women's freedom of expression, creativity, hedonism, and excitement.
Often styled with mid-calf boots, mid-sized stacked heels, and Mary Janes, 60s minidresses were dopamine-inducing, sultry-dressing looks that defied the older generation and fashion traditions.
---
3
/15
1960s Hippie Style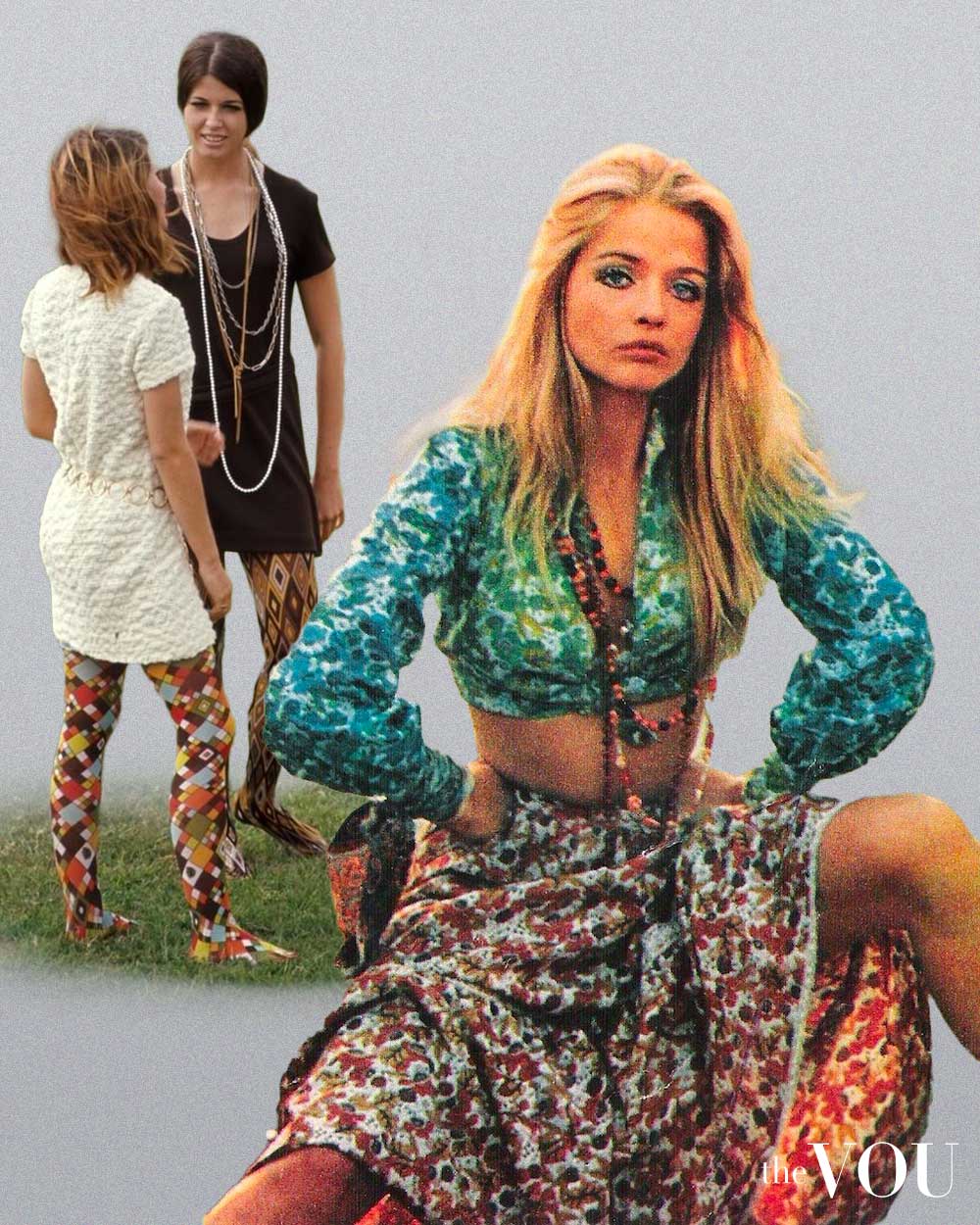 In bold prints and brighter colors, the 60s hippie fashion became a symbol of anti-fashion and rejection of the status quo.
Popularized by the times' icons of fashion, the hippie style was colorful and had a spiritual feel that represented peace and love.
The children of "flower-power" protested against war, civil injustice, and other social issues with a sense of style reflecting strive for change.
Floral, tie-dyes, geometric prints that tapped into psychedelic territory, suede knee-high boots, sandals, and micro-mini skirts defined women's looks in the 60s.
Beaded jewelry adorned the wrists and necks of both men and women, with 60s men's fashion focusing on bell-bottoms styled with a bell or flared sleeve blouses.
Bright prints, kaftans, and florals were not a women-only affair anymore but a staple of every men's outfit in the 60s.
---
4
/15
Colorful Menswear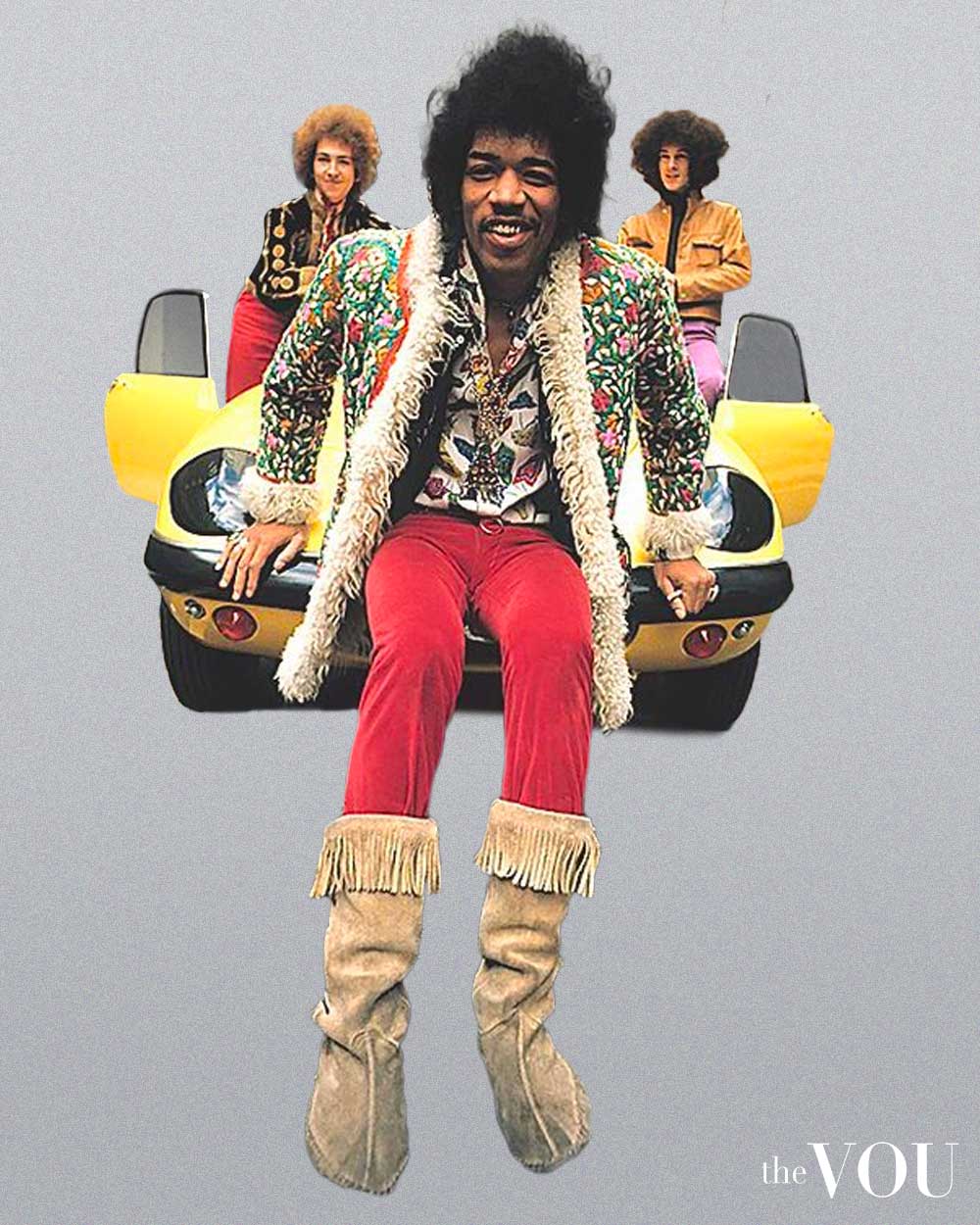 As music permeated the 60s fashion sphere, the iconic Teddy boy look took over men's fashion bringing paisley suits, shirts, and trousers with floral patterns.
During the 60s hippie fashion era, collarless shirts and sandals styled with fringed jackets were all the rage, showcasing clear Indian influences and a relaxed, nonchalant feel.
The Beetles led the colorful menswear revolution in the 60s, making leather jackets, tailored mod-suits, and kaftans the new stylistic norm.
Another 60s men's fashion staple was the Beatle boot; the Cuban-heeled, ankle-high boot reached top popularity in the 60s fashion trends thanks to the English rock group.
---
5
/15
Leopard Prints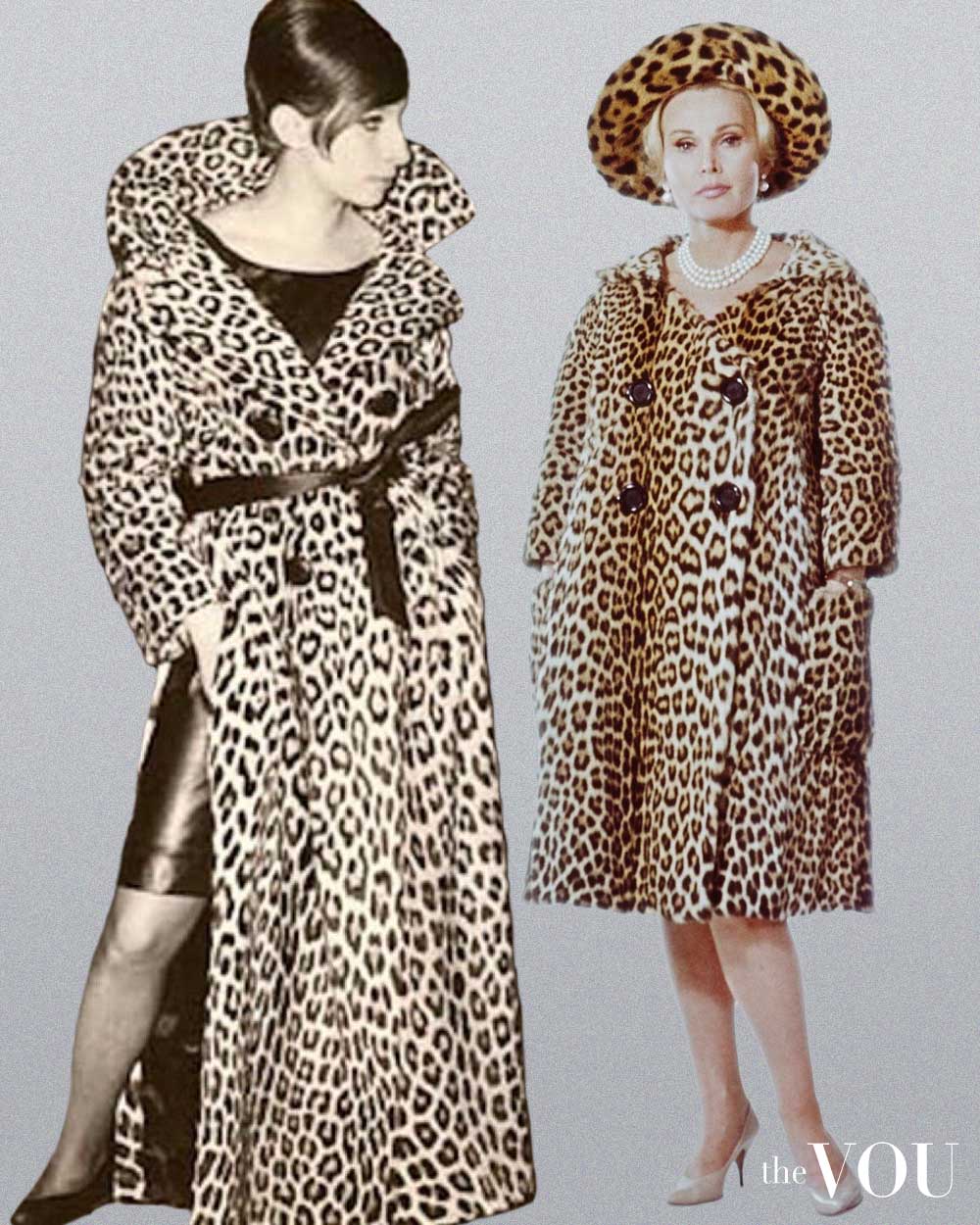 Another popular casual wear trend of the mid-sixties was the women's dresses in cheetah and leopard.
Made famous by style icons like Brigitte Bardot and Elizabeth Taylor, women of the sixties led the way with head-to-toe leopard ensembles.
With fur hats, mini skirts, knee-length coats, flat shoes, and gloves, this 60s women's fashion trend was so popular that the American singer-songwriter Bob Dylan wrote "Leopard-Skin Pill-Box Hat" as a style tribute.
---
6
/15
Bandana Headscarves
Bandana head scarves with polka dots, geometric prints, and monochrome versions were a considerable part of 60 black fashion which also became a part of the 60 fashion hippie aesthetic.
1960s Christian Dior campaign featured long silk scarves with bright prints tied around the hair, and many 60s Hollywood stars adopted the look aright afterward.
Classy, modern women recreated the look with loosely-tied headpieces for all occasions, often styled with oversized sunglasses.
---
7
/15
The Space Age Vinyls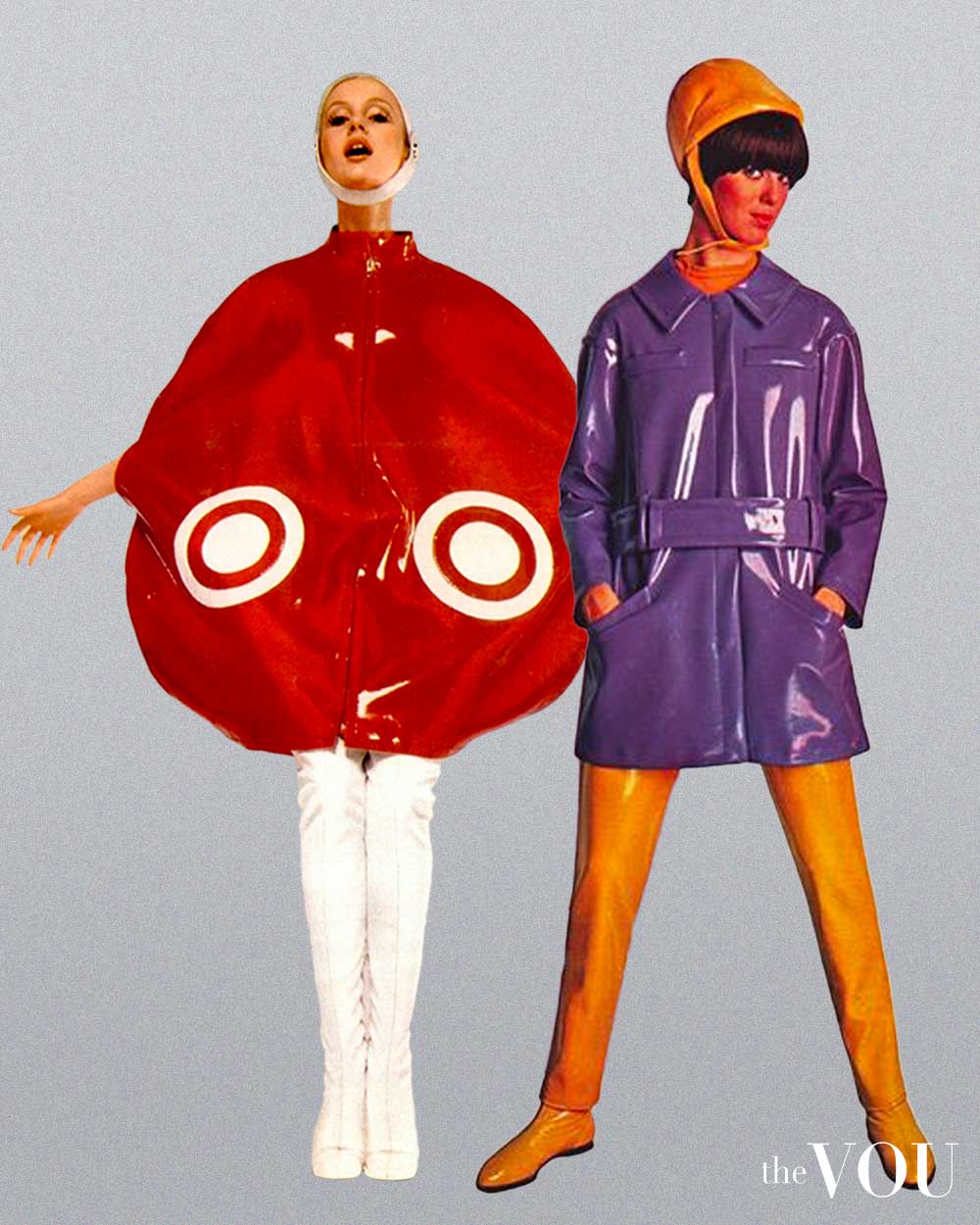 British designer Mary Quant was the first couturier to use PVC fabric in her 1960s fashion collections for women.
The trend caught the masses' imagination, and soon after, many more high-end designers and creatives like Andre Courreges, Pierre Cardin, and Barbara Hulanicki embarked on the trend.
60's vinyl trench coats in bright colors dominated the era with architectural shapes and clean-lined geometric patterns ranging from square to circular.
Mini skirts, shoulder bags, and shiny white boots were spotted on celebrities like Joanna Lumley, Britt Ekland, and Brigitte Bardot.
---
8
/15
Androgynous Clothing
The first signs of power-dressing began to appear during the 1960s women's fashion revolution that changed the gender norms.
Pop and rock music artists assisted in creating the gender-bending fashion looks, from Mick Jagger wearing the 'man's dress' designed by British designer Mr. Fish, to Barbra Streisand, Diana Ross, Cher, and Tina Turner, hailed as 60s fashion icons.
Yves Saint Laurent's radical tuxedo designs, Le Smoking, reflected the need for women to take on a more 'aggressive' role amidst the second wave of feminism.
An androgynous fashion look at the core, the signature style 'Le Smoking' suit consisted of classic wool (or satin) dinner blazer, trousers, a white shirt, bow tie, and a satin cummerbund.
---
9
/15
Sequin Dresses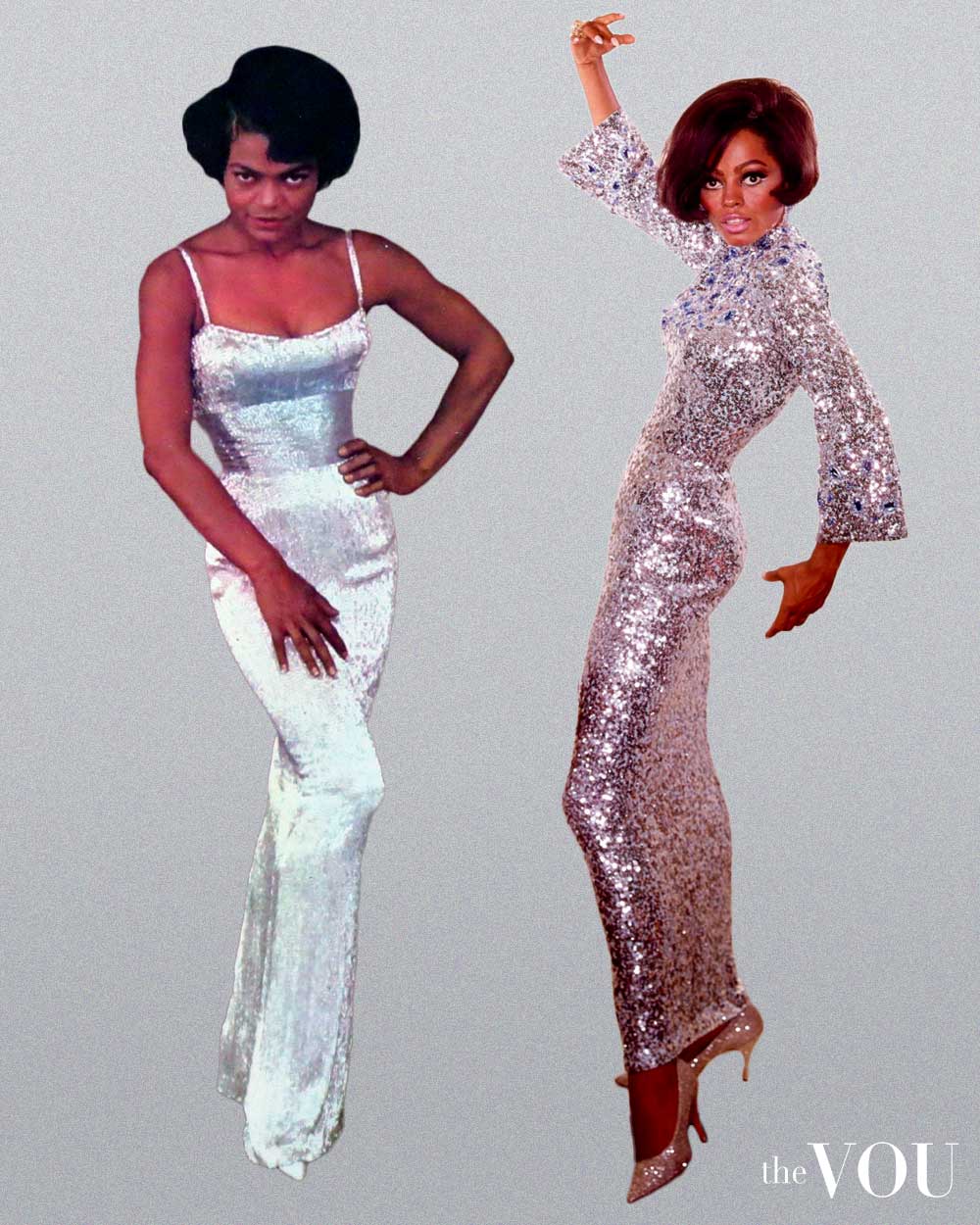 One thing that the 60s women's trends didn't lack was glamour, as evening wear in crystal beads and sequin embroidered dresses are evidence.
Thanks to The Supremes, who popularized shimmery dresses, glitter, gold, and silver lame took over women's eveningwear of that decade.
Moving on from the classic black dress look of the previous decade, colorful clothing was all the rage in the 60s.
Colors permeated even the eveningwear, with vivid red, dark purple, bright pink, and green being the most prominent hues.
---
10
/15
Color Blocking
The 60s trends are also credited for introducing color blocking not only for women but also for men seeking the freedom of self-expression.
Yves Saint Laurent debuted the trend with a Piet Mondrian-inspired sack dress, which later inspired the birth of the British Mod Style trend.
Some of the most popular 60s fashion looks consisted of two to three bold and bright shades with simple cuts, boxy shapes, and geometric lines with a modern, chic flair.
---
11
/15
See Through Sheers
The 60 fashion hippie movement was not the only one that embraced nudity as self-expression.
In the 60s, see-through sheers were paired with bold accessories, sequin dresses, and sheer-topped everything.
Primarily worn in the evening, this 60s-style dress came in nude-colored bodices and had nothing in common with the previous decade of conservative, ladylike elegance.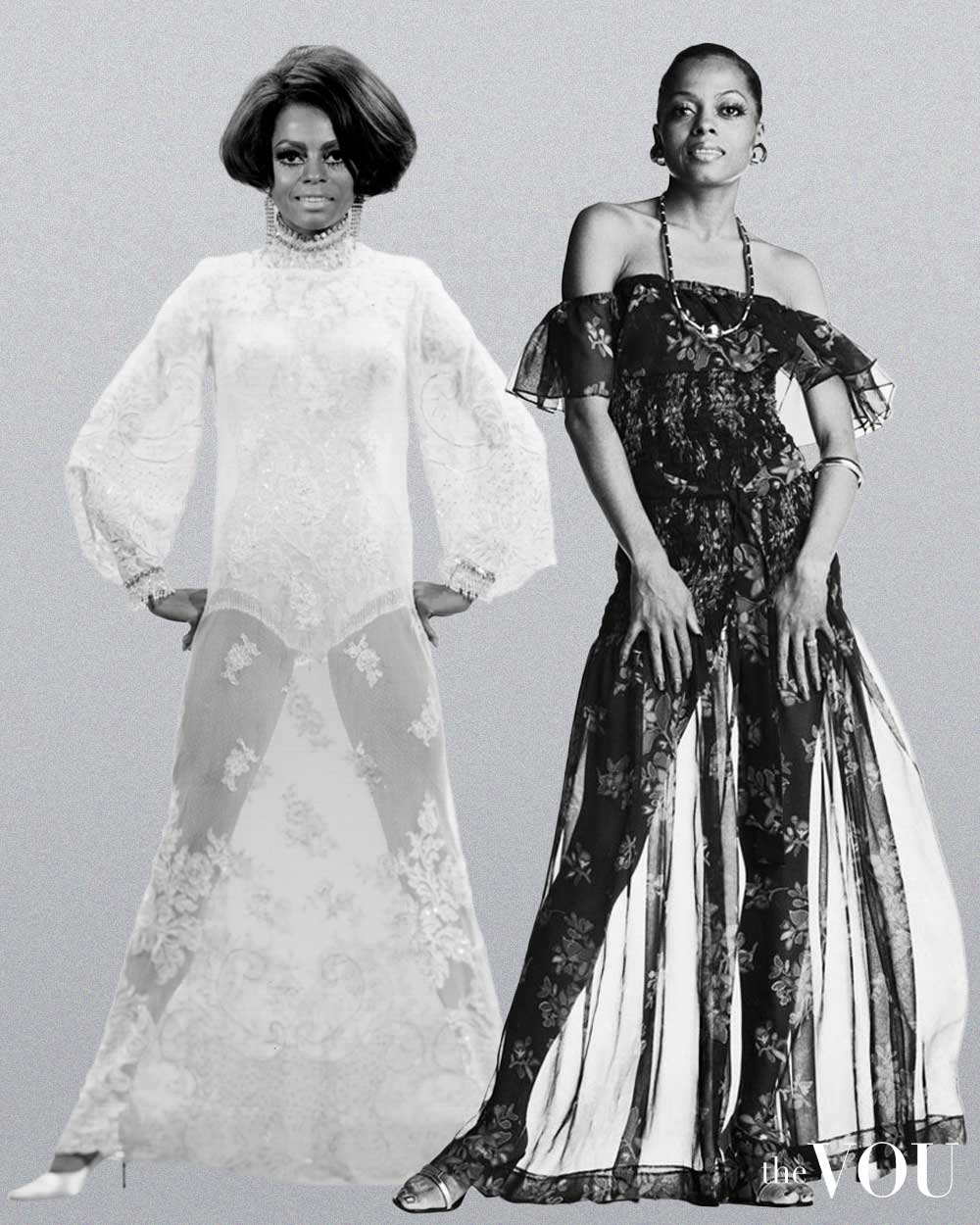 Above all, Yves Saint Laurent's transparent chiffon dress and ostrich feather belt emphasized the chest, giving birth to the 'nude' look that ignited a new approach to 1960s clothing for women.
---
12
/15
The Cut-Out Dress
Cut-out dresses that let the skin peek through, just enough to capture the imagination, were a prominent women's fashion trend in the 60s.
Discrete cut-outs at the back were a morning affair.
In comparison, eveningwear featured double or even triple large cut-outs at the top of the dress and multiple circle cut-outs at the waist or hem.
The Austrian fashion designer Rudi Gernreich and model Peggy Moffitt showcased multiple variations of cut-outs, often in novelty shapes that were stylish and wearable in day-to-day life.
Pierre Cardin's futuristic cut-out dress defined modernity, showing a brand new way to wear cut-outs without revealing too much skin.
---
13
/15
Handkerchief Scarves
Along with bandanas – that reigned supreme in the 60s black fashion – handkerchief scarves in bright colors and bold, printed fabrics were a popular 60s trend.
Paired with an array of ensembles, handkerchief scarves were draped over women's shoulders or tied around the neck like a bib.
Also called silk neckties, handkerchiefs were coordinated with outfits consisting of skirts in leopard print, matching jackets, and oversized glasses frames.
---
14
/15
Chain Belts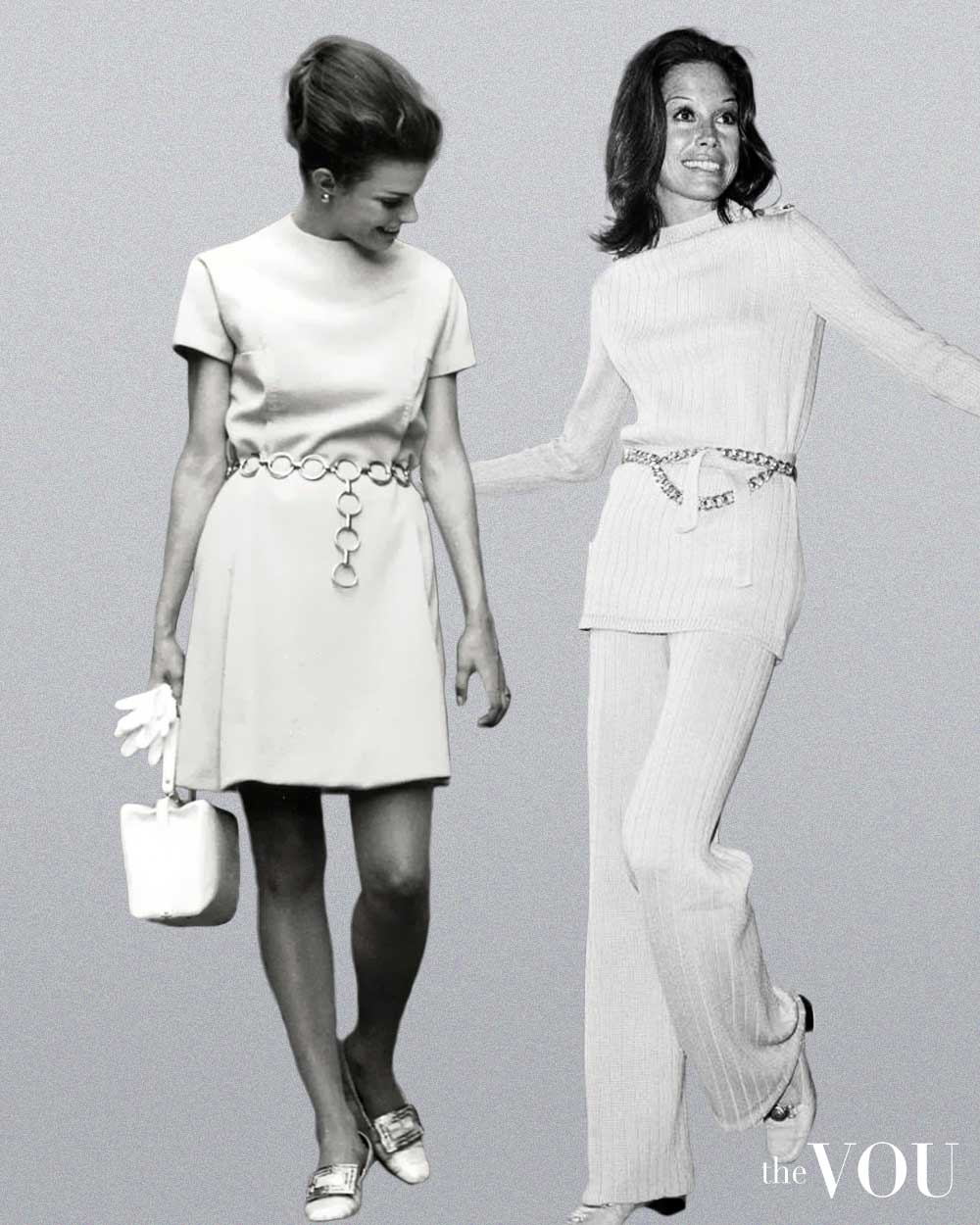 Chain belts were another trend that took the fashion industry by storm in the 60s.
Made of gold or silver-colored metal rings secured with flat connectors, chain belts were some of the most popular accessories of the 60s fashion.
Often sported by Sophia Loren, chain belts gave a youthful look to mini dresses and an extra edge to surf fashion looks, able to define the waist and give shape to head-to-know knit ensembles.
---
15
/15
Leather All Over
As the mod subculture grew in London during the early-to-mid-1960s, tension grew between mods and their styles.
Classics favored rock'n'roll, motorcycles, and leather jackets, while 'modernist mods' had a more "effeminate" interest in fashion.
Clashes would ensue between the two groups, later immortalized by songwriter Pete Townshend in the Who's 1973 concept album, Quadrophenia.
Inspired by the famous white patent leather boots of Andre Courrege and the classic mod style, women's fashion styles in the 60s started to use leather for the entire outfit.
As fashion became more casual across all genders and ages, rebellious and alternative leather looks became synonymous with the female empowerment movement.
Full body biker leather jumpsuit, leather vests paired up with trousers, mini skirts styled with matching leather jackets, and thigh-height boots with low-heeled and mid-calf height reigned the stress of London.
---
60s Fashion FAQs
What were fashion trends in the 1960s?
During the day, women of the 60s wore geometric dresses, known as shifts, suits with oversized buttons, and short boxy jackets.
In the evening, some of the most popular styles of the 60s were tailored skirts with stiletto heel shoes and full-skirted evening gowns with low necklines and close-fitting waists.
How do you dress like the 60s?
The most accessible and affordable way to create a genuine sixties look for both men and women is to wear a 60s hippie look.
You'll need a tie-dye t-shirt or jacket, bell bottoms or corduroy pants, sheepskin vests, mariner's caps or headbands, sandals, and patches with flowers or peace symbols.
Conclusion
1960s dresses, colorful clothing, jewelry, and accessories were beautifully matched by bouffant coiffure in a perfect blend of glamour, comfort, and freedom.
On the one hand, the 60s hippie movement promoted fashion openness and tolerance with breeze and colorful looks.
On the other hand, the 1960s sequined dresses and skirt suits for women continue to reinforce past decades' ladylike styles and feminine glamour.
At the same time, new men's 60s fashion looks emerged with flamboyant trousers and printed shirts designed to showcase one's self-expression against the status quo.
Most importantly, the looks of the 60s fashion broke past stylistic traditions and brought a much-needed change to the world, led by the younger, free-spirited generation.
Weekly Newsletter
Keep up with the latest in fashion, beauty and style!
Now it's your turn…
Which one of these 60s fashion moments do you see almost iconic, and why?
Which fashion trends of the 1960s do you think we've missed and should include in our next article update?
Please leave your comments below; we always appreciate your comments and use them to learn, improve, and update these articles.