Fashion is nothing if not cyclical and this time it's '90s fashion trends making their mark on the fashion world once again. Dungarees, slip dresses and logo bags are back, thankfully, all with a contemporary twist. 
If you did '90s fashion trends the first time around, the mention of the decade's return might cause some understandable fear. An eclectic era for fashion, from the in-your-face girl power style of The Spice Girls to grunge taking over the runways, the fashion world took inspiration from the music and films of the period for one of the biggest fall 2022 fashion trends. Reincarnating a host of looks that many of us would rather see the back of – we're looking at you ultra low-rise jeans – there are, luckily, plenty of ways to wear the latest '90s fashion trends with a refreshing and grown-up feel. 
Dungarees, slip dresses and branded sportswear have over the years become true fashion staples, while mesh tops and logo bags have seen a resurgence in recent years too and all are boosted by the '90s reboot. As with many trends, designers took inspiration from their archives to revive this look with fashion houses including Versace, Dior and Gucci all breathing new life into past heroes for a modern twist.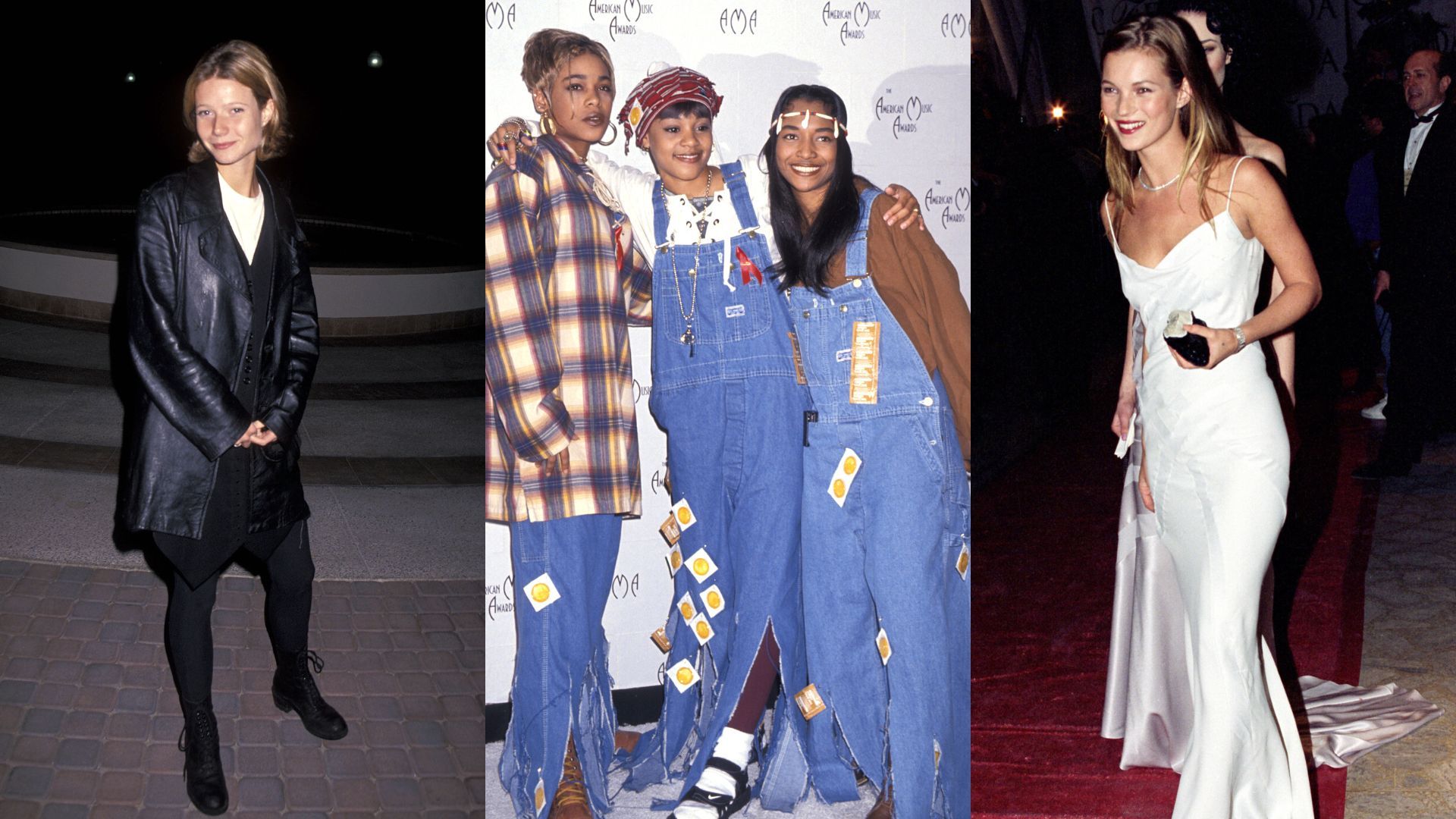 HOW TO WEAR THE '90s FASHION TRENDS Making a Comeback NOW
It might seem a bit strange to wear trends that were big years previously, but the key is to take inspiration from the era and not follow it to the tee – otherwise, you risk looking like someone on their way to a fancy dress party.
Award-winning celebrity stylist and writer Natalie Robinson says harking back to the '90s brings with it a healthy dose of rebellion.
"These trends are making a comeback in the guise of rebellious fashion – think Dr. Martin boots, not to mention the long yellow laces wrapped around the top of the boot," she says.
"Nonchalant dressing sums up the mood of today's fashion – cargo trousers, cycling shorts, platform shoes and sheer slip dresses; to name but a few of the latest style trends – the zeitgeist of the '90s."
She advises taking just one key '90s fashion trend and mixing it in with contemporary pieces for a truly modern take on the original look.
1. '90s fashion trend: Dungarees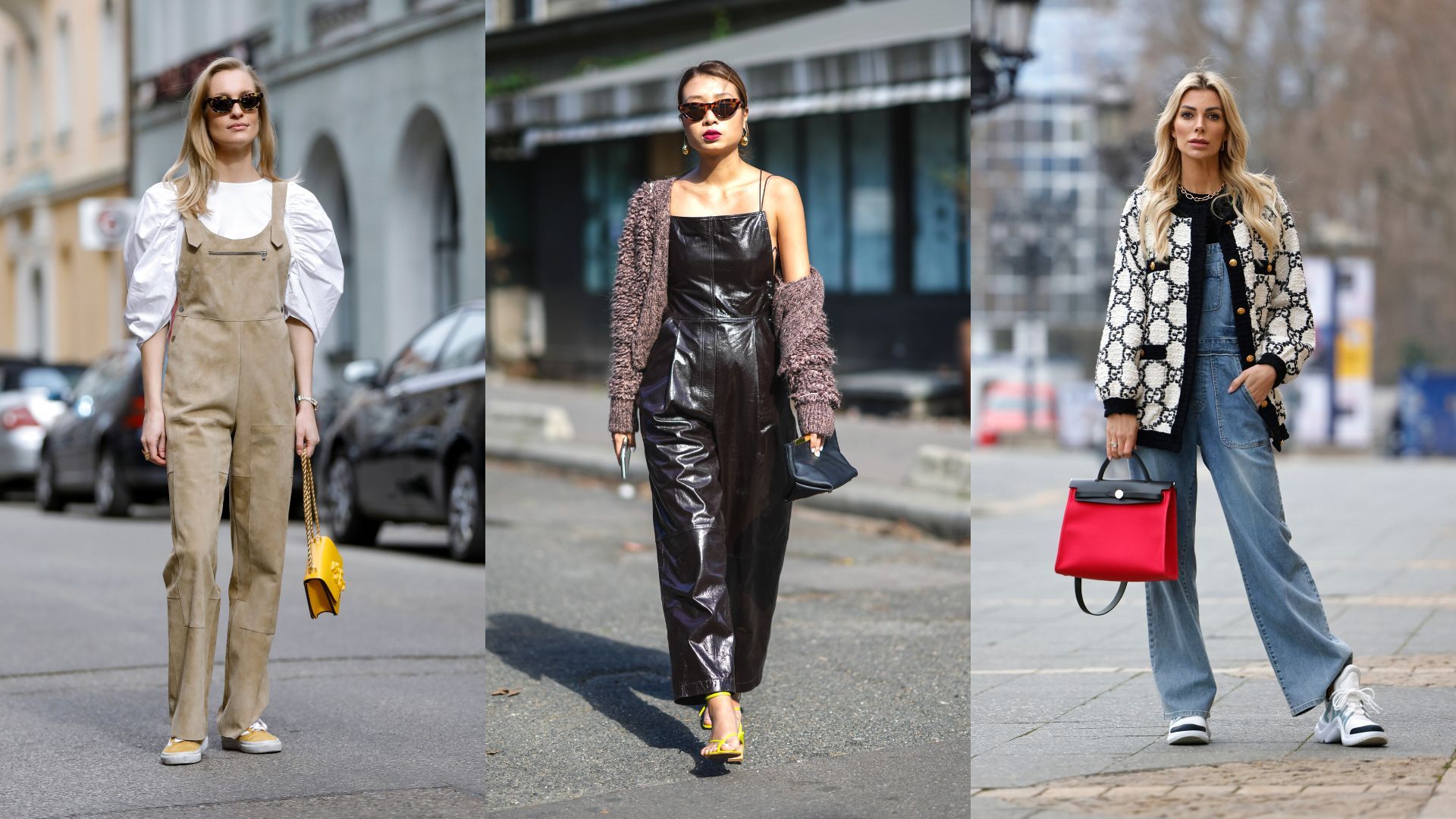 In the '90s, dungarees were injected with more than a touch of coolness thanks to the likes of R&B stars such as TLC and Lauryn Hill who wore theirs with a strap undone and a baggy t-shirt or crop top underneath. While you can still very much wear them the '90s way, there is now a wide array of styles available to suit all tastes and body shapes.
"To wear your dungarees on-trend in 2022, don't just throw them over a white tee, try layering a sheer, long-sleeved blouse underneath with chunky shoes for a cool but effortless look," says SilkFred's (opens in new tab) Head Stylist Megan Watkins (opens in new tab).
Dungarees don't just have to come in denim either. For a cool look, try pleather, cord or velvet – all of which work for a dressier look combined with your best designer heels.
Style tip: "For those looking to be a bit more out there, dare to go double denim and layer your dungarees over a denim top in a contrasting shade," says Megan.  
2. '90s fashion trend: Clueless checks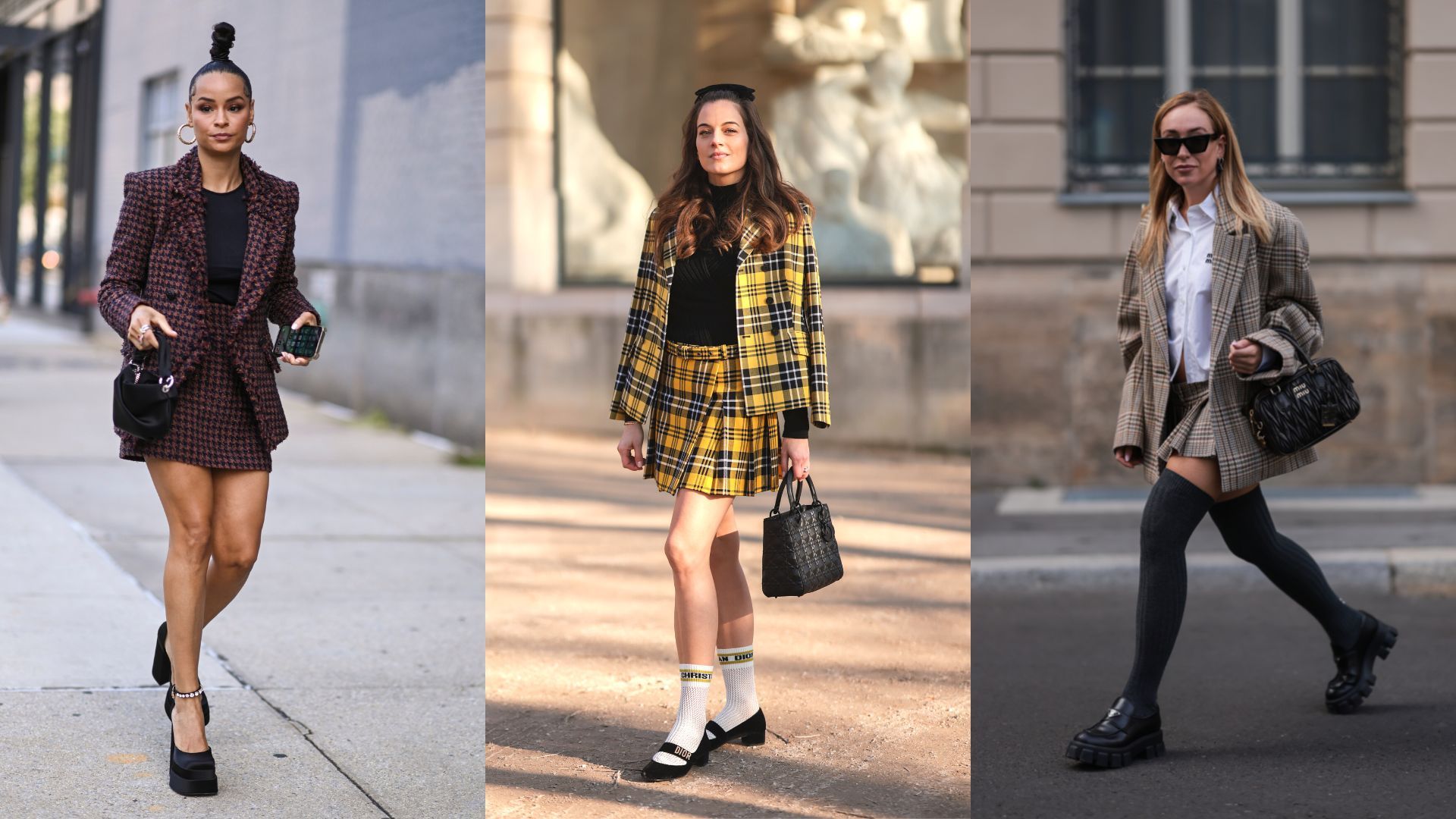 Last seen on Cher Horowitz in the 1995 Clueless film, top-to-toe checks are making a comeback this season. With the mini skirt suit being one of the big fashion trends 2022, this preppy look is suddenly feeling very modern again. While pastel and bright shades give more of a nod to the original Clueless checks, the new look is more understated, such as that seen on the Chanel runway.
"To modernize your Clueless checks, opt for neutral shades such as brown, beige, or grey instead of Silverstone's all-yellow ensemble," suggests Megan.
While Cher would've chosen knee-high socks with a high heel, a much more contemporary take on this look is either flats – such as ballet pumps, loafers, or a chunky boot.
Style tip: This look doesn't have to be top-to-toe aesthetic either, it can be much more subtle.
"For everyday checks, throw a checked blazer over a maxi dress, or your favorite fall jumper on top of a checked midi skirt," advises Megan.
3. '90s fashion trend: Slip dresses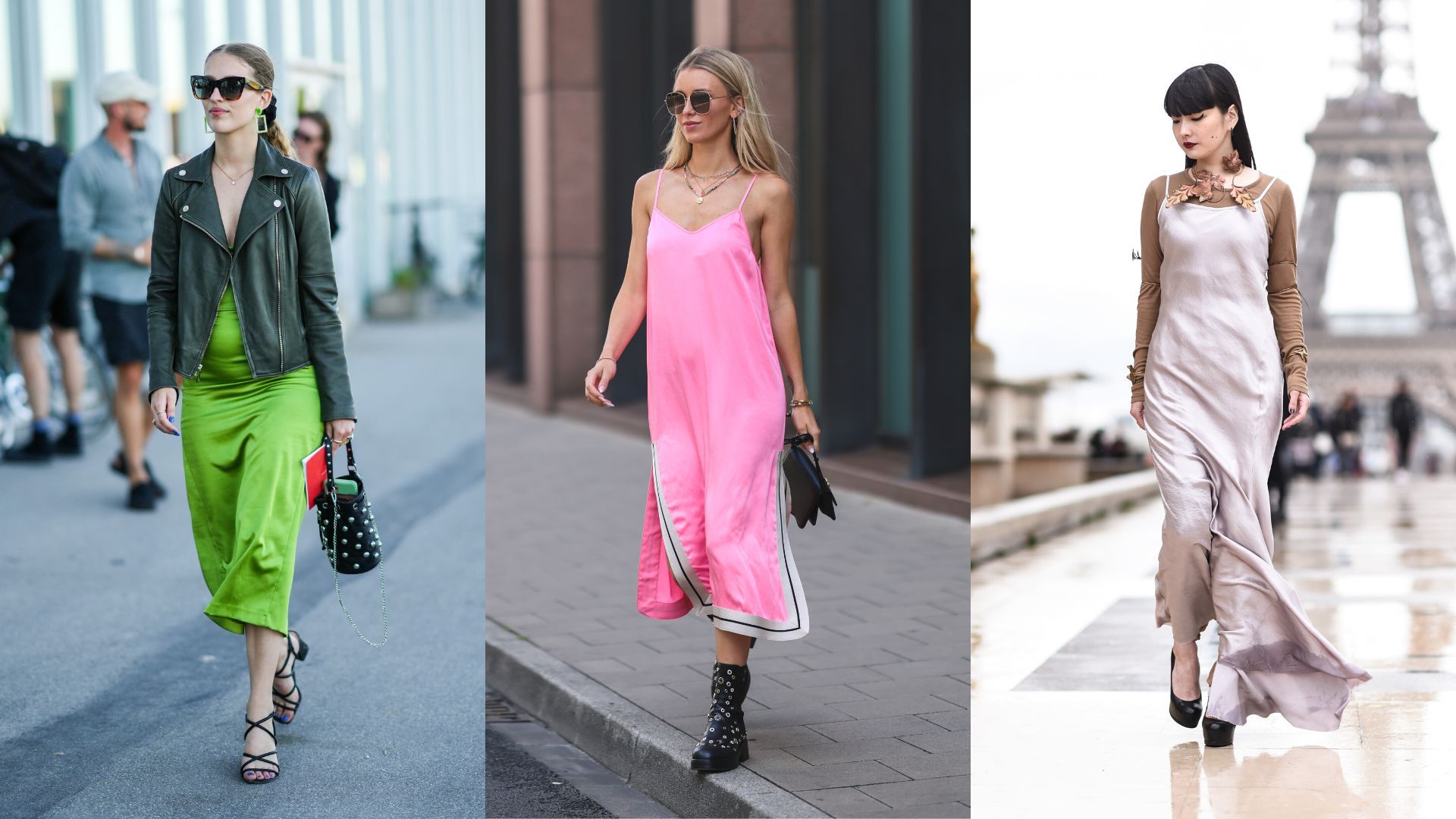 Loved by the likes of Kate Moss and Winona Ryder, the slip dress became a fashion mainstay in the '90s thanks to designers like Calvin Klein and Versace. It's back with a bang and it's no surprise as it is one of the most versatile dress styles you can invest in and can be worn in a multitude of ways.
How to style a slip dress for the '90s fashion trends comeback? Megan says layering is a great way to wear this classic style. She suggests adding a chunky knit, hooded sweatshirt, blazer or trench coat to create a contemporary feel.
Styling tip:  Megan says simplicity is best when it comes to wearing a slip dress for a night out.
"If you're taking your slip dress into party season with you, keep it as minimal and classy as possible with no layering and sleek accessories – and remember, the thinner the straps the better".
4. '90s fashion trend: Mesh tops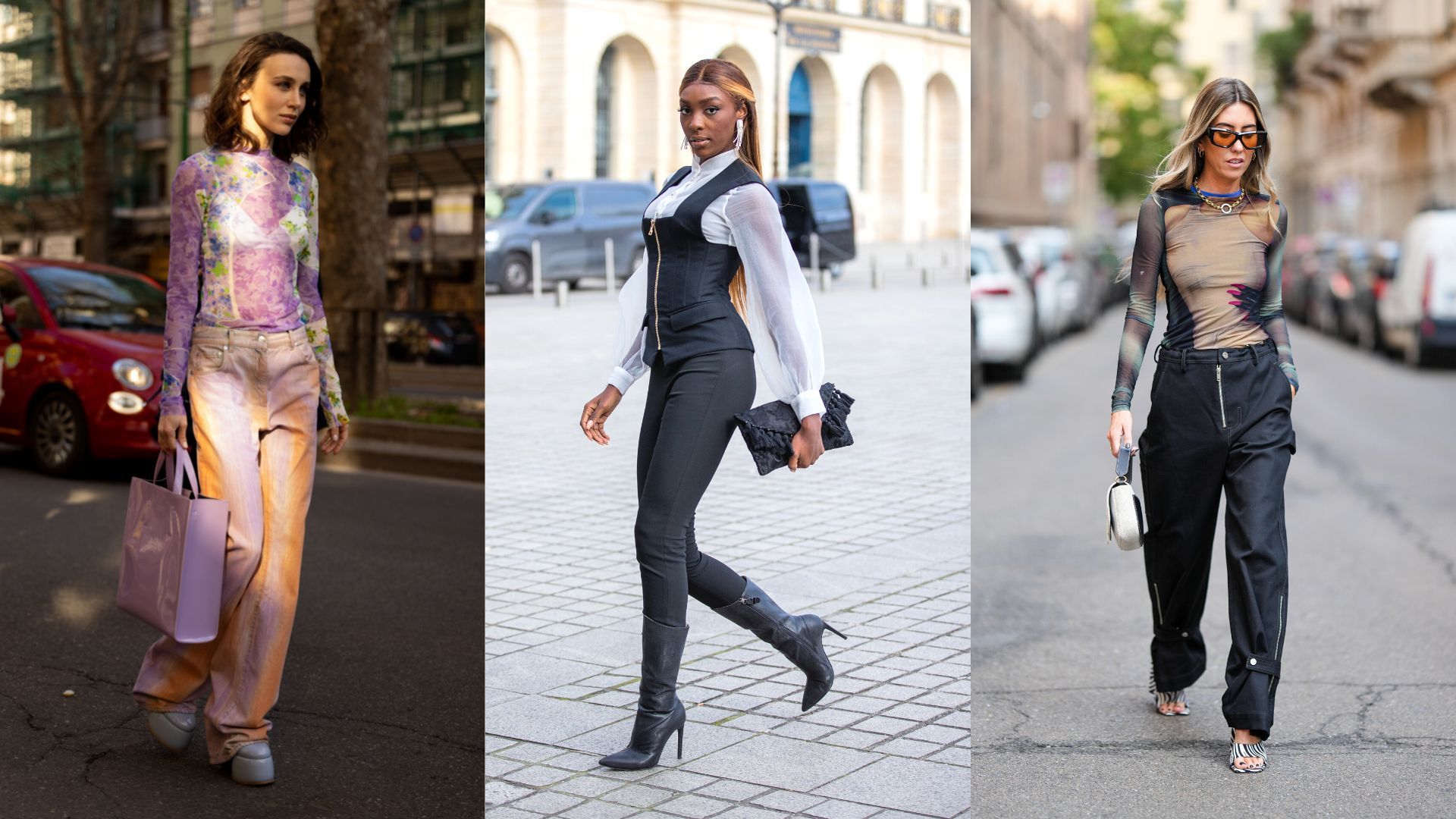 Mesh tops were very much a prominent fashion feature of the rave scene in the 1990s. Stretchy and comfy for all that dancing, they were also a little risqué, which was perfect for clubbing into the small hours of the morning.
Thanks to the thin material they are a great layering item for fall and winter. Wear them under dungarees or a slip dress for a total throwback look or give it a more modern feel by wearing it with a blazer or slip a cardigan over the top.
Style tip: Sheer blouses make a more formal alternative to the stretchy mesh top, while still tapping into the trend. For daytime, wear with a silky camisole underneath; for the evening, you can go a bit more sultry and team with a clashing bra top instead.
5. '90s fashion trend: Grunge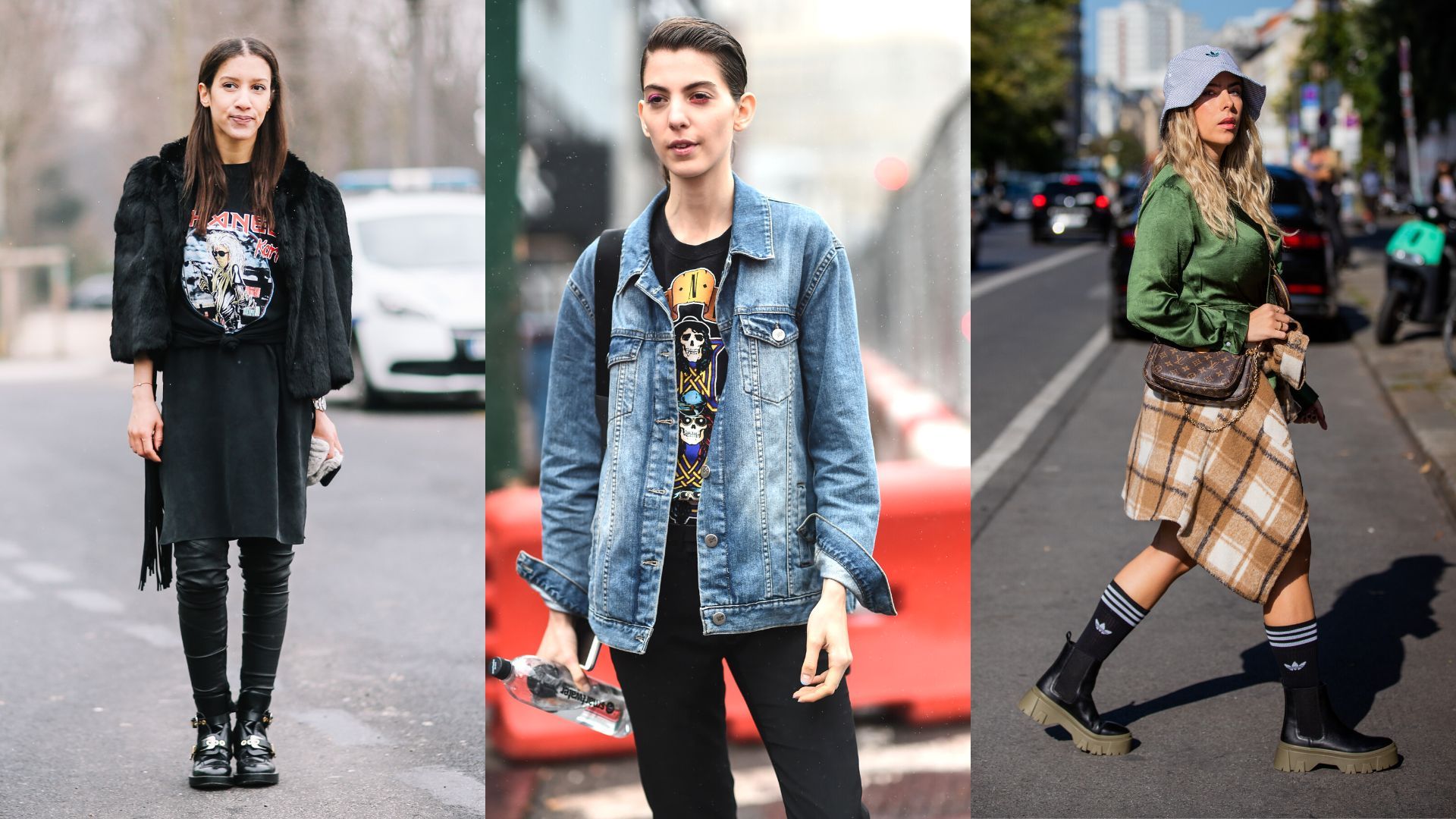 Back in the '90s Drew Barrymore, and Courtney Love were just a couple of the names that sported the grunge look. A look that said 'I've just thrown this on', it consisted of baggy cardigans, rock tees, ripped jeans, combat boots, and check shirts.
Now designers like French clothing brand, Givenchy have given the '90s fashion trend a 2022 upgrade, sending models down runways in baggy denim and leather jackets for a pared-down, grown-up version of grunge.
This look is definitely one to keep for casual moments, and often mixes tougher fabrics such as denim and leather, but if you do want to add a more feminine touch choose a dress. The best dresses for this look are long, dark and loose fitting, – this is no time for body con.
Style tip: The best shirts for this look are obviously checked, but if you want more warmth, go for a snuggly checked shacket teamed with ripped jeans, a rock tee, and Dr Martens boots for a cozy grunge look.
6. '90s fashion trend: Logo bags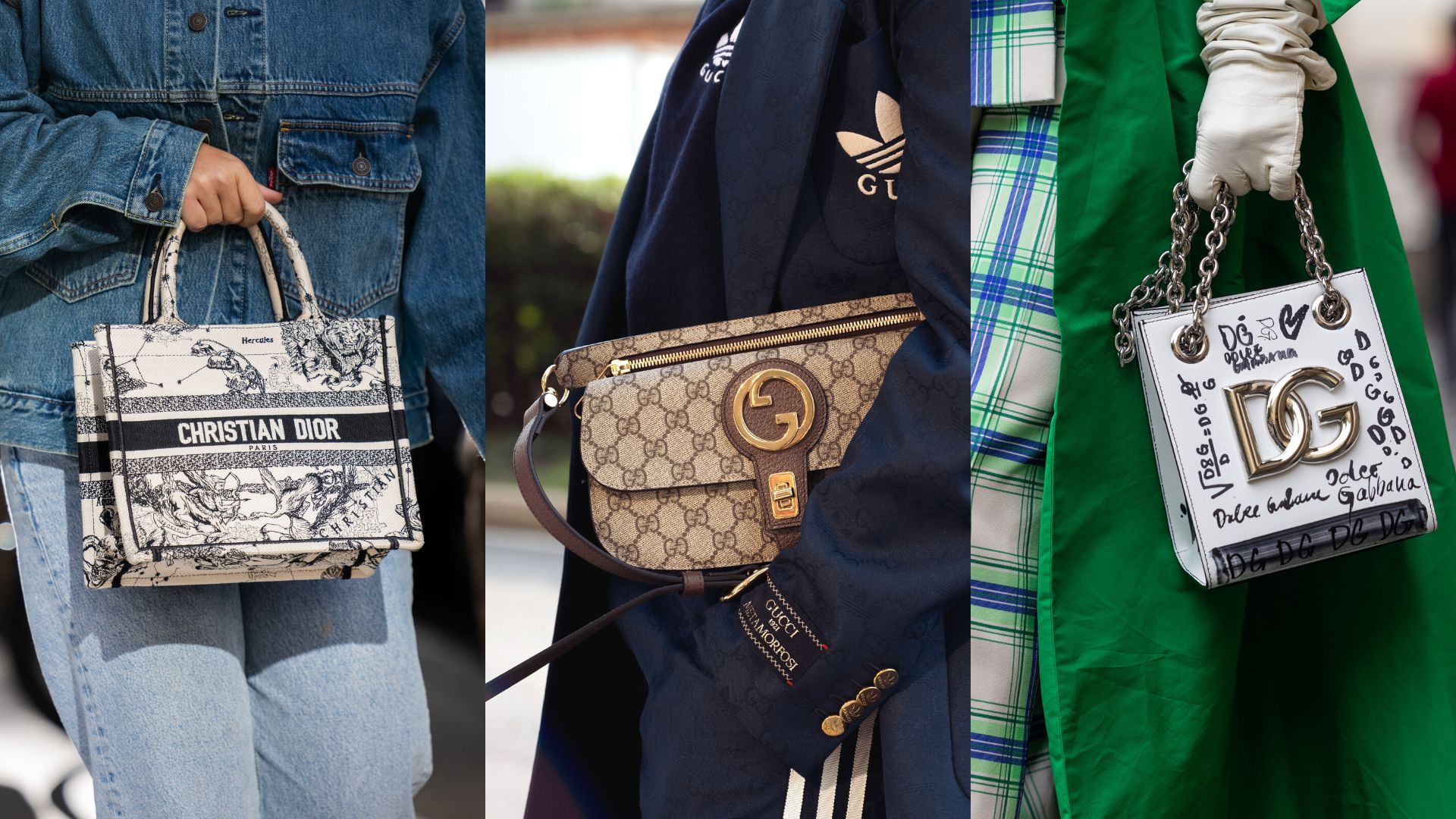 Logomania is back. A trend that began in the materialistic '80s when a bag showing a designer logo was a way of demonstrating success and wealth, the trend peaked in the '90s when style icons and celebrities across the globe were never seen far from their designer logo bags. Now, thanks to the likes of Dior, Gucci and Versace, the style is back with a bang.
When it comes to wearing a logo bag, less is more. Pair your best designer bag with wardrobe essentials, such as a white t-shirt and black pants, allowing your bag to take center stage.
Style tip: For a truly maximalist look, clash your all-over logo bag with other prints, such as a printed dress or jacket.
7. '90s fashion trend: Strappy heels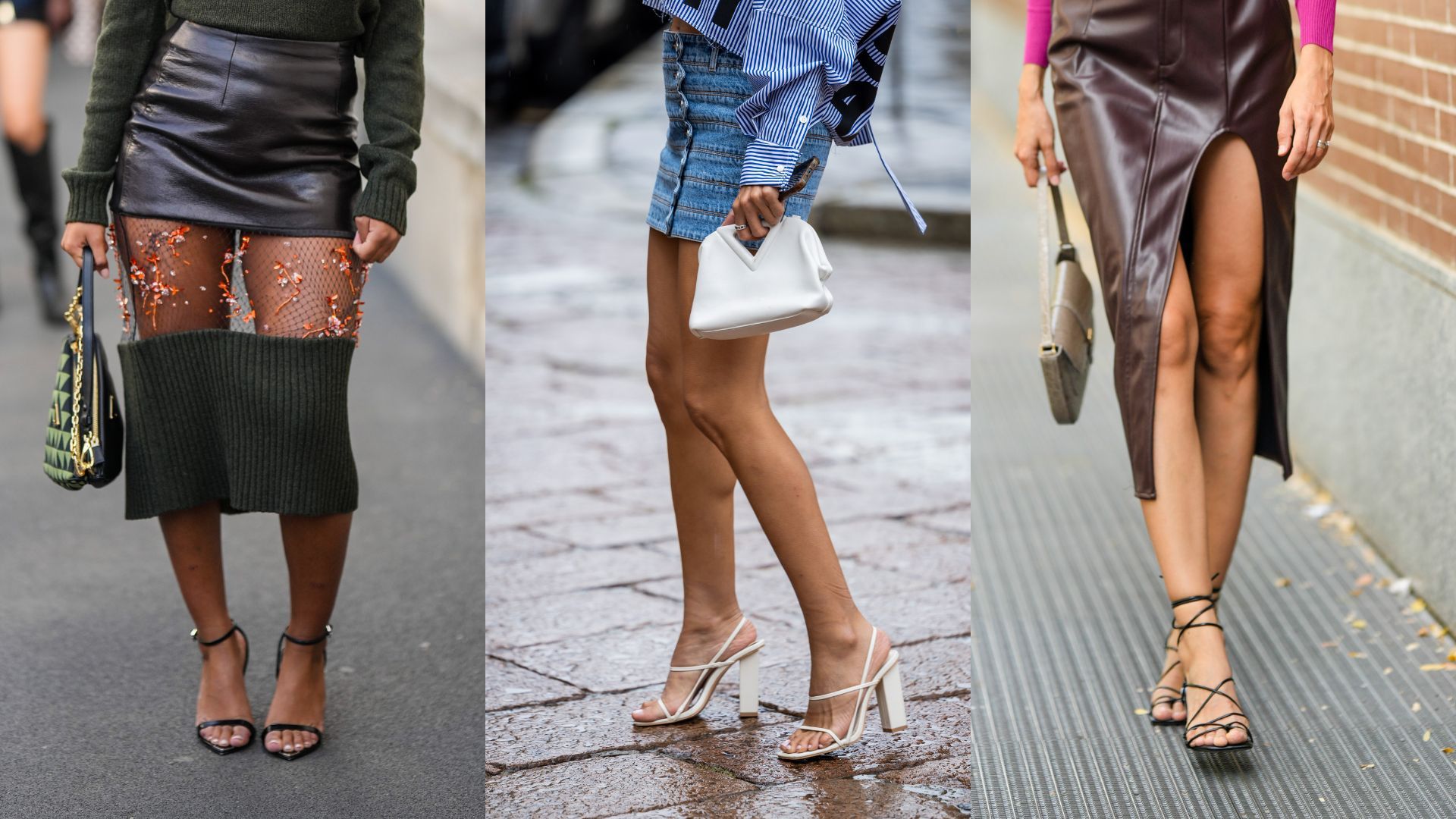 Once the ultimate '90s red carpet shoe, everyone from Halle Berry to Jennifer Aniston sported a strappy sandal. Now, thanks to its minimalist feel, the strappy sandal is back as one of the key shoe trends 2022. 
This time round though it's not just for teaming with the best cocktail dresses – a low-heeled pair teamed with jeans and a blazer makes it a must for brunch outfit ideas too. The lower heel makes it easier to wear for longer periods of time, but without sacrificing on sex appeal.
Style tip: While black strappy sandals literally go with every outfit, for special occasions, invest in a pair of glittery low-heeled sandals. They'll add a touch of sparkle for everything from cocktail parties to Christmas party outfits.
8. '90s fashion trend: Leather blazers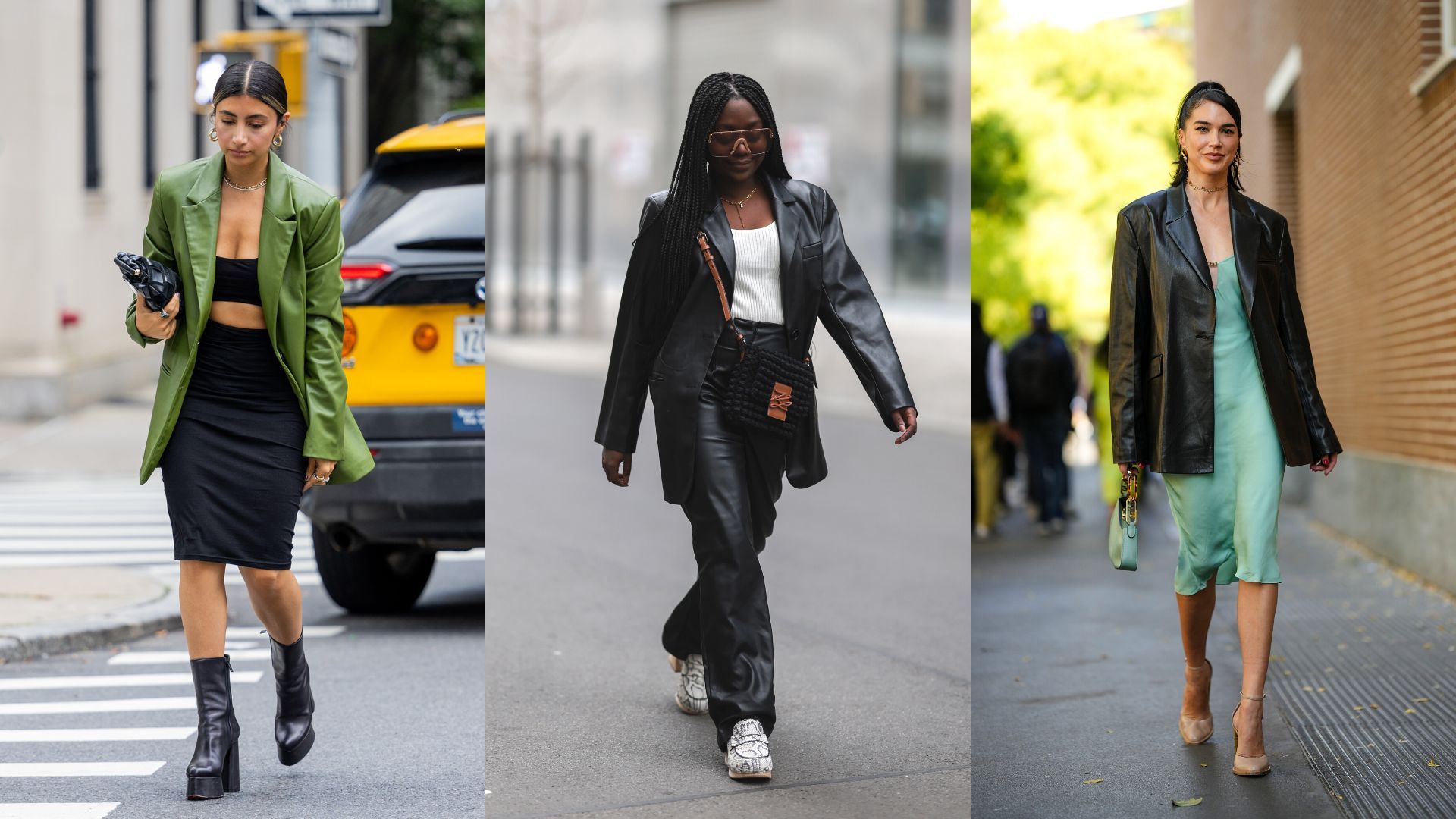 The leather blazer is having its moment in the fashion spotlight once more. Made stylish by the likes of Julia Roberts, Cindy Crawford and Winona Ryder, the fashion set is bringing it back to life for 2022, with the likes of Gigi and Bella Hadid giving it their model seal of approval too.
Just like in the '90s, keeping it oversized is key here. When it comes to how to style a blazer, while they look great teamed with your best jeans or cargo pants, don't overlook teaming them with more formal items either.
Megan says: "Clashing leather with other textures is bang on-trend right now and draping your leather blazer over a satin slip dress will give ultimate '90s glam in a 2022 context."
Style tip: If you want a more sophisticated look, Megan recommends going tonal.
"Slip on your favorite pair of wide-leg jeans and layer a leather blazer over a bodysuit in a lighter tone to complete your look – for example, a dark brown blazer layered over a light brown bodysuit," she says.
9. '90s fashion trend: Branded sportswear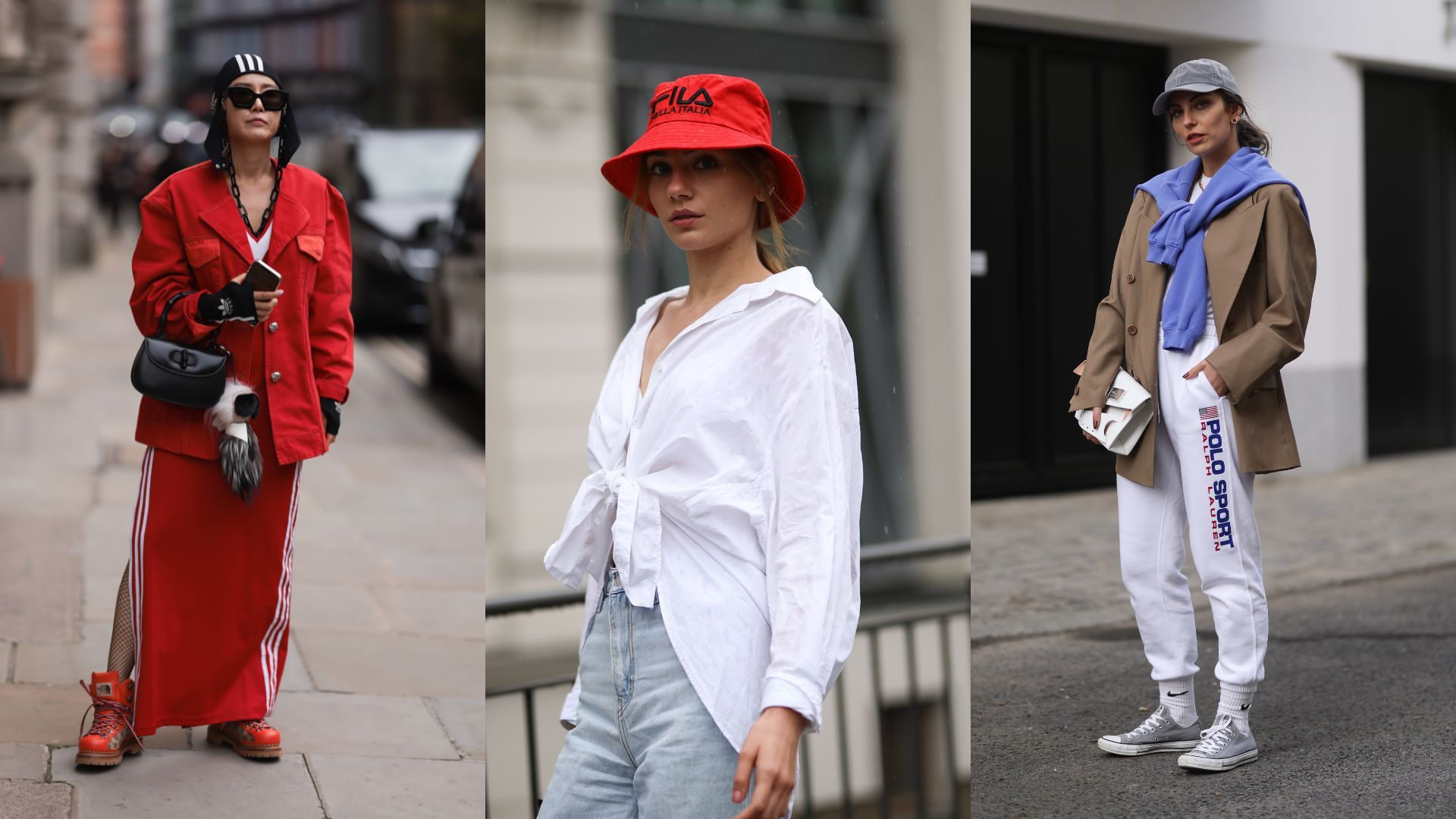 Back in the '90s, branded sportswear reigned supreme. Logos for sports brands such as Fila, Kappa and Champion were seen everywhere.
Fast-forward to 2022 and while the shell suits may have been ditched, athleisure wear is still very much on trend. The old-school brands, along with biggies such as Nike and Puma, still reign supreme, while designers such as Stella McCartney and Michael Kors have dipped their toe into sportswear, with Gucci being the most recent, producing a collaboration with Adidas in June 2022.
Luckily no working out is required in these clothes, so have fun and mix and match your branded sportswear with the rest of your wardrobe. Choose a branded hoodie and team with tailored trousers. Or throw on a blazer over a pair of Nike jogging bottoms for a high-low mix.
Style tip: You don't have to go big with this trend. A pair of classic Reeboks, a Champion baseball hat, or a Fila bag are all great ways to style the trend without being head-to-toe in logos.