What is a print-based physical disability? Play the USPS's new Great American Mail Race board game. What is the future of QR code menus? The Bigme InkNote Color brings E Ink devices closer to competing with LED-based tablets. AI illustrates lyric music videos. New graphene-based "smart textiles" hit the market. Hungary punishes inaccurate meteorologists. No, New York State has not banned selling whipped cream to minors. The James Webb Space Telescope does a Cartwheel. "Competitive table setting." Gravy wrestling is back! All that and more in WhatTheyThink's weekly miscellany.
"Print-Based Disability"
Our New Hampshire correspondent and Mount Monadnock Media Maven came to us with this question: "Have you ever heard the term 'print-based physical disability?'" Our first thought was a really nasty paper cut, but we confess to being unfamiliar with it. He added, "I hadn't until the NH Secretary of State started using the phrase when discussing procedures for voters whose print-based physical disability prevents them from marking a ballot or completing election forms using pen and paper."
So we fired up our steam-powered Google machine and discovered that it is a thing. Says Wikipedia:
A print-disabled person is "a person who cannot effectively read print because of a visual, physical, perceptual, developmental, cognitive, or learning disability".[1] A print disability prevents a person from gaining information from printed material in the standard way, and requires them to utilize alternative methods to access that information. Print disabilities include visual impairments, learning disabilities, or physical disabilities that impede the ability to manipulate a book.[2] The term was coined by George Kerscher, a pioneer in digital talking books.
It's also a term that comes up in educational circles. This is a functional definition from the Maine Accessible Educational Material (AEM) Program:
A condition related to blindness, visual impairment, specific learning disability or other physical condition in which the student needs an alternative or specialized format (i.e., Braille, Large Print, Audio, Digital text) in order to access and gain information from conventional printed materials.
We have long been familiar with the technologies that address printing disabilities, even if we had not heard that specific term before. For example, one of the killer apps for ebooks has long been the ability to make the text bigger, which is why libraries, for example, found ebook circulation high among older patrons. And you have probably seen that our own print edition now features scannable QR codes on each story that link to audio versions.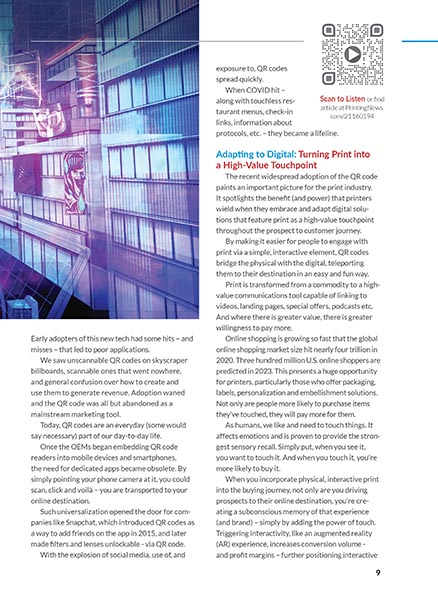 You learn something new every day!
Games People Play
Do you like board games? The United States Postal Service? If yes to both, then good news! Last month, the USPS introduced its own board game called The Great American Mail Race. We kid you not. Says the USPS:
The game allows players to race around a board that shows a map of the United States, using different methods — including the Pony Express, steamboats, hot air balloons and vehicles — to deliver mail and packages.
They could add special pitfalls to make it even more challenging—and realistic, particularly if they release a Publication Mailers Edition: "Sorry your mail bag was lost. Do not pass Go, file Form 5300 for reentry into the game. Filing fee is $110." Oh, but we kid the Post Office…
The game was produced by Big Potato Games and is appropriate for ages 10 and up. We're not sure why it would be inappropriate for younger folks—maybe they don't know what mail is?—but if you're interested, it goes for $34.99 exclusively at Target. You can also order it at Target.com and they had better not ship it via UPS.
The USPS has been introducing other gaming-based mail merch, such as a stamps-themed version of Monopoly and a "U.S. Stamps of the '80s" 1,000-piece jigsaw puzzle.
QR on the Menu
Let's hope Heidi Tolliver-Walker never read the lede for this CNN article on QR code menus:
Of all the pandemic-inspired business adoptions, perhaps none is as reviled as the QR-code menus. And yet, it persists.
Them's fightin' words! Which raises the question: do people hate QR code menus? (We're perfectly fine with them.)
We're not talking about a vocal minority of haters here. A recent Technomic survey found that about 88% of respondents said they preferred paper menus to digital QR codes. About 66% of respondents agreed or strongly agreed that they didn't like QR codes because they involve pulling out your phone as soon as you sit at the table. About 57% agreed that using QR codes felt like a chore, and 55% agreed that QR codes were hard to read and browse through. 
We question the line "agreed that QR codes were hard to read and browse through." Surely they meant QR code menus?
But look around any restaurant and people already have their phones out and are ignoring their companions. And, let's face it, the restaurants that have QR code menus aren't exactly Four Seasons or Café Des Artistes. They're usually bars and bistros.  
But for restaurants, QR codes are more than just a way to offer a contact-free menu. The tech solves problems that restaurants have had for years and are especially painful now, like menu printing costs and staff shortages. 
It is also easier to update menus when prices and/or availability of items change. Still:
Some have decided that QR-code menus have to go, because customers don't like them and end up ordering less overall because of them.
Clicking the link indicates the real source of the problem:
"People are frustrated, especially people 40 years and older," Michele Baker Benesch, president of Menu Men, a company that designs and manufacturers print and digital menus, told PYMNTS in an interview earlier this year. "Sometimes their phones don't work. They don't know how to access the QR code. So, before they even get to order a beverage … they're already upset, and that hampers the entire customer experience."
They may not like the way things are going to go:
Indeed, improved QR codes may be the future. Square, which sells point-of-sales and digital services to restaurants, saw the use of its QR codes including ordering capabilities jump 143% among its restaurant customers last year, and grown even more this year so far. 
The issue may not be the QR code itself, but what it actually leads to:
…people might actually like digital menus if they're more responsive and interactive, and can be used to order directly, add to their tabs or pay for their meals. "Those are much, much, much more enjoyable experiences than the zoom in, zoom out of a PDF."
And then:
Waiting to pay for a check is "a much larger pain point for consumers," than reading a menu, said Byrne, and one that can be solved using similar technology. "Let me pay when I'm ready to go. And everybody's happy."
One gets the sense that some restaurant customers are never happy.
Printing Oink
Ah, another of life's disappointments. We were looking to acquire some pigs to keep us company here in the Around the Web Cultural Accretion Bunker, so we were delighted to see this print ad in a local newspaper:

"At last!" we thought. "An online emporium for all our porcine needs—and they're 'purdy,' too!" But, alas, scanning the code took us to Purdy's Wine and not Purdy Swine. We'll keep looking.
We wonder if the group Pen Is Mightier has a website…
E
Oink

Ink

We have been following many of the latest developments in E Ink-based mobile devices, and the consensus has tended to be that the electrophoretic display is best-suited for certain niches (ebook readers, note-taking, store shelf price tags, even signage) but wouldn't ever really be likely to completely replace an LCD-based tablet like an iPad. And yet, via Gizmodo, a new device hitting the market is getting close. Enter the Bigme InkNote Color, a versatile e-note device that also includes two cameras, microphones, and a multi-function stylus. As an e-note device, it excels.
Its note-taking performance is just fantastic, and at no point does it ever feel like the tablet is struggling to keep up with a flurry of strokes, even when challenged with my choppy, chicken-scratch printing that's sure to make my grade school penmanship teachers hang their heads in shame.
The reviewer was moderately impressed with the color display—although E Ink's color technology improves every year, it's still muddy and not as vibrant as an LCD or OLED. It looks best in bright light (understandable, given that E Ink is a reflective display technology) but doesn't look as good in low light or when its own screen illumination is activated. Video also has been a perennial challenge for E Ink devices, the Bigme InkNote Color is edging closer to being able to support it, even if it's not quite there yet:
the InkNote Color also has access to apps like Netflix and YouTube, but you'll have a far more enjoyable experience watching videos on your tiny Apple Watch screen than on this device. Bigme provides options to customize the performance of the InkNote Color's screen, including three different modes that prioritize either the quality of the image, or the speed of its refresh rate. "Top fast" mode is needed to get something remotely close to smooth video performance on the InkNote Color, but the novelty of watching the Lightyear trailer on an E Ink device is negated by limited colors, extreme ghosting, and choppy frame rates.
At the moment, the Bigme InkNote Color is only available through a Kickstarter crowdfunding campaign—and it's already raised well past its $100,000 goal.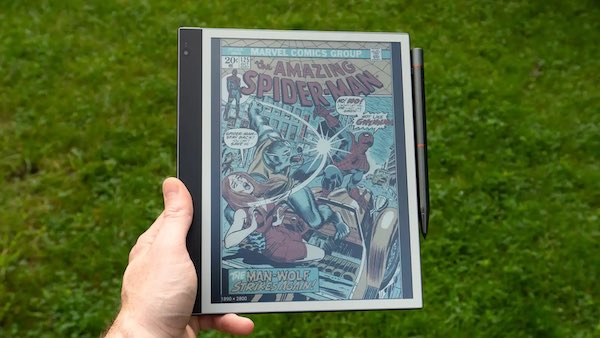 Photo: Andrew Liszewski | Gizmodo
The upshot is that if you're desperate for a color E Ink device, the InkNote Color is perhaps the best option at present. Otherwise, give it a few more years.
AI-Yi-Yi, Part the Infinity: Rock Me, AI!
We've written here often about the latest developments in artificial intelligence. Lately, we have seen a spate of AI-generated images, some of which are more surreal and often horrifying than others. There now seems to be a trend to have AI generate illustrations for music videos, and Laughing Squid has been keeping up with them,
First up, Guns 'N Roses' "Sweet Child O' Mine" (YouTube won't let us embed these) for which Daara used machine-learning AI Midjourney to create computer-generated art that matches the lyrics. Gotta admit: kinda creepy. (And we're not quite sure what is going through its "mind" when it hears "Woah-oh-oh.")
Next, Metallica's "Enter Sandman," also created by Daara and Midjourney. Again, kinda creepy, but then so's the song.
OK, how about something non-metally, like Styx's "Renegade"? Midjourney certainly has a distinct visual style. Gotta love this image for the line "They finally found me":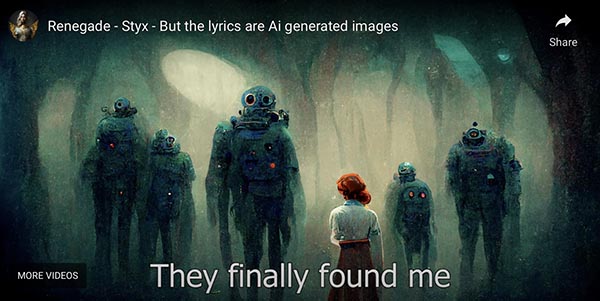 I think Midjourney needs some artificial Prozac.
UP with Graphene!
Was it a good week for graphene news? It's always a good week for graphene news! Cary Sherburne has written relatively often about graphene-based textiles (be sure to keep an eye out for the September/October issue of WhatTheyThink), and graphene-based "smart textiles" are an up-and-coming technology. This week, GrapheneUPintroduced new graphene-based textile products: INKGUP Fabric and PRINTGUP. Via Graphene-Info:
INKGUP® Fabric is graphene-based coating formulation for textile industry produced with few-layer graphene GUP®, designed to provide superior finishing properties. This formulation has been certified antiviral (ISO 18184:2019) also for SARS-CoV-2, antistatic and with excellent abrasion resistance and thermal regulation properties.
… PRINTGUP® is a graphene-based screen printing ink for textiles produced with few-layer graphene GUP®, designed to provide superior thermal regulation. Suitable for cotton, jersey, lycra and other natural and synthetic fabrics. PRINTGUP® has an extremely stable shape with exceptionally high moisture transport properties and excellent drying action. Graphene coating allows the rapid heat dispersion, wicking away of sweat and effective air circulation and there is no sensation of wetness: a graphene coating that offers superior thermoregulation of the body for maximum performance.
INKGUP Fabric and PRINTGUP are both water-based, are certified ECO PASSPORT by OEKO-TEX, are free of heavy metals (unless they're used to make concert shirts for metal bands), APEO, PVC, formaldehyde, and phthalates and comply with ecological regulations.
The Hungary Games
We often joke that weather forecasting seems like the only job in which you can constantly be wrong and not get fired (except for maybe economics forecasting…or any kind of forecasting, really). Unless, of course, you are a meteorologist working in Hungary. Via The Guardian:
The Hungarian government fired the head of the national weather service and her deputy, two days after a fireworks display to celebrate a national holiday was delayed for fear of storms.
… The NMS had forecast thunderstorms and wind gusts in the capital, Budapest, which prompted the cancellation of Saturday's fireworks. However, the storms missed the capital.
As the NMS rightly pointed out in their apology, there is "a factor of uncertainty inherent in the profession."
As it turns out, it was about more than the weather.
The fireworks display along the banks of the Danube was billed as "the biggest in Europe" to celebrate "Hungary's millennial state" on St Stephen's Day but has proved contentious in some quarters, meaning the forecast has become something of a political lightning rod.
"Lightning rod…" Get it? Anyway, recent history has proven that perhaps it was not unreasonable to err on the side of caution:
In 2006, the annual festivities were hit by a violent storm that killed five people and injured several hundred, causing widespread panic among more than a million people who had gathered to watch on the banks of the Danube.
Just sayin'.
Whippet Good
Recently, we were in a supermarket in upstate New York and saw this curious sign at the register: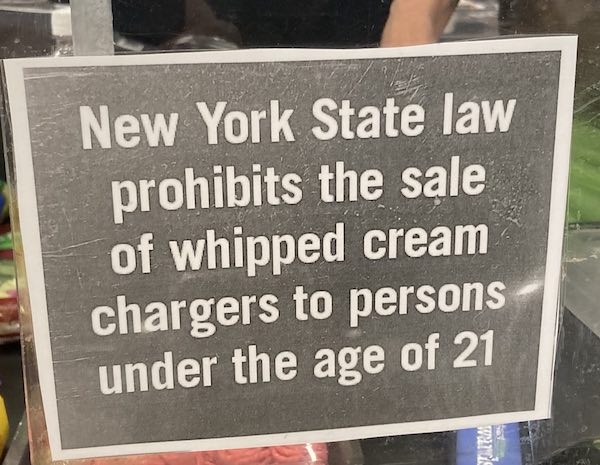 And, yes, there is a law that passed recently in New York banning the sale of whipped cream chargers to minors. Naturally, the social media machine and bad conventional reporting misconstrued the law and spread the word that the state was banning the sale of whipped cream cans—like Reddi-Wip. Nope: just the industrial strength nitrous oxide-based whipped cream chargers typically used in commercial kitchens and stores—in other words, what are colloquially known as "whippets"; the nitrous oxide ("laughing gas") has been used by kids to get high (or do-it-yourself root canal). This was a thing at least as far back as the 1980s, and we weren't aware that this even still existed, but according to the National Institute of Drug Abuse, it apparently does. (We're learning all sorts of new things this week.) Said Gizmodo:
"Sadly, young people buy and inhale this gas to get 'high' because they mistakenly believe it is a 'safe' substance. This law will eliminate easy access to this dangerous substance for our youth," Senator Addobbo Jr. said in a press release last year. 
So despite what the rumor mill says, anyone of any age can still pick up a can of Reddi-wip and do whatever they want with it. The sign was accurate, if badly printed.
Around the Webb, Part the Continuation: Cosmic Gymnastics
NASA's James Webb Space Telescope is up and running and has taken a close look at the Cartwheel Galaxy, located about 500 million light-years away in the Sculptor constellation. (Sculptor is a small constellation in the southern sky bordered by Aquarius and Cetus to the north, Fornax to the east, Phoenix to the south, Grus to the southwest, and Piscis Austrinus to the west.) The Cartwheel Galaxy was created as the result of a high-speed collision between a large spiral galaxy and a smaller galaxy. Says NASA:
The bright core contains a tremendous amount of hot dust with the brightest areas being the home to gigantic young star clusters. On the other hand, the outer ring, which has expanded for about 440 million years, is dominated by star formation and supernovas. As this ring expands, it plows into surrounding gas and triggers star formation.
Other telescopes, including the Hubble Space Telescope, have previously examined the Cartwheel. But the dramatic galaxy has been shrouded in mystery – perhaps literally, given the amount of dust that obscures the view. Webb, with its ability to detect infrared light, now uncovers new insights into the nature of the Cartwheel.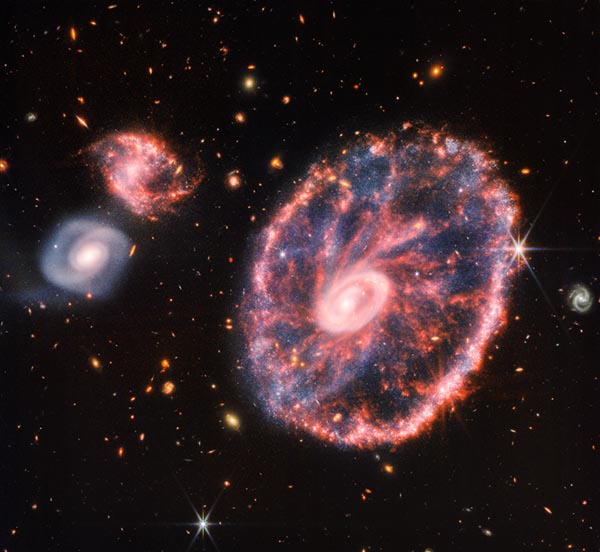 Caption from NASA: A large pink, speckled galaxy resembling a wheel with a small, inner oval with dusty blue in between on the right and two smaller spiral galaxies about the same size to the left against a black background. Credits: NASA, ESA, CSA, STScI
Webb's observations underscore that the Cartwheel is in a very transitory stage. The galaxy, which was presumably a normal spiral galaxy like the Milky Way before its collision, will continue to transform. While Webb gives us a snapshot of the current state of the Cartwheel, it also provides insight into what happened to this galaxy in the past and how it will evolve in the future.
The things we can do.
Head of the Table
Do you like competitive races? Setting dinner tables? If, improbably, yes to both, good news, especially if you live in Oregon. One long-time event at the Oregon State Fair is the Table Setting Competition. Says Boing Boing, "There are only 20 slots available each year, and it fills quickly." Another thing we never knew before this week. And the contestants take it seriously. Adds Oregon Live:
Barbara Leone of Portland used a tape measure while laying her tablecloth. She pinned a needle at the halfway point on each table edge, looped a piece of thread around each needle, and stretched the thread across the table to create temporary guidelines so her floral centerpiece and charger plates were perfectly centered. She used a yard stick to confirm her utensils were placed one inch from the edge of the table.
The judging is strict.
"The thing I found most interesting was all the rules and the judging," she said. "They were merciless. One of the (judge's) cards said, 'Her pinks don't match.' She had two different colors of pink, and they didn't match. And I thought, 'Man, I can do that. I can make my pinks match.' And it just kind of snowballed from there."
There is no prize money for the winner, just a blue ribbon.
"But it's not just a ribbon," Keatley said. "It's the honor and glory that you receive from that ribbon."
Uh huh.
Watch it if you dare:
Sure; this they'll let us embed.
Gravy Bouts
OK, if you're not into board games or table setting, how about gravy wrestling? Indeed, via the BBC, after a two-year COVID-based hiatus, the 12th annual World Gravy Wrestling Championships were held last week at the Rose 'N' Bowl Pub in Rossendale, Lancashire. And it is exactly what it sounds like: competitors wrestle each other in a pool of gravy in two-minute bouts. "Points are given for fancy dress, entertainment value and wrestling ability."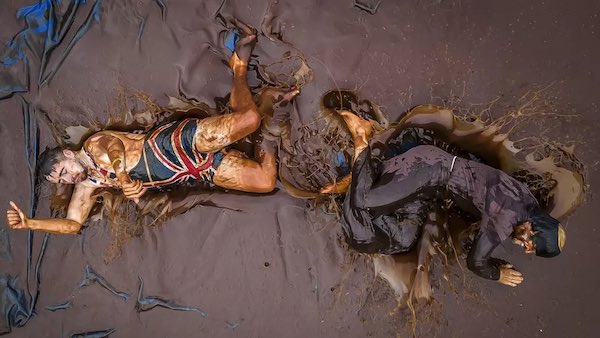 PA Media
This Week in Printing, Publishing, and Media History
August 29
1831: Michael Faraday discovers electromagnetic induction.
1997: Netflix is launched as an internet DVD rental service.
August 30
1797: Mary Shelley, English novelist (Frankenstein) and playwright, born.
1909: Burgess Shale fossils are discovered by Charles Doolittle Walcott, which would serve as the subject for one of the best science books ever written: Stephen Jay Gould's Wonderful Life.
1956: Comedian, actor, producer, and screenwriter Frank Conniff ("TV's Frank" from Mystery Science Theater 3000), born.
August 31
1688: English preacher, theologian, and author (Pilgrim's Progress) John Bunyan dies (b. 1628).
1867: French poet and critic Charles Baudelaire dies (b. 1821).
1895: German Count Ferdinand von Zeppelin patents his navigable balloon. It went over like a…well, actually it went over rather well (for a bit).
1897: Thomas Edison patents the Kinetoscope, the first movie projector.
1944: English illustrator Roger Dean born.
September 1
1795: American publisher, founder of the New York Herald James Gordon Bennett, Sr. born.
1878: Emma Nutt becomes the world's first female telephone operator when she is recruited by Alexander Graham Bell to the Boston Telephone Dispatch Company. (Appropriately, Lily Tomlin was born on this same day in 1939. The over-55-year-olds out there will get the connection.)
1991: German graphic designer and typographer Otl Aicher dies (b. 1922).
September 2
1752: Great Britain, along with its overseas possessions, adopts the Gregorian calendar.
1963: The CBS Evening News becomes U.S. network television's first half-hour weeknight news broadcast, when the show is lengthened from 15 to 30 minutes.
1973: English novelist, short story writer, poet, and philologist J. R. R. Tolkien dies (b. 1892).
2013: American author and publisher Frederik Pohl dies (b. 1919).
September 3
1802: William Wordsworth composes the sonnet "Composed upon Westminster Bridge, September 3, 1802."
1883: Russian author and playwright Ivan Turgenev dies (b. 1818).
1962: American poet and playwright e. e. cummings dies (b. 1894).
1967: Dagen H in Sweden: Traffic changes from driving on the left to driving on the right overnight.
September 4
1888: George Eastman registers the trademark "Kodak" and receives a patent for his camera that uses roll film.
1908: American novelist, short story writer, essayist, and poet Richard Wright born.
1951: The first live transcontinental television broadcast takes place in San Francisco, from the Japanese Peace Treaty Conference.
1972: The Price Is Right premieres on CBS. As of 2019, it is the longest running game show on American television.
1998: Google is founded by Larry Page and Sergey Brin, two students at Stanford University.