It's hard to pinpoint the moment secondhand clothing became more than a fad. Was it last year, when Love Island first collaborated with eBay instead of its usual fast fashion brands? Maybe it was this week, when Zendaya, Jenna Ortega and Gabrielle Union all wore 20+-year-old Versace dresses to awards shows when they could have had their pick of the designer bunch. Or perhaps it was when the upmarket UK department store Selfridges announced half its interactions with customers would be based on resale, repairs, rental or refill by 2030. Half!
For those who have been happily scouring eBay and Oxfam for many years, used clothing is not about red carpets and trends. It's about necessity, common sense and, occasionally, having fun. According to the resale site Depop, more than half of British 18- to 35-year-olds buy secondhand clothing not only because they recognise that overconsumption is at the heart of the environmental crisis, but because they can get a one-off bargain for a fraction of the price. Trends repeat, so it is baffling why anyone would buy a new pair of 00s low-slung jeans when you can buy the original, often for less.
According to GlobalData, the secondhand clothing market grew by 149% between 2016 and 2022 in the UK, and is forecast to increase even more this year. All well and good you might say, but what happens when your used Acne knitwear is covered in bobbles and moth-holes, your original Levi's have a broken zip, or your vintage leopard-print coat stinks of cigarettes? Repairing and revitalising clothes is not something we are all taught to do. "And yet, thinking about how to care for and the value of clothes reminds people that they are a resource," says Bronwen Jones, an artist and textile repairer based in Amsterdam, who mostly buys secondhand. "Old clothes tell stories," she says.
With this in mind, we asked the experts how to refresh and repair a preloved wardrobe.
How do you deal with bobbled knits?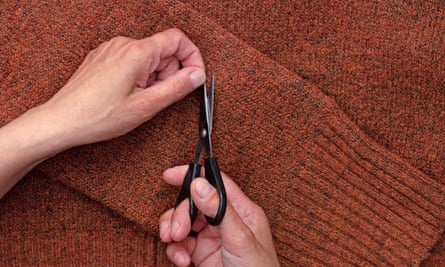 First things first: "Cut bobbles rather than pull them," advises Thaís Cipolletta, a co-founder of the high-end repair service The Restory. The best method depends on the fibre and the yarn size, says Layla Sargent, founder of online tailoring service The Seam. "A chunky cotton knit may be best tackled with a sharp, flat-blade pair of scissors, whereas finer knits, pilling jersey and wool fibres are better suited to fabric shavers," she says. Failing that, try Steamery, which has an actual de-bobbler machine.
The biggest problem with old denim is 'crotch blowout'. Is it fixable?
Yes, according to Michael Pendlebury, AKA the Manchester-based Denim Doctor, who repairs 50 pairs a week. Crotch blowout refers to "the inner thigh getting bust along the seam" and Pendlebury suggests patching the area with jean fabric. "If you bond it inside, oversew the area or sometimes darn it with thread, it's pretty tough," he says. His customers prefer invisible mending on delicate areas, so, he says, it's worth colour-matching the denim, using old jeans. "We like to do it eco, especially if a pair of jeans is too knackered and will get chucked anyway." Pendelbury says it's worth paying attention to any small holes in jeans when you buy them, as it doesn't take much for them to become a big one, "especially when it's on a seam". That may well be why they have been discarded in the first place.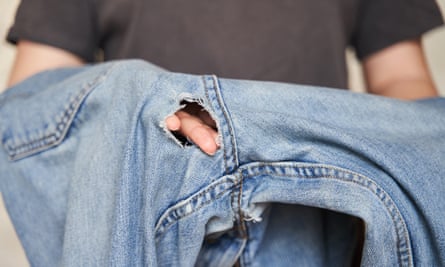 Why this happens so often is simple: skinny jeans. "Women's jeans tend to have 2-3% elastane so they're fitted, and men's have 1-2% elastane. The less elastane a pair of jeans has, the less likely it is that the crotch will go" – so pay attention to the labelling when you're buying. Tailor Han Ates, whose clothing studio Blackhorse Lane Ateliers is based in London's Walthamstow, suggests patching the hole from behind then darning on top with cotton, using a machine. He blames bikes: "You're not really supposed to cycle in jeans, even good ones. Cycling really wears the fibres in the crotch area."
Bought an old coat? No need to dry clean it
"I haven't dry cleaned anything for 20 years," says Laura Mountford, a household guru whose new book, Live Laugh Laundry, treats cleaning as an act of mindfulness. "Most things you can machine wash. Otherwise, with something like a wool coat, a garment steamer – which also replaces ironing – is a gamechanger and much more affordable." Cipolletta agrees – she steams her clothes to "refresh them" as this also kills bacteria and odours.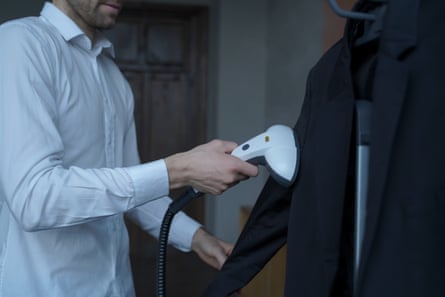 But do wash your jeans
One of the biggest myths with denim is that you shouldn't wash it. "Whoever said that was thinking about guys down the coalmine 140 years ago when they didn't have washing machines," says Ates.
You will probably wash your secondhand jeans before your first wear, but thereafter "only wash them when they're [unclean], not every time you wear them, and unless they're actually dirty [rather than just sweaty], go for 30C inside out, with just water. It's also better for the environment. Or try sticking them in the freezer for a few hours," advises Cipolletta. "It refreshes them without the need for a wash."
What if your vintage T-shirt smells like cigarettes?
Mountford's go-to is white vinegar. She suggests putting it into the fabric conditioner section of the machine, in place of fabric conditioner, and washing the clothes as normal. "It might initially smell like a chip shop but it will neutralise an odour." Mountford also uses scent booster beads, "because they genuinely do make my clothes feel fresher for longer". But, she says, the floral smell lingers, which is not for everyone. "The vinegar smells of nothing and I've not found anything that works quite as well."
What about smelly shoes?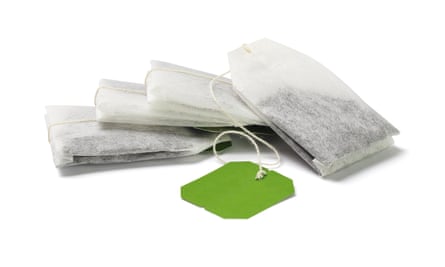 Try putting teabags in shoes, says Cipolletta. They pull the moisture out of the shoes, which is what attracts bacteria – 24 hours should do it. And no, not used ones.
Do you need a machine to repair denim?
"You can fix denim using a sewing machine, but it's hard-going, and thicker types will wear your machine out pretty quickly," says Pendlebury. If it's selvedge denim, which has a tighter weave and is more durable, you may need a chain-stitch machine or something more industrial, advises Ates. "It's a meaty fabric."
Repair specialist Jessica Smulders-Cohen uses a method called sashiko on finer denim: a type of Japanese embroidery used for decorative reinforcement. "You just neaten the hole by trimming the edge, patch behind it with a piece of fabric, then use running stitch all around." She uses a jeans needle, which is extra-sharp and has a thick shank so it gets through denim.
What can you do with a battered old leather handbag or jacket?
For one, don't use cleaning wipes on leather, says Cipolletta. "The alcohol dries it out, which can cause it to crack." Provided the leather is not too far gone, use carnauba cream instead (the sort of stuff you find in shoe polish), which will prevent further drying and cracking.
If the leather is stained, send it to a specialist, says Sargent. "Leather is a skin and therefore porous, so you may need to remove the finish entirely and match the pigment to ensure that you'd never know there was a stain in the first place."
What about stained clothes?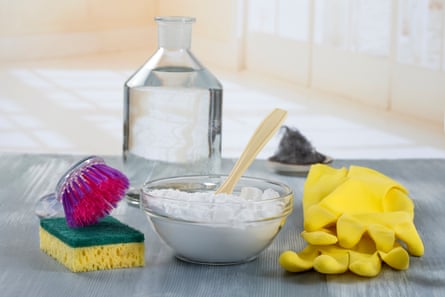 Mountford stopped using a variety of stain removers years ago and now only has Oxi Powder in her cupboard. Stain removers capitalise on people's panic, she says. "You buy one because you have an ink stain, but how many ink stains are you really going to get?"
The older the stain, the harder it is going to be to get out, so there are no guarantees. But there are a few simple go-tos: for blood, rinse with cold water, then mix two parts baking soda with two parts water, then wash. With chewing gum, stick the item in the freezer and you can sometimes lever the gum off. Deodorant can be removed by soaking an item in white vinegar for up to an hour, brushing with a toothbrush, then washing. Red wine? Soak in white vinegar again – save your white wine.
How can I wash used clothes without them getting even more worn out?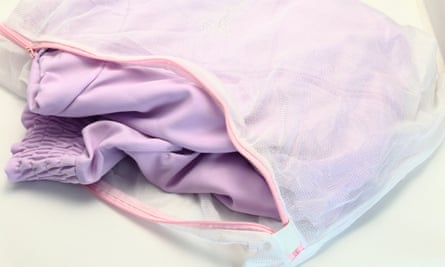 "I use mesh laundry bags for delicates but also knitwear as it stops fabrics from rubbing on each other," says Mountford. "On trousers, do the zips up because if the teeth are open they catch against fibres." Pay attention to those garment care labels too.
Trousers too big? You'll need to do more than switch buttons
"It's a mistake to simply move a button along the waist if you want to change the size," says Ates. "You need to look at the back seam between left and right buttock, which runs all the way to the crotch. That's what needs to come apart and then get put back together, ideally while the person is wearing it."
Never try to dye faded or stained jean jackets
Like hair dye, the colour on the box is rarely the same as what comes out. "If it's a fading mark, then my advice is to do a patch and oversew it," says Pendlebury. Just don't try to dye it. "Dye is unpredictable. I've never seen anyone do it well. Also, some jeans contain polyester, which rejects dye, and it's usually in the stitching so it can look a bit strange." It goes without saying that dyeing is also irreversible. "You'd be amazed by how many people think you can turn back time."
What's a quick fix on a frayed hem?
"When a hem comes undone it's common for the fabric to fray, especially if the material is delicate, like silk chiffon," says Sargent. First, stop wearing it. Then, your options are restitching the hem (which you can do yourself) or fusing it, which prevents "delicate threads from coming further out of place". This may require a specialist.
Darn a moth-hole with an orange or a lightbulb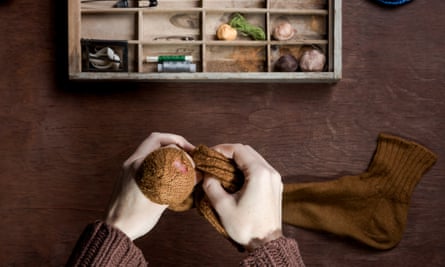 Darning is a little more complicated than patching – patching involves sewing a piece of fabric over the hole; darning means the hole is rewoven by sewing back and forth over it – but "effectively, you are just dealing with filling a hole", says Smulders-Cohen. A wooden darning mushroom, which keeps hold of wool while you repair it, is handy on curved areas such as elbows. But you can also use your hand if you can hold it with enough tension and the hole's not too big. "Otherwise, grab an orange or a lightbulb, and it has the same curved surface as the mushroom," she says. "If the hole is on a sleeve, you can put a small book inside. It should give you enough structure to start darning."
Pay attention to your darning material. "Darning is the best way to fix holes in thick knitwear," says Bronwen Jones, "And you can do it on mixes – for example, darning wool with a mix of wool and synthetic gives some strength; just make sure it has the same weight." It's also wise to remember what you've darned with when it comes to washing as it may shrink, she adds.
How can you tell if the colours might run when washing something for the first time?
Perhaps the label has come out or rubbed off so you don't know what the garment is made of – or perhaps you're washing something striped so you're not sure whether to put in a light or dark load. Mountford insists on using a colour catcher. "It's basically a white flannel that you put in the wash and it absorbs any loose colour. Previously they weren't reusable so a bit wasteful, but now they make ones that last for about 30 washes." She recommends Dr Beckmann Magic Leaves.
Finally, don't worry about whether your repairs are visible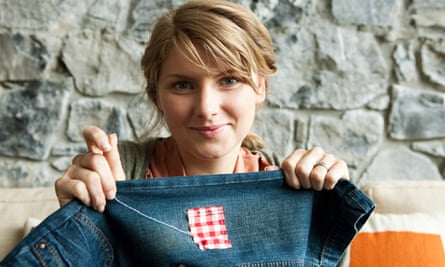 A colourful paisley patch on a red armpit might sound odd. But that's the joy of visible mending – repair work that's deliberately noticeable – says Smulders-Cohen. She suggests using old fabrics, sheets and linens for patching, the sort of thing that might otherwise become a rag. "Making repairs invisible is almost impossible anyway," she adds. "I think of it as personalising clothes in a world full of mass-produced garments."