Low-rise blue-denim jeans were to 00s nightlife what gladiators' loincloths were to those at the Colosseum in ancient Rome. Two thousand years ago, half-naked young men were thrust into a public arena to do battle with lions for the entertainment of the watching masses. Fast-forward two millennia and it was Britney Spears, Paris Hilton and Lindsay Lohan being thrown to the wolves. Bronzed torso flesh was bared, this time between hip-bone-grazing waistbands and shrunken vests, as young women were pursued by paparazzi baying for blood – or, at least, for a photo of a "whale tail" thong protruding from those bootcut jeans with their three-inch fly.
Sorry if the analogy sounds a little hysterical, but the return of the low-rise jean is ringing alarm bells. Until now, the Y2K revival has seemed like harmless fun: scrunchies, ballet pumps, Uggs. So far, so cute. But low-rise jeans? Well, that's different.
It was the signature look of an era when tattoos on the lower back were known, with breezy misogyny, as "tramp stamps". Sexual in a bald sense rather than a seductive one – pun intended, in the epoch that gave us the Brazilian bikini wax – the low-rise vibe was deliberately sleazy in a way that felt fun, at first. It is no coincidence that Spears is the poster girl for the pubic-bone-height waistband. This particular pop cultural narrative does not have a happy ending.
The trouble is that the more that people like me, who lived through the Y2K years, bang on about how dangerous and out of control they were, the more the youth want in. "Stay away from low-rise waistbands, kids, it's a slippery slope to a life of legendary debauchery!" Funnily enough, to a generation who, thanks to Covid, spent precious teenage years locked down in the house with their mums and dads, this is perhaps not the deterrent it is intended to be.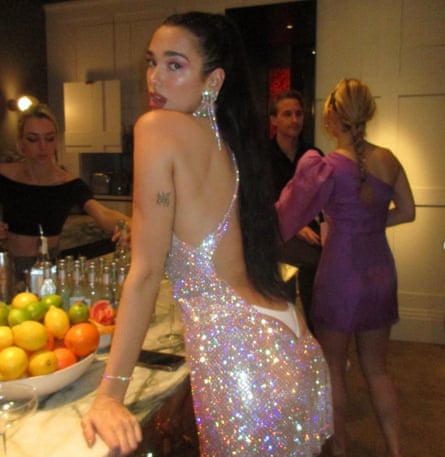 Anyway, it is too late now, because the low-rise is riding high. The cavalry has well and truly arrived: Dua Lipa saw in the new year wearing a silver Ludovic de Saint Sernin minidress cut so low at the back that it exposed most of her white thong knickers. (When she posted a snap on Instagram, Paris Hilton responded in the comments section: "That's hot.")
Julia Fox posted a video tutorial on Instagram showing how to turn a pair of jeans into an evening look by cutting off the top four inches to wear as a matching denim bandeau bra top. (To keep the now waistband-less jeans from falling down, she glues the zipper together.)
The world's biggest girl group, South Korea's Blackpink, have made waistbands rolled down to show a ribbon-width of underwear a signature look, and I've seen Bella Hadid's taut abdomen so many times that I'm fairly confident I could recognise her by her belly-button alone. Catwalk shows previewing the looks about to drop this spring featured low-slung jeans at Givenchy, tummy-baring cargo pants at Fendi and slender, tapered trousers with diamanté cutouts framing hip bones at Stella McCartney. Mark my words: it is happening.
Now, just like that, five years spent perfecting the art of tucking a sweater into the waistband of our jeans in a faux-effortless way has gone out of the window. We finally get to grips with mom jeans and the southern migration of the waistband changes everything. The return of low-rise heralds the end of the "French tuck", where you push a smidgen of fabric behind the front-fastening button of your trousers, and the return of the Body – those leotard-like tops with integral knickers, press-studded at the crotch, which give a smooth line and banish draughts.
For a beginner's level take on low-rise, Isabel Marant made low-slung trousers chic and wearable in one of her Paris shows last year, worn over a lightweight, long-sleeved, body-skimming long-line top. If you are going to experiment with a bodysuit, the best are by Commando – not cheap (the "Butter" suit is £66 in the Net-a-Porter sale), but warm, comfortable and guaranteed not to pop open of their own accord.
For an easy-to-wear low-rise denim, I would steer you toward Levi's low pitch style, which has a high-ish rise in the back (no builder's bum) and a slightly loose leg. The fashion hardcore, however, will be going low and tight, embracing the return of the thong – whale tail and all – and joining Dua Lipa, Cardi B and Megan Thee Stallion with a belly-button piercing.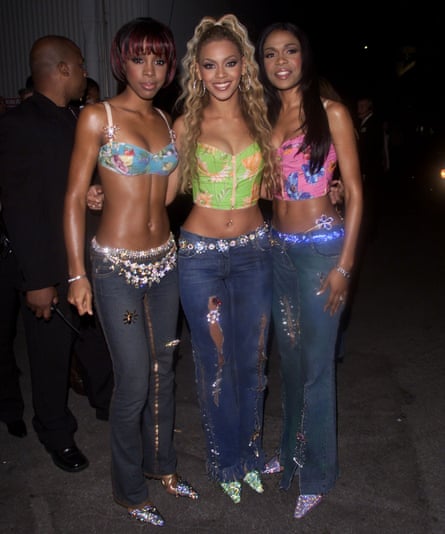 The author and former fashion editor Gabrielle Korn dedicates an entire chapter of her book, Everybody (Else) Is Perfect: How I Survived Hypocrisy, Beauty, Clicks and Likes, to living through the tyranny of the low-rise jeans in her teens in the 00s, "the time of Destiny's Child, Britney Spears, Kate Hudson, Keira Knightley and Paris Hilton, and all of their teeny-tiny bodies with their long, flat stomachs, hollow between their pointy hip bones … eventually I realised they'd fit 'right' if I simply didn't eat until dinner for enough days and then weeks in a row, so that's what I did."
Korn correlates what came later, the rise of high-waisted trousers in fashion, with an era when women and minorities began to feel safer in US culture. "With Obama in the White House for a second term and equal rights for women and minorities on the horizon, high-waisted pants settled over everything like a warm blanket," she writes. For many, the rise of the high-waisted trouser heralded a move away from a culture where women's bodies were fair game.
But while many women recoil from a silhouette that seems to demand a lean abdomen – and threatens to give you a "muffin top" should you dare to have an ounce of spare flesh – others feel less than confident in high-waisted shapes, which are most often showcased on women with tiny waists and a dramatic hip-to-waist ratio. Alexander McQueen, who put provocatively low "bumster" trousers on the catwalk in 1996, later said that he "wanted to elongate the body, not just show the bum. To me, that part of the body – not so much the buttocks, but the bottom of the spine – that's the most erotic part of anyone's body, man or woman."
The designer Rok Hwang, who put skirts with the waistband scooped to show the belly button in his Rokh collection for last spring, said his inspiration came from the "radical energy" of the 00s, when he was a student at Central Saint Martins. "After the pandemic, I wanted to feel a bit more optimistic and light, because I think we've been wearing lots of heavy clothes," he said.
Women and girls spent centuries fighting for the right to wear trousers. At work or at school, on horseback or the red carpet, to step out in strides is a symbol of liberation, of equality – and of a life lived boldly. That is perhaps more true than ever, with the return of low-slung waistbands. Because these are only for the brave.