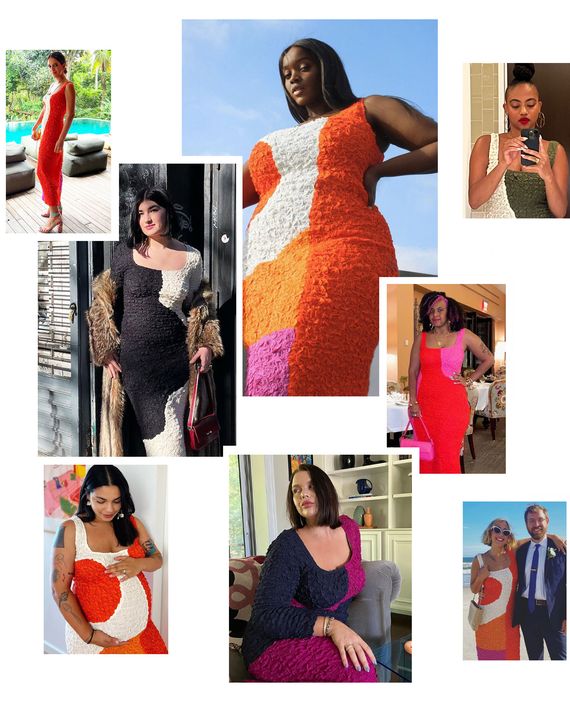 Photo-Illustration: by The Cut/Clockwise from top left: Courtesy of Instagram (@juliabritosfv, @1nthegrid, @carrimur, @samjopenn, @thevintagetrixie, @flamelikeme, @thelaurenmelton, @indialovesyou)
When romance novelist Jasmine Guillory first saw the Mara Hoffman popcorn dress, she was so taken with it she purchased a version (the Sloan in pink and red) without trying it on, instead trusting a FaceTime modeling session with a friend, New Yorker food writer Helen Rosner, to help her determine sizing. Guillory bought the Sloan to wear to a wedding. A year later, she saw photos of Rosner wearing another version of the popcorn dress (this time, the Freya: poofy, long-sleeved, mid-length, with abstract splashes of crimson, royal blue, and marigold) to her baby shower. Rosner had decided to buy this second popcorn dress after she saw a pregnant Katy Perry wearing the same one to sing the national anthem at a soccer game. Guillory expressed so much love for the Freya via DM that Rosner offered to let her borrow it. Which is how Guillory found herself, the night before an appearance on Hoda & Jenna, trying on a dress she'd never worn, fully confident it would fit her well enough to go on national television. The fact that it clung to her perfectly wasn't luck; it was the magic of the Mara Hoffman popcorn dress.
The popcorn dress: form-fitting, easy to pack, wear-it-everywhere, with a signature texture not unlike that of the shirts once carried by Limited Too and a size range and stretchiness meant to accommodate every body from XXS to 3X. Made of Tencel, it comes in eight dress styles, as well as in a series of top-skirt sets — just enough variation that you can express your personality by your selection. (Are you a Laura, short and classic, or are you a Mereba, bold enough to dress like the flamenco-dancer emoji?) First released in spring 2020, the popcorn dress has since become so popular that it has its own featured tab on the Mara Hoffman site (The Popcorn Shop), where new variations and color combinations launch with seasonal regularity. Most versions sell for around $600.
The popcorn dress is beloved for a multitude of reasons: because it's comfortable and sweat doesn't show; because the colors also "pop"; because the popcorn effect hides lumps and bellies; because it can be sexy but also conservative; because you can wear it without shapewear. And while an open call for experiences with the Mara Hoffman popcorn dress dredged up a few gripes, including "It's only good for curvy girls" and "It's only good for girls without curves" and "It's hard to tell if it's actually flattering or just fits" and — the worst — "I wore it once and someone thought it was Shein," the most common complaint is that it has become so ubiquitous you run the risk of showing up at an event where someone else is also wearing it.
My DMs were an avalanche of "My life is filled with these dresses" and "I have two!" and "I just bought one for a wedding … Should I have?" and reports of wearing it to book launches, important dinners, fancy celebrations, premieres, engagement parties, bridal showers, bachelorette parties, weddings, baby showers—a dress that basically covers all the major milestones of an adult life. And while I've yet to receive reports of someone wearing one to a funeral, the Sloan, the Freya, and the Mereba (an ankle-length version with a long-sleeved popcorn bodice and drop-waist skirt) in black could be considered mourner-appropriate (and they all come in red, should you be making that kind of funeral appearance).
Sara Hinkley, an assistant costume designer and shopper for television and film, bought her popcorn dress (the Amy: long-sleeved, scoop neck, black and white — "When I wear it, I feel like Oblina from Aaahh!!! Real Monsters but fat and sexy") to wear to a celebratory dinner at La Grenouille, then wore it to two weddings, then bought a second one after being interviewed for this story (the Sloan in red). Her friend Natalie wore hers (the Sloan in red) to her engagement party. Alexis Florio wore hers (the Sloan in white) to her bachelorette party and then rewore it the next day for her courthouse ceremony. She was hardly shocked when she walked into her own party to discover her best friend wearing the same dress in another color (a pink-orange combo). "Everyone's faces were horrified when I walked in. We looked at each other and said 'Of course' and laughed hysterically." Nikki B. wore hers (the Amy, black and white) to a fancy dinner in London. At the nail salon, I overheard a woman tell her girlfriend it was "her turn" to wear the popcorn dress to a ritzy wedding they were to attend that night; her girlfriend had gotten to wear it to the wedding before.
How did a dress born of a relic of the early aughts now found in dollar-store bins and late-night HSN collections become the 2020s "It" dress? "My theory about this dress is it's like 'the Mr. Big of dresses' because it's $200 too expensive, so we all idealize it," says Vogue writer Emma Specter. "That said, I would sell my soul for one."
Beyoncé in the Laura, posted on her Instagram in July 2021, before the dress was released.
Photo: Courtesy of Beyoncé's Instagram (@beyonce)
The dress's fate was sealed before it was even released in stores when Beyoncé wore the Laura (short with a splashy blue-yellow-and-orange color block) and posted herself posing in it on Instagram. The post dropped at the perfect time for a splurge dress (midsummer 2021, a return to "hot girl" or "hedonist" summer" but also when all of the canceled weddings were finally back on). And as if a visual co-sign from Beyonce wasn't enough, the dress played right into the surge of Y2K nostalgia that led other brands down the same stretchy, nubby, synthetic path: Dries Van Noten, Marine Serre, ASOS, and Eloquii all use popcorn fabric in separates. The dress itself is just designed to be trendily sticky, the same way a pop song is engineered to be an earworm. It's highly tactile and fun, the colors and patterns are bright, and it holds attention a beat longer than everything else. All the elements that can attract a toddler, basically, are the same as those of an "It" dress.
I bought my version (the red-and-pink Sloan) for a wedding in July 2021, when I needed to look devastatingly hot but also like I never sweat. I put it on and breathed a sigh of relief. I strutted into the wedding feeling like that bitch, but frankly, now, I cannot find one photo from the event to use on a dating profile because somehow the dress flattened my ass while the popcorn texture created a 3-D effect that made my stomach pop. Despite that, I now own three, putting me among the people who can't decide whether it actually looks good.
"It really is The Sisterhood of the Traveling Dress," says TV writer Leah Beckmann, who became a believer after witnessing the dress move from body type to body type at her wedding, where friends drunkenly decided to play a game called "swap dresses in the bathroom," which led to ten to 12 women "in Spanx, titties out, exchanging dresses. Cannot overstate the level of chaos," Beckmann recounts. Her friend Emily wore the red Sloan popcorn dress and swapped with Beckmann's mother, and "my mom rocked it," Beckmann says. "My mom felt incredible in the dress, and I have actually considered buying it for her. She still occasionally brings it up."
Hinkley likens it to the "It" dress of a previous era. "It's a little passé now, of course, but it works well on a lot of bodies and became overwhelmingly popular. So maybe the Mara Hoffman popcorn dress is the Hervé Léger bandage dress for hot Brooklyn 30-somethings making their way through the pandemic wedding backlog," she writes. (She had hers altered, however, because there really is no such thing as a dress that flatters everyone without some work.)
Just as the bandage dress, which reached its apex from 2007 to 2011, the era of bottle service and going-out tops and always sort of wanting to look like Paris Hilton about to dive into a pile of cocaine, was a product of its time, so too is the popcorn dress. It hits every necessary buzzword in 2023. The fabric is sustainable; it's proudly not just for skinny, stomachless models (the size inclusivity is a moral assertion as well as smart marketing). And because the brand shoots the dress on many different body types, most women can see it on models (or on their friends, or on random people on Instagram) and think, ​​That would look so good on me.
There is a drawback, though, if you choose to enjoy the spoils offered by the dress: Owning one requires something of the wearer. You must accept that you certainly aren't a snowflake, says actress and writer Ana Nogueira. "It makes me think of the Miranda Priestly line from The Devil Wears Prada: 'You're wearing the sweater that was selected for you by the people in this room.'" We think that we're doing something original, but really the fashion industry is putting things in front of our faces in a way that we can't seem to resist. You might be powerless, popcorn sheep, but at least you don't have to worry about what to wear to the next wedding.