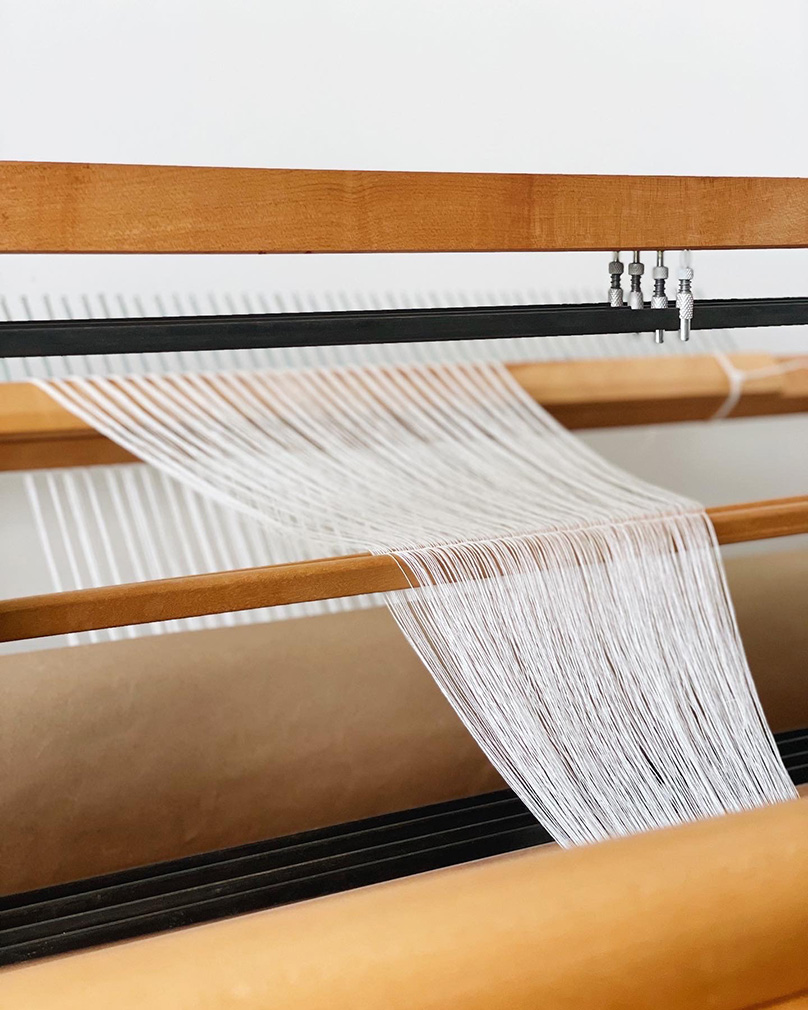 Memory and nostalgia intersect in the handwoven textiles of Toronto-based artist Elycia SFA, who captures intimate snapshots of her life during the pandemic as woven and embroidered cloths.
'Weaving has been my primary method of making for about 8 years now,' explains the textile artist, who graduated from OCAD in 2015 and uses a floor loom in her practice.
'For the most part, I've used pre-existing photos and objects as references – old family photos and paper ephemera like postage stamps and envelopes,' she says. 'I had been wanting to use reference photos I'd taken for quite a while. But I wasn't totally sure how I wanted to integrate that concept into my other work.'
When Toronto entered its first lockdown in March 2020, the city ground to a standstill. Restaurants and bars shuttered, as did galleries, offices and studios and Elycia SFA found herself without access to her studio and loom for six months, forcing her domestic surroundings into fresh focus.
'I had a lot of time to think,' she says. 'In the end, the answer was literally right in front of me, in my living space.'
Home life / still life offers an achingly intimate glimpse of Elycia SFA's life during this period while playing with the idea of what is 'worthy' of remembering.
In one piece, a stack of clean dishes takes residence next to the kitchen sink, while another captures the entrance of her home, coat rack laden with winter jackets and face masks dangling provocatively from a nail above – a reminder of the ever-present nature of COVID-19.
'It definitely felt very vulnerable at first to show these images of my living space, but I've really been enjoying the benign yet intimate imagery shown in the work,' explains Elycia SFA. 'It's hard to say exactly what the curation process was in selecting what corners of my space [I chose] to weave. There is an intuitive aspect to the selection process.'
Using a technique called inlay, Elycia SFA weaves a white 'grid' backdrop the size of a handkerchief by combining parallel threads (warp and weft). Inlay threads are sandwiched in each row with the weft and incrementally added to as she weaves the piece. Finally– while the cloth is still on the loom – she adds embroidery to bring out details in the scenes.
The resulting textiles trigger feelings of familiarity, nostalgia, and – through their materiality – an inherent sense of comfort.
'There is quite a lot of planning that goes into each piece,' explains Elycia. 'I make a template for myself in photoshop, simplifying the reference image to make it more "weavable". However, there is a degree of intuition at play once I start weaving, as I don't make a specific sample for an image before I weave it. I like to say that everything is a sample until it's not!'
As mask mandates are lifted in Ontario, and we shuffle into 'endemic' living, Elycia SFA is taking the project internationally and inviting others to share the spaces that made them feel safe during this time.
'I'm trying to keep a very open mind about what kind of submissions I might receive,' she says. 'I think the concept of a safe space can look very different, depending on the person! Overall, I'm very moved by the vulnerability in the submissions I have received so far.'
Submissions to the project can be made through her online form before 15 April 2022. Up to 10 participants will have their own 'safe space' turned into an anonymous artwork. (More information can be found on Elycia SFA's website – and you can follow her on Instagram in the meantime.)
Read next: Explore 100 years of the artist's studio
Contemporary culture rises from the rubble at Menorca's magical Illa del Rei – home to Hauser & Wirth
Artist Elizabeth Power captures domestic drama in her colourful lockdown paintings