In furnishing their French Quarter pied-à-terre, the internationally celebrated design and architecture team of Kate and Odom Stamps (Stamps & Stamps) turned to an unexpected source: a storage locker filled with items their daughter had collected as a college student while studying antiquities with Christie's Auction House in London.
Emma Stamps-Bell had brought the collection with her when she moved to New Orleans to study art history at Tulane University. When she left for Los Angeles in 2010, she warehoused the treasures — ranging from ancient to contemporary — in a storage unit on Tchoupitoulas Street. 
And there they sat until Kate and Odom Stamps rescued them in December 2021. Along with a few other carefully chosen pieces, the cache furnishes the couple's lavish Vieux Carre retreat.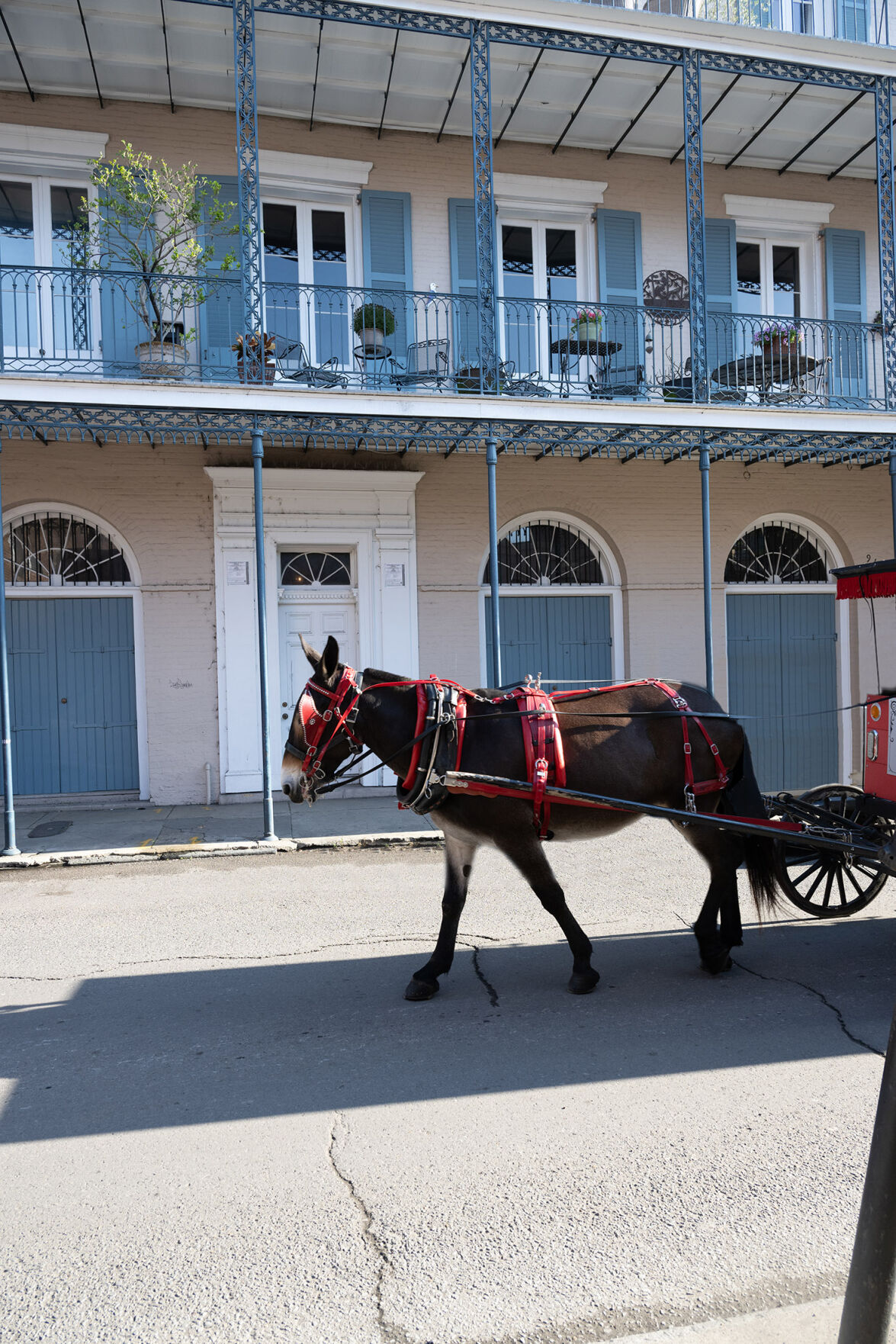 Odom Stamps was born in New Orleans, the son of an antiques dealer, and educated in architecture at Tulane. That's where he met Kate, an art history student. They now travel extensively for work, and their primary home is in Southern California.
But when they recently opened an office in New Orleans to better serve their Southern clients, Odom Stamp's long wish to have an apartment here made more sense. (He's also a member of the Mystic Krewe of Bacchus.)
"I have always loved the French Quarter," he said. "Because I grew up Uptown, it was always an adventure for me, and a good place to get into harmless trouble. … It seemed inevitable that our place would be in the Quarter — really, the fulfillment of a lifelong desire."
"This has long been Odom's dream," Kate Stamps confirmed about the 1,100-square-foot, third-floor sanctuary. Sitting above a former stable and carriageway built in 1830, the space would have housed a servant responsible for the care of horses. The building was renovated and modernized in the 1970s.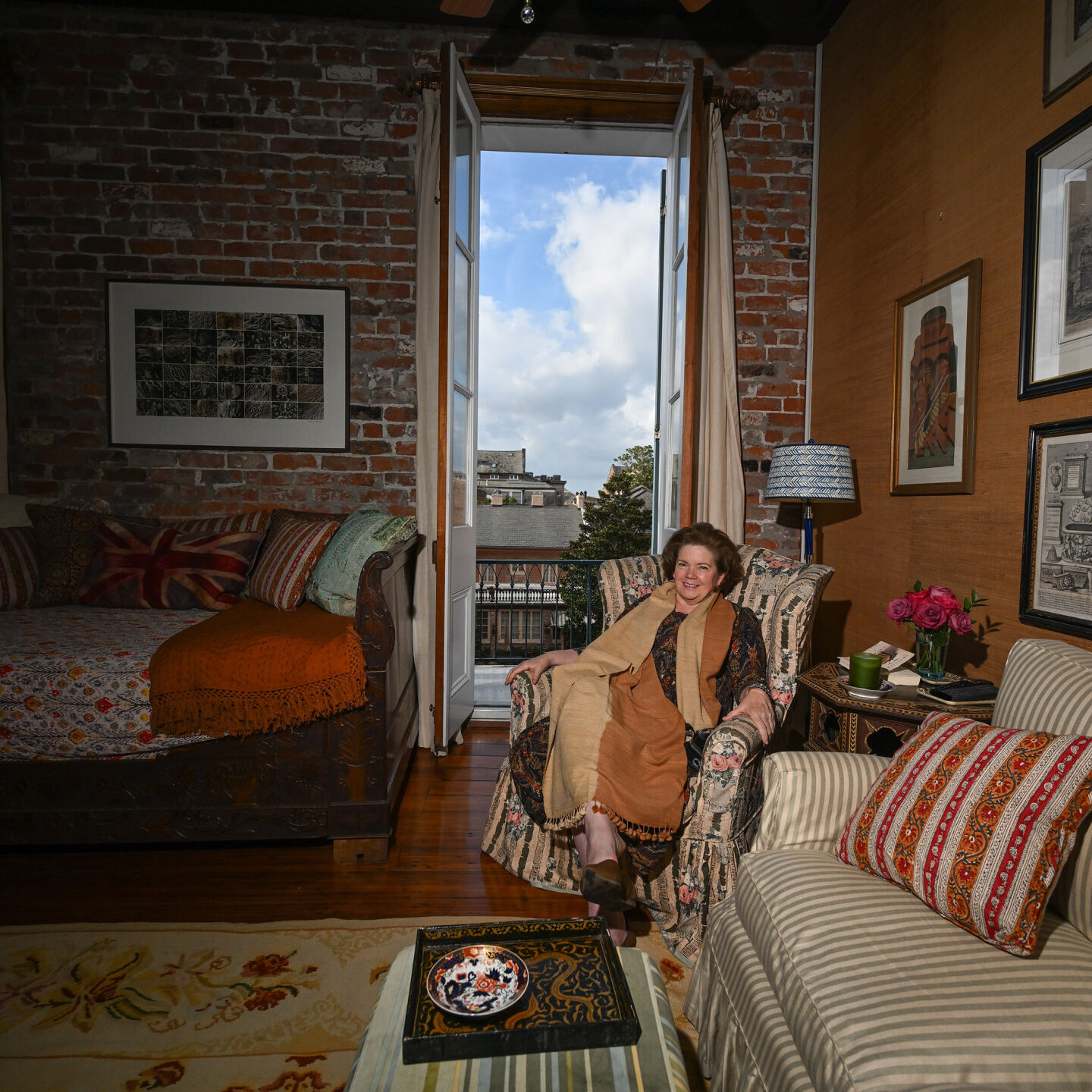 Evident in the space is the British inspiration for which Stamps & Stamps has been noted since its establishment in 1991.
With meticulous attention to detail, the Stamps have created an atmosphere with abundant patterns and textures, representations of numerous periods and design influences, an abundance of books, and plush sofas and armchairs.
The result is chic and elegant but rooted in comfort, with nooks that feel secretive even in the diminutive space.
A window within the cozy bedroom at the front of the apartment faces east, allowing for sunrise views over the slate roofs of the French Quarter. "This is my favorite room in the apartment," said Kate Stamps. "It is a pleasure to wake up to the shifting sheets of orange and turquoise melting as the sun gets higher in the sky."
Next to the window sits an antique desk, its writing surface bearing notecards and pens. A collection of fine porcelain vases are filled with fragrant Old Garden roses, ranging in color from soft blush to deep magenta.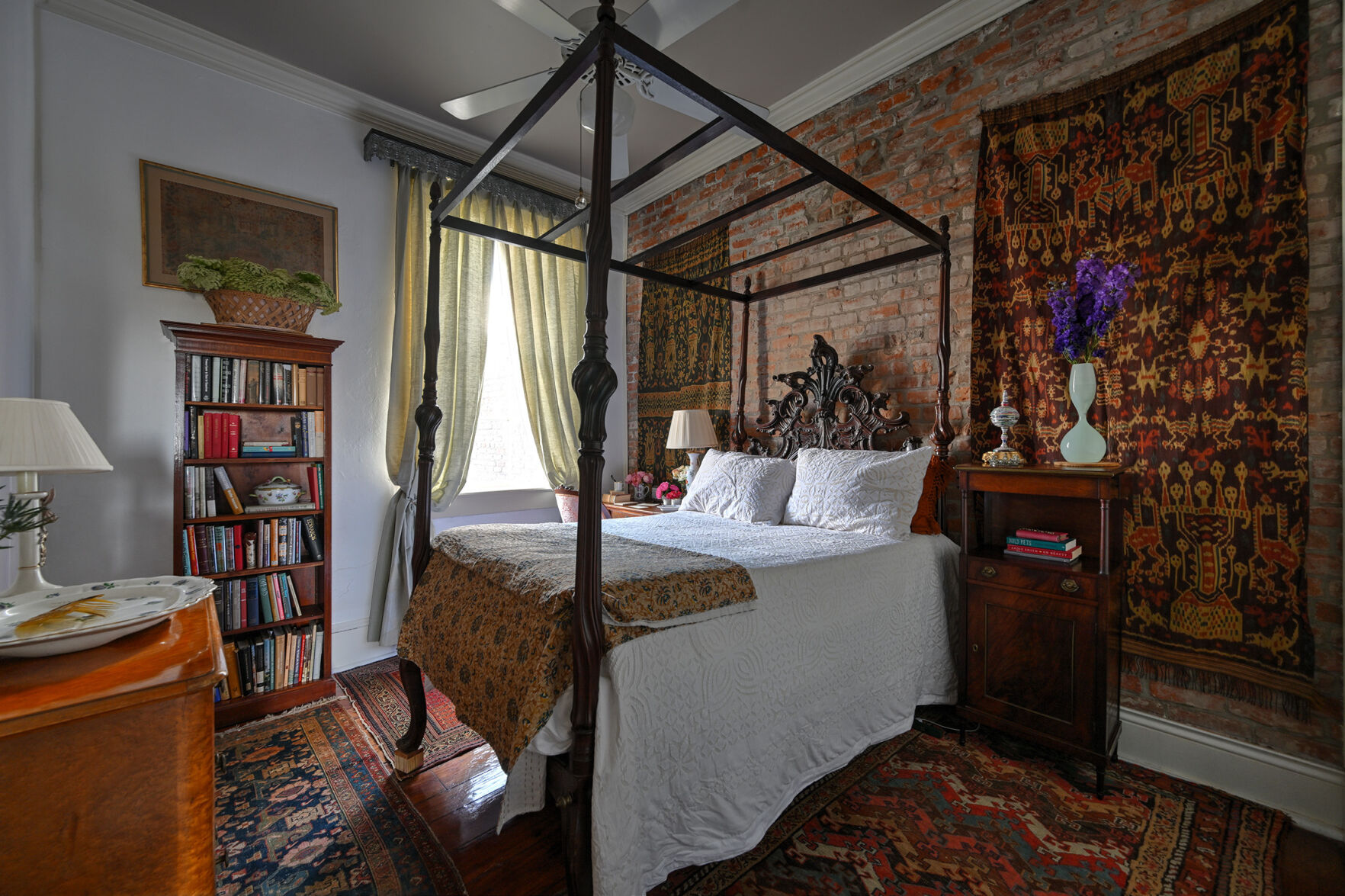 The desk doubles as a night table for the antique, hand-carved rosewood tester bed of Portuguese provenance, which is adorned with linens in a pale cotton Kalamkari block print.
Framing the bed to either side are Indonesian Ikat textiles worn as ceremonial wraps at the turn of the 20th century. 
All the wall-hanging textiles throughout the apartment were installed by Threadz NOLA, a New Orleans design firm headed by Andreina Salazar and spouse Tyron Snyder.
"They design, install, adapt and repair furniture and textiles," Kate Stamps noted. "Threadz NOLA is a great local find."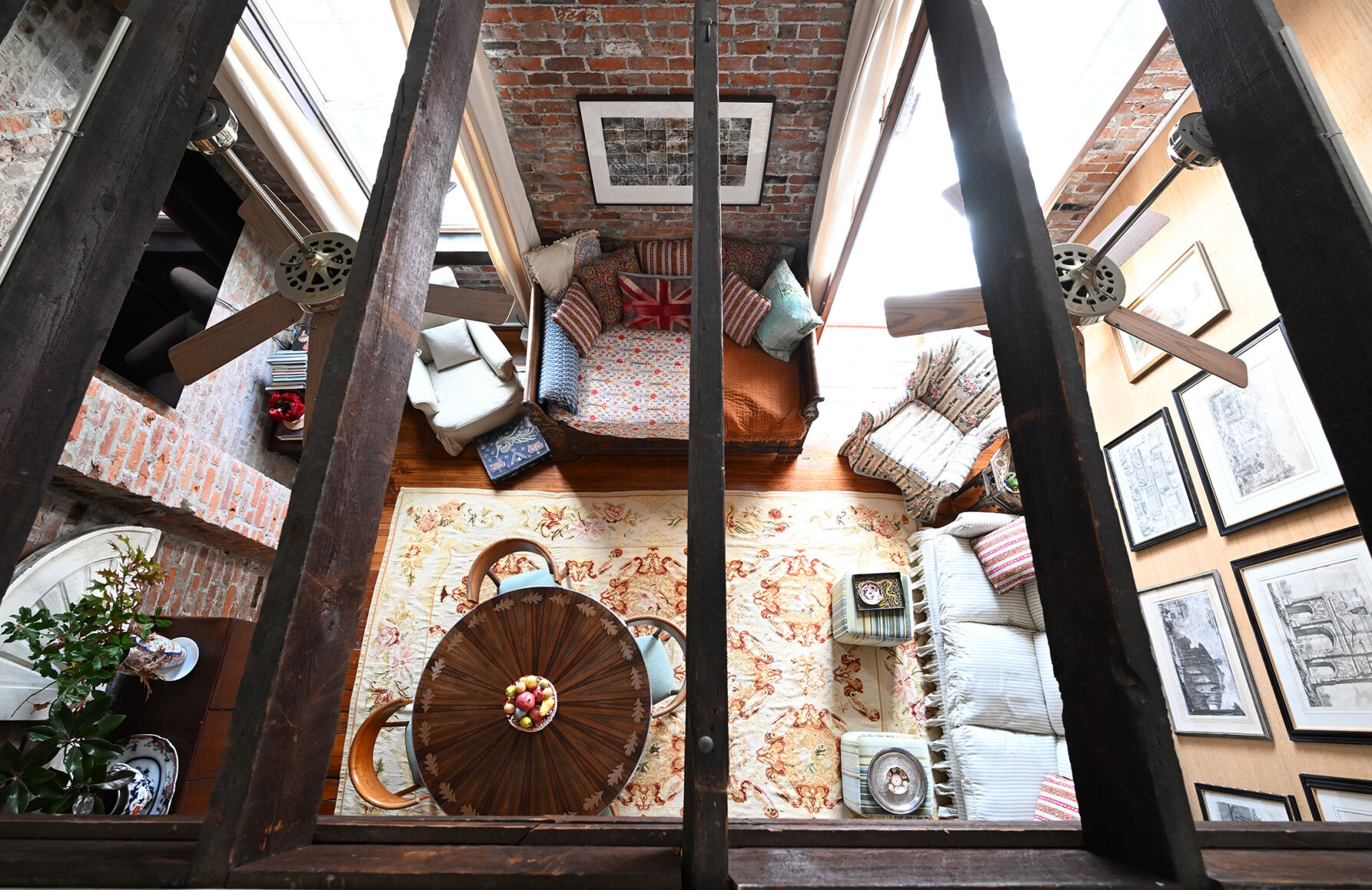 An antique nightside table of crotch-cut mahogany is topped with books and a luminous vase filled with blue delphiniums, along with an orb-shaped chalice from Africa crafted of rolled paper scraps using a Victorian method. The floors are covered in 18th- and 19th-century Persian rugs.
Throughout the rest of the first floor, the walls are either exposed original brick or covered in grass cloth installed during the 1970s renovation. Over the years the once-pale cloth has oxidized into a pleasing copper hue that harmonizes with the brick.
Exposed beams lend a Bohemian vibe to the living space. The ceiling is open to the second floor to reveal a glimpse of a sleeping suite, which contains a pair of ancient paintings of Sufi mystics and a 1970s Verner Panton "Pantonova" sectional covered in sand-colored linen velvet.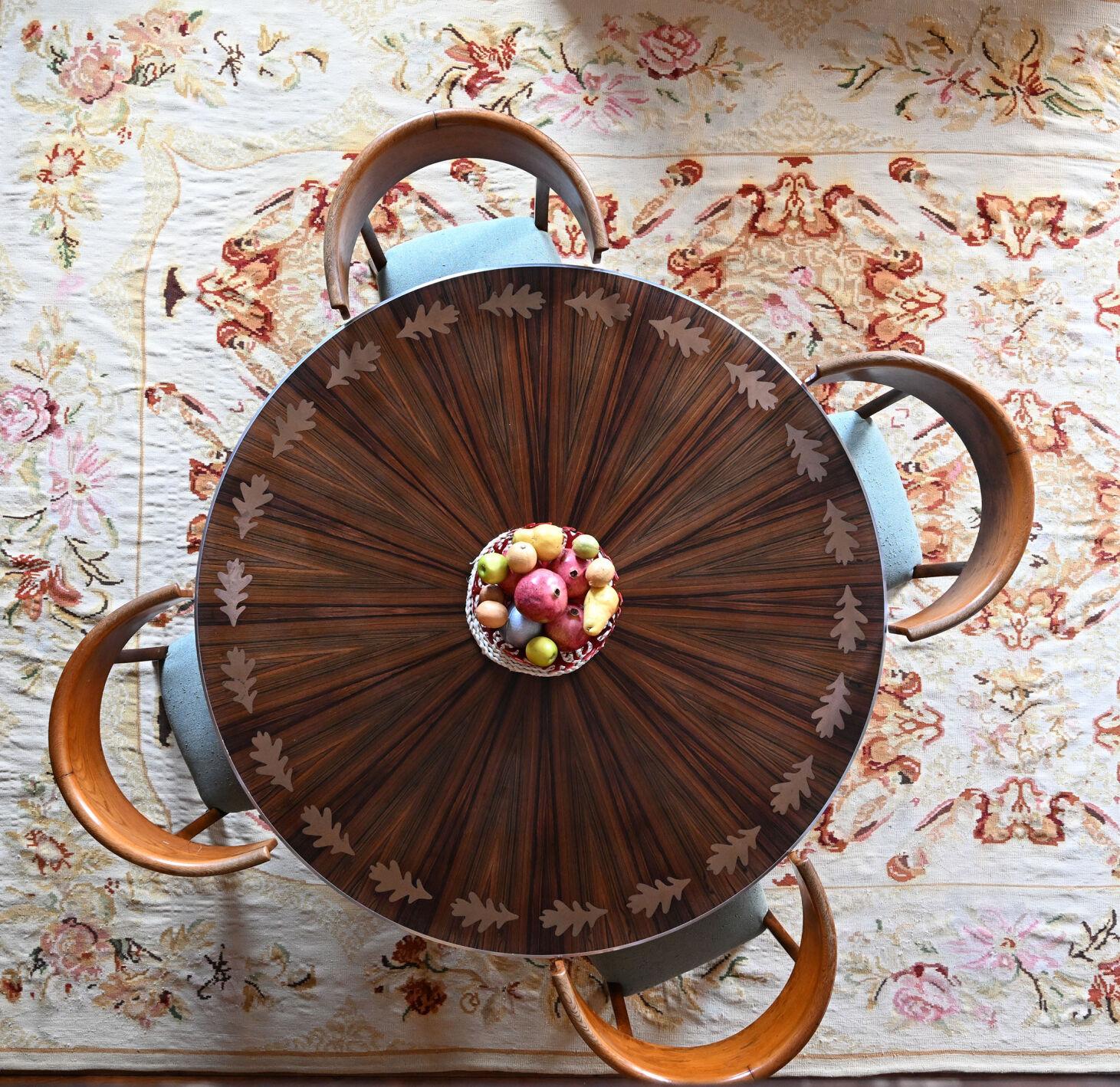 In the living room, a painting acquired in London and bearing a fine patina of age is adorned by a silver Milagro. A sofa with classic lines, rolled arms and overfilled down cushions was reupholstered by Threadz NOLA in a simple striped fabric by California designer Rose Tarlow.
A collection of 12 etchings, made in 1740 by Giovanni Battista Piranesi, were a gift from Kate Stamps to Odom Stamps for the new apartment.
A contemporary white fiberglass Charles Eames "La Chaise" lounge sits to one side of the sofa, a gallery overlooking Chartres Street to the other. A deep daybed covered in a myriad of textiles serves as a sofa by day and as sleeping space for guests as needed.
In the dining room, a grouping of Kuba textiles hangs dramatically from the ceiling. A round Danish modern pedestal table of rosewood with a copper base and inlays of copper leaves shares space with a Danish modern sideboard of mahogany.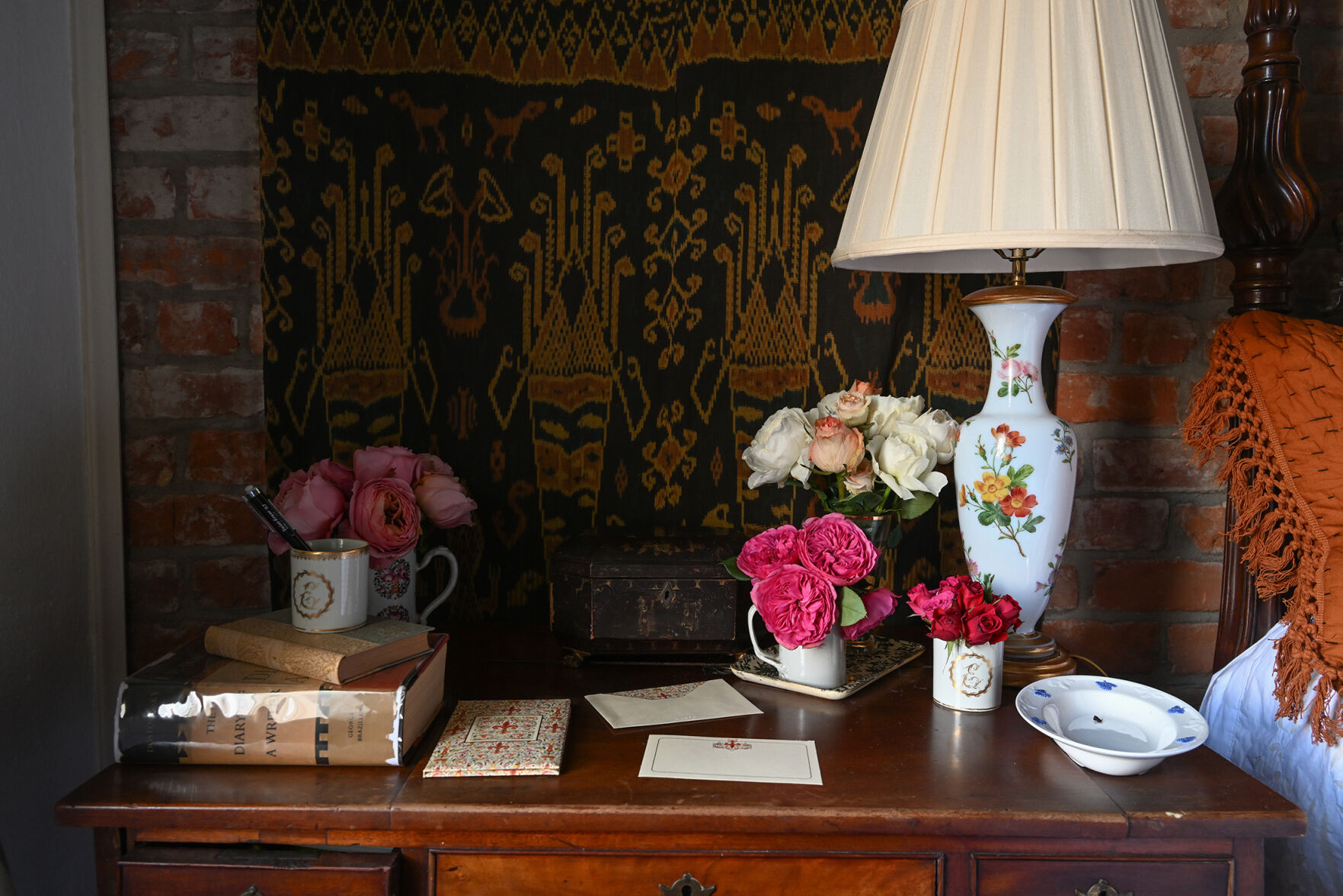 Four dining chairs, in the style of Greek klismos are crafted of English oak, were acquired in Denmark. A bowl fashioned to resemble coral sits center-table filled with exotic fruit.
Many vessels throughout the home are lavishly filled with a profusion of fresh fruits and flowers. Small spaces abundantly adorned with fresh elements are central to the English design aesthetic.
In the French Quarter home, however, these world-travelers have found a look they love and much more. "The combination of beautiful buildings, great food, local music and street life are unique and a great pleasure I feel every time I'm in this apartment," Odom Stamps said.