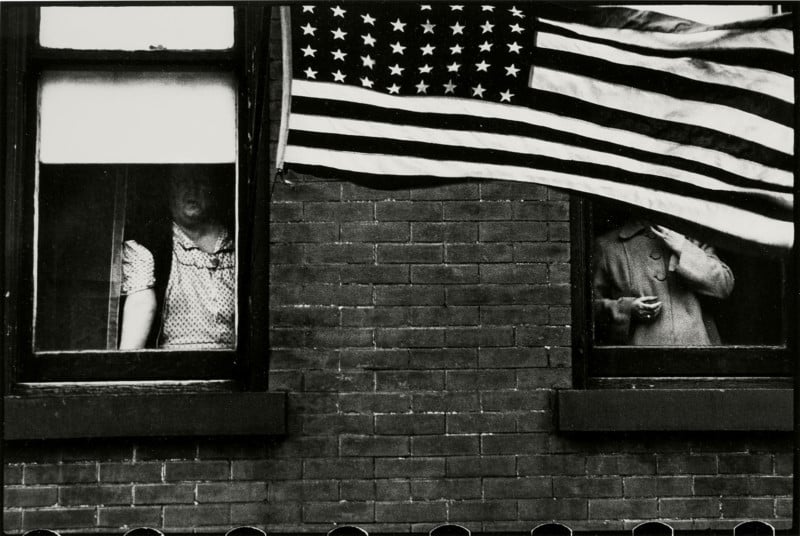 Sotheby's is presenting On the Road: Photographs by Robert Frank from the Collection of Arthur Penn on exhibition in New York ahead of a live auction on Feb. 22 at 2 P.M. Sotheby's says it's "the world's most expansive private collection of Robert Frank photographs" and the collection includes images across several decades of the late photographer's storied career.
The Penn Collection includes 109 lots that demonstrate Robert Frank's expertise as a documentary photographer, some of which are expected to sell at auction for as much as $180,000.
Frank was born in Switzerland in 1924. Beginning in 1941, he studied photography and spent six years working for commercial photography and graphic design studios in Switzerland. Frank left for the United States in 1947 and worked as a fashion photographer at Harper's Bazaar. Frustrated by the limitations of fashion photography, Frank lasted there for just a few months. He moved to freelance photography work, including photojournalism and advertising projects for major publications such as Life, Look, Charm, and Vogue.
While doing commercial photography work, Frank also did street photography independently. This personal documentary work resulted in Frank applying for the Guggenheim Fellowship. Winning the fellowship allowed Frank to travel throughout the U.S., capturing images that would be the backbone of Frank's iconic book, "The Americans."
Frank then turned his attention toward motion pictures. Frank continued to dabble in photographic projects, including the photo series "From the Bus," an especially cinematic and important photo series. All eight images from that series, captured in 1958, are available in the upcoming auction (lots 18-25). The series is noteworthy for many reasons, including that Frank limited himself to capturing the images in the series from the windows of a New York City bus. The series delivers freeze-frames of the hustle and bustle of life in New York City in the late 1950s.
Alongside Frank's ever-evolving photographic style and increasing emphasis on filmmaking, Frank also had a fluid printing style. Many images in "From the Bus" are printed on paper that Frank briefly exposed to light before placing the negative in the enlarger, resulting in gray margins reminiscent of a camera's viewfinder. Frank dedicated his "From the Bus" series "to the people who walk and dream on the streets of New York."
Frank returned to still photography in the 1970s, publishing his second photography book, "The Lines of my Hand" in 1972. The book includes mostly personal, autobiographical photos and collages. Amid many changes in his personal life, including a new marriage to sculptor June Leaf, Frank moved to Nova Scotia. Frank lost his daughter, Andrea, to a plane crash in 1974. His son, Pablo, suffered from mental illness and died in 1994. In 1995, Frank founded the Andrea Frank Foundation in his daughter's memory to provide grants to artists. Robert Frank died aged 94 at his home in Nova Scotia in 2019.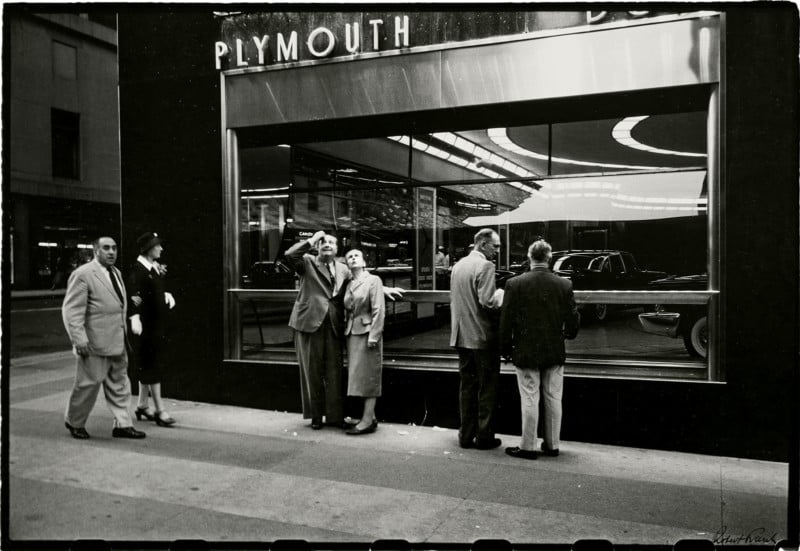 Robert Frank's career was eclectic, illustrious, and vibrant. Sotheby's has published an in-depth overview of images in the auction, including details on when photos were captured, relevant background information, provenance, and the estimated hammer price.
---
Image credits: All images by Robert Frank, courtesy of Sotheby's "On the Road: Photographs by Robert Frank from the Collection of Arthur Penn" exhibition and auction