For Victoria Beckham, rising to the challenge of a Paris catwalk show began at ground level with the 6in platform heels she wore on the Eurostar journey from London.
"I suppose I feel a bit more pressure because it's Paris, but I embrace that," she said before her show. "And it's a good way to wear-test the shoes to see if they are comfortable."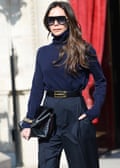 Beckham is one of three names who flew the flag for British talent on a single day at Paris fashion week. At just 26, Harris Reed, who describes his style as "romanticism gone non binary", made his debut on Friday as the new creative director at Nina Ricci.
It came as the athlete Dina Asher-Smith joined Schitt's Creek stars Catherine O'Hara and Dan Levy for an all-star front row at Loewe, which is designed by Jonathan Anderson.
The star of Beckham's front row was her 11-year-old daughter Harper, who had designed her own trousersuit for the occasion. ("She had a very clear vision," noted her mother.) On the day of the show, Beckham's label announced it had turned a profit in 2022 for the first time, with revenues rising 42% to £58m.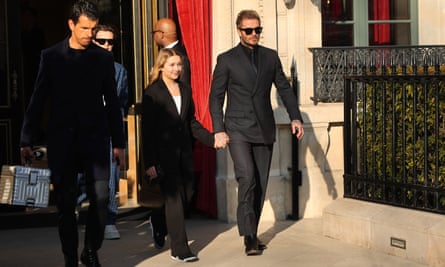 Paris fashion week has been headlined by a return to power dressing, a vibe shift which Beckham reflected in "the biggest shoulders I've ever done. A jacket with a broad shoulder, and legs poking out, that's what feels desirable to me now. That combination of strength and femininity."
Beckham put shoulder pads in her dresses for the first time; jeans had knife-sharp front creases stiffened with resin. A hit of humour cut through the glamour and polish as what appeared from a distance to be silk fringing turned out to be acrylic hair extensions.
Reed chose a venue as French as they come for his Nina Ricci show – the former Air France headquarters in the shadow of Napoleon's tomb – but opening with curve model Precious Lee in polka-dotted sheer taffeta was a mission statement about bringing more diverse and inclusive casting to Paris.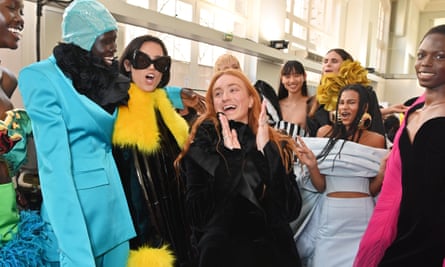 The designer recently told Vogue that "Paris shows have always struggled a little bit because there's a lot of white cisgender girls who are a bit underweight … looking at the French shows [and] I was like: 'I don't see femininity expressed in a way that feels curvaceous.' And that's deeply important to the inclusivity, to the femininity, that I want to bring to the helm of this brand."
He is introducing a broader-size run at the brand. The show was a stride into new territory for a house closely associated with the soft-focus, chiffon-draped adverts for its L'Air du Temps perfume. The house motif, a pair of doves, turned up here as metallic nipple pasties.
Anderson put his catwalk in a 14th-century chateau as a form of show-and-tell. He "confronted history" at Loewe this season – after a decade of ignoring the house's archives, his latest handbags are based on 1970s bestsellers – and wanted his audience to do the same.
So he had them cross a wooden drawbridge and pass beneath a turreted arch to reach the catwalk. This was a high-concept event, from the stage set – Lara Favaretto's art installation of 10,000kg of coloured confetti – to the peel-on, peel-off knitwear which will be available to purchase as stickers.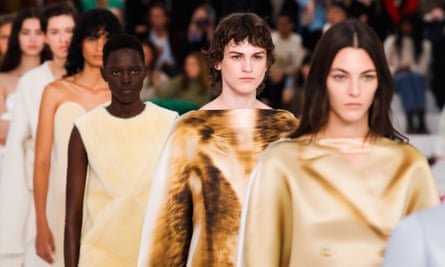 Avant-fashion can feel chilly and antiseptic, but Anderson makes it sing by tuning into how clothes express thoughts and feelings. The unconscious defensive gestures of holding an elbow with the opposite hand to create a barrier with one arm, or of pulling sleeves down to conceal your hands, were baked into the way the fabric fell.
A silk duchesse dress seemed to be suspended precariously from one gold clasp at the collarbone, bringing a mood of high-drama fitting that channelled the energy of a special night out. Anderson, backstage after the show, called it "emotional engineering".