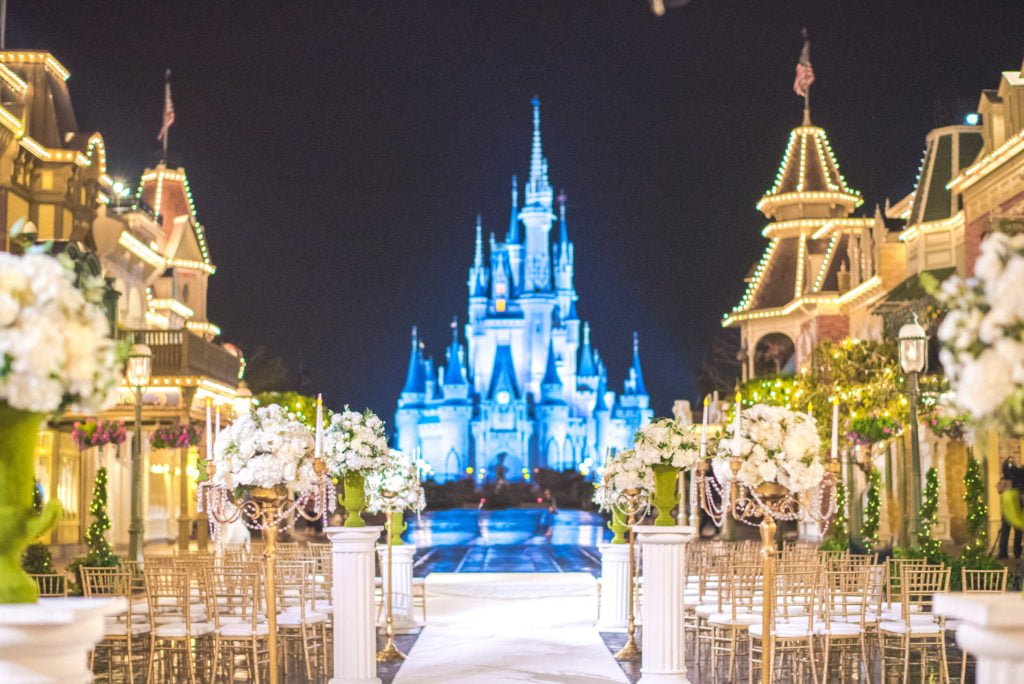 If you've ever dreamed of having your own fairy tale wedding at Walt Disney World, now is a great time to consider it. During the 50th anniversary of Walt Disney World, extra touches are being added everywhere, including at weddings. And with the new fireworks shows at Magic Kingdom and at EPCOT, plus the return of lots of live entertainment, it's a great time for your wedding guests to enjoy Disney too.
There is a lot to know if you want to get married at Walt Disney World. As a former Walt Disney World Weddings Cast Member, and a Disney fan in general, I've put together what you need to know about wedding venue options, pricing info, availability, food, and more.
It's A Fairy Tale, But With Some Conditions
The grandest Disney wedding dream is a wedding at the Magic Kingdom. That dream can become a reality with a wedding ceremony in the Magic Kingdom, but the catch is a hefty price tag and restrictions on when the ceremony can take place. This exclusive experience to enjoy Main Street, U.S.A. and get married with Cinderella Castle as your backdrop must take place either before the park opens to guests for the day or after the park has closed.
About a decade ago it was nearly impossible to get married inside any of the Disney theme parks. Now, there are lots of wedding venue options inside Walt Disney World's theme parks, and even more options for your reception. In fact, there are over 50 different Disney wedding and reception venue choices.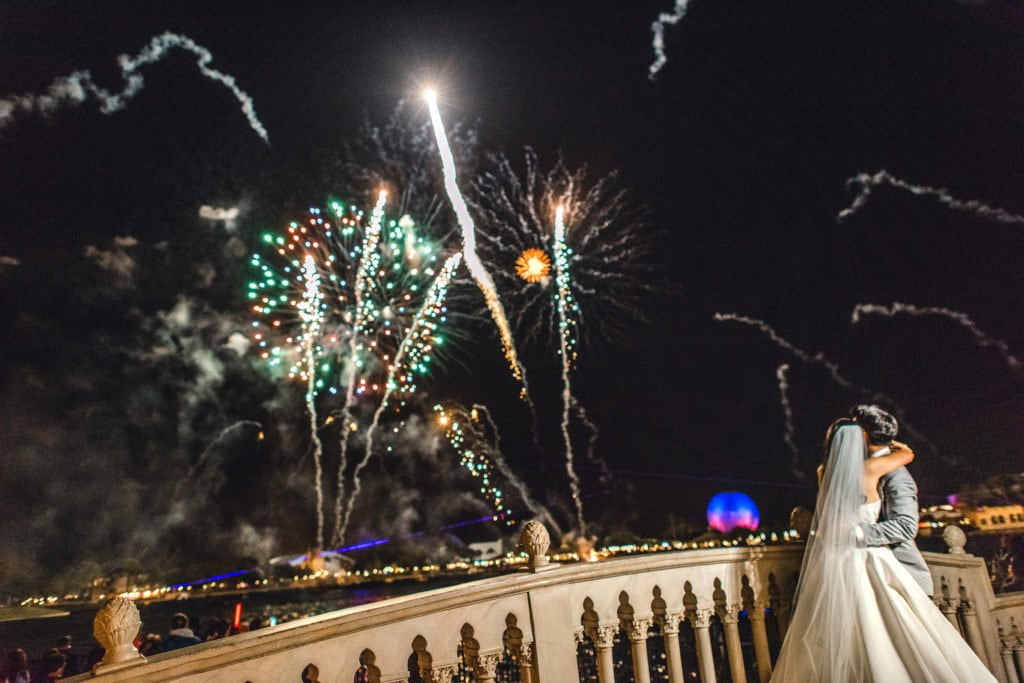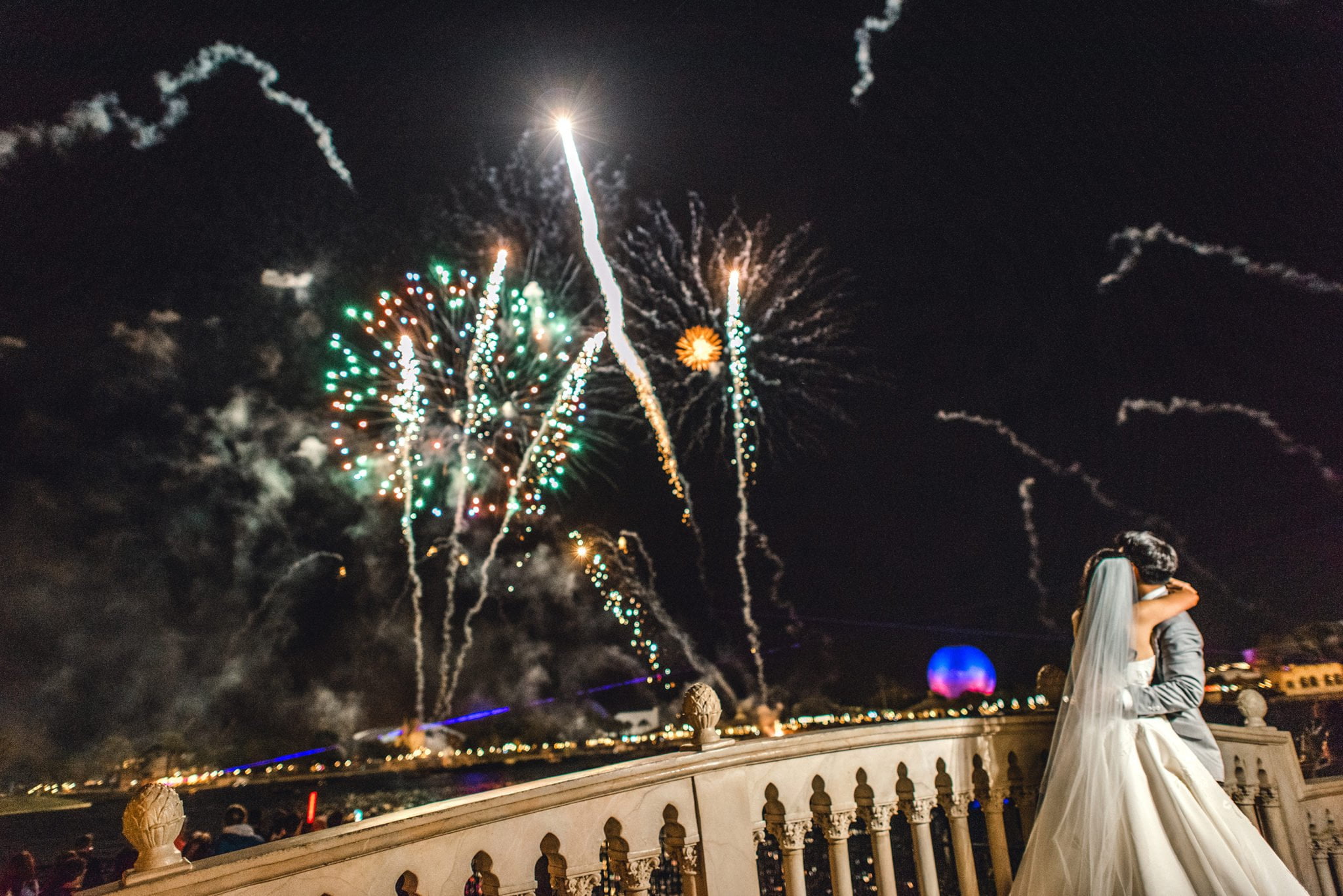 Where you can have your wedding at Disney depends on the number of guests. You'll need to have a strong idea of how many guests will attend your wedding and/or reception. Every person, including infants, counts as a guest.
Secondly, nearly all theme park wedding venue locations are unavailable during regular park hours. So, if you want to get married inside a Disney theme park, you'll have to be prepared for a wedding at the break of day or very late at night. There are some exceptions to this, mostly at EPCOT.
Each of the four Walt Disney World theme parks has multiple locations in which a wedding or a reception can be held. Some of the venues enable you to have fireworks during your special day. Some of the most popular Disney theme park wedding venues are:
Magic Kingdom Main Street U.S.A
Magic Kingdom Cinderella Castle Courtyard
Italy Pavilion at EPCOT
France Pavilion at EPCOT
Japan Pavilion at EPCOT
Disney's Hollywood Studios Sunset Boulevard
Disney's Animal Kingdom Tree of Life
Dinsey's Animal Kingdom Pandora – World of Avatar
Browse the entire list of Walt Disney World wedding venues and start daydreaming.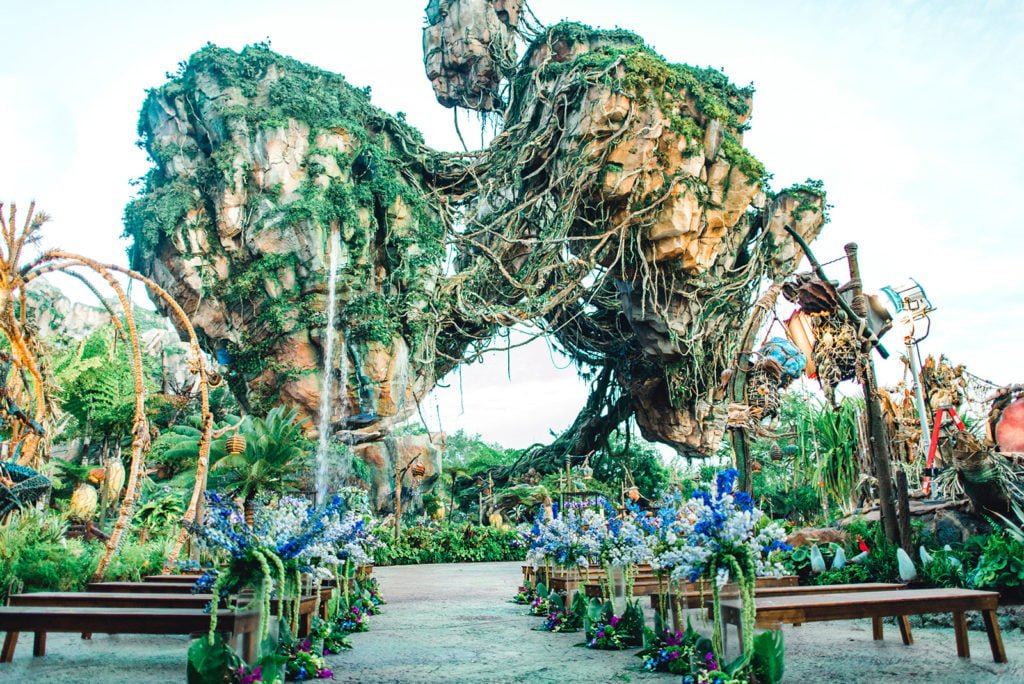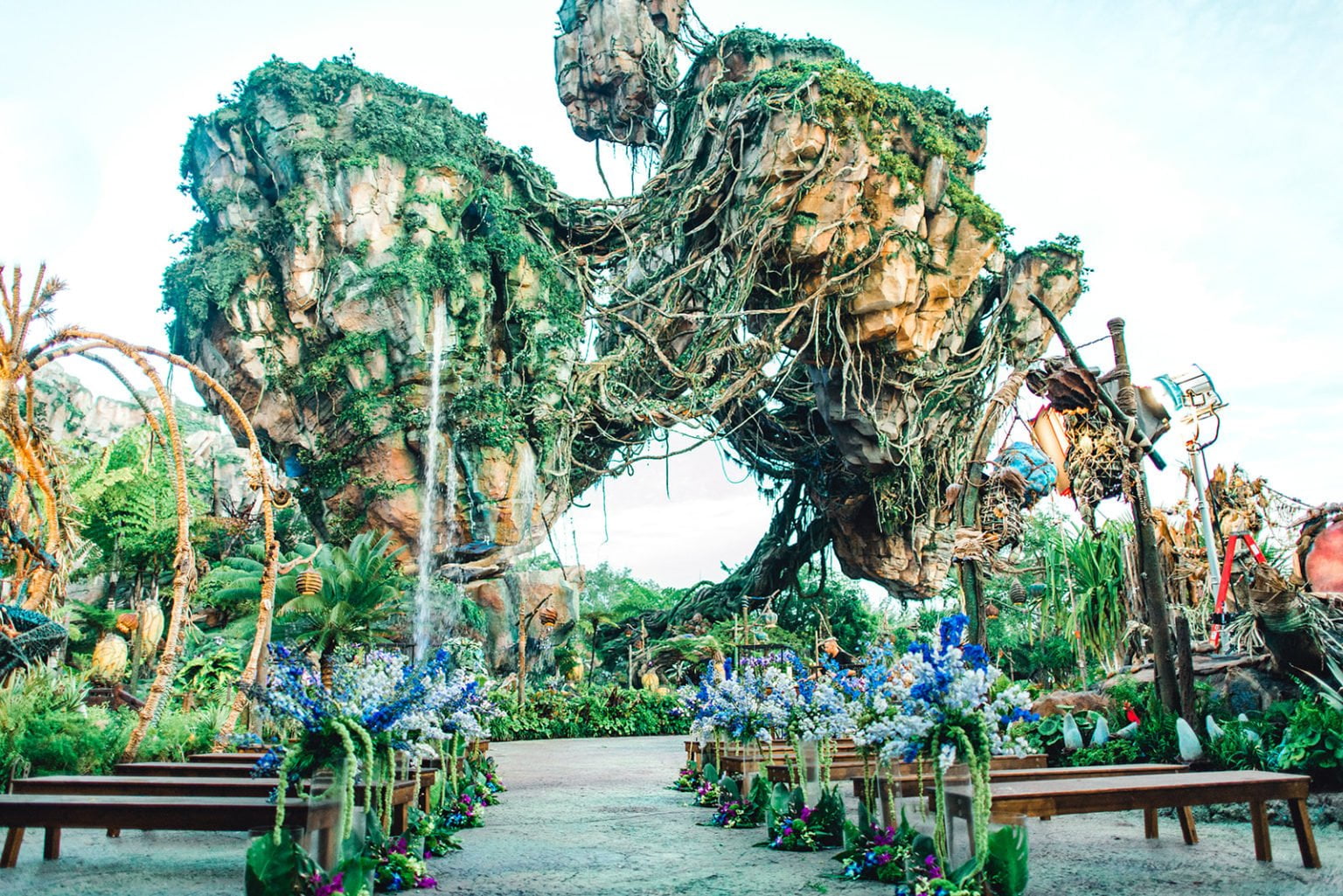 It's Expensive, But There Are Options
A Disney wedding can cost a lot. However, intimate weddings start at just $7,500. From intimate occasions to grand affairs, Disney's Fairy Tale Weddings has a variety of venues for which a couple could wish.
All Disney wedding venues have an event minimum expenditure. The event minimum is determined by the ceremony venue, day of the week, and time of day.
EPCOT wedding venues have event minimums ranging from $10,000 – $17,000, while Disney's Hollywood Studios and Disney's Animal Kingdom have minimums ranging from $15,000 – $25,000.
Small Weddings
Intimate weddings, while more budget-friendly, only allow for a very limited amount of guests. The least expensive Disney weddings in the $7,500 range are limited to four guests, plus the couple.
And most of the eligible venues are at a Disney resort hotel. Disney's Grand Floridian Resort and Spa as well as Disney's Polynesian Village Resort are the two main venues for small Disney weddings.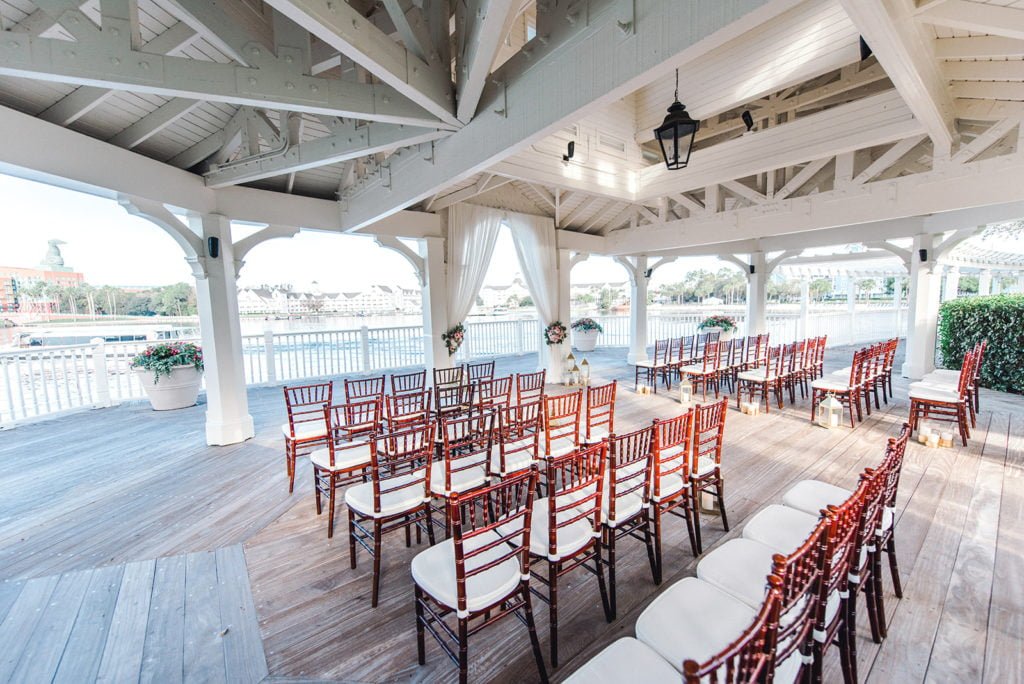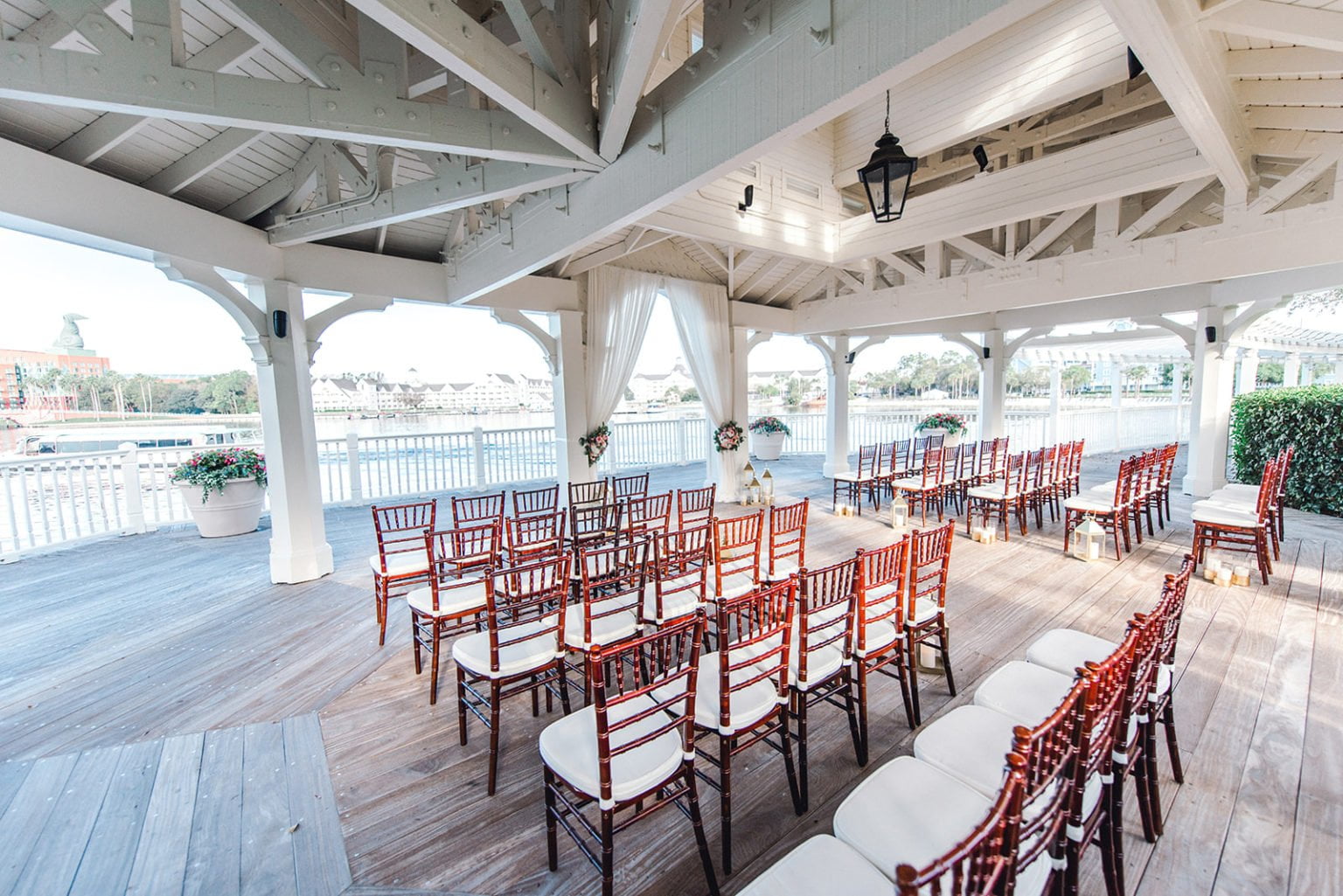 Disney's Boardwalk Resort, where you can have your wedding ceremony at Sea Breeze Point, will transport you and your and guests back to the 1920s with its timeless and romantic charm. This venue sits on the shores of Crescent Lake at Walt Disney World Resort, with EPCOT as its neighbor. This venue can be used for intimate weddings, and larger ones too.
Oak Manor Lawn at Disney's Port Orleans Resort – Riverside boasts towering oak trees, charming walkways, and an enchanting river – providing a gorgeous backdrop for any wedding ceremony.
Disney's Wedding Pavilion
Of course, the most well-known Disney wedding venue is the beautiful Disney's Wedding Pavilion. The iconic chapel nestled on the shores of the Seven Seas Lagoon is ideally positioned so that Cinderella Castle is the backdrop as you exchange vows. The venue has a soft color palette and plenty of seating. And it easily serves as a canvas for any special decor ideas you may have in mind.
Some couples choose to have an intimate ceremony here, while others create something extravagant. The event minimums for Disney's Wedding Pavilion range from $10,000 – $35,000.
NEW Disney Wedding Venues
The newest wedding venue to debut during the Walt Disney World anniversary celebration is Place de Remy, inside the newly expanded France Pavilion at EPCOT. The new venue evokes the feeling of France, inspired by the whimsy of the park's newest attraction, Remy's Ratatouille Adventure, and includes the attraction marquee and the pavilion's central fountain at its heart.
In addition to this new venue, there are new ways for couples to have a magical wedding at Disney.
Four new décor concepts are now available, modeled after the "EARidescent" glow of each of the four Walt Disney World Resort theme parks. Special food and beverages exclusive to The World's Most Magical Celebration can also be incorporated into a Disney's Fairy Tale Wedding during the 18-month-long festivities, which ends in Spring 2023.
Couples can also take wedding portraits in front of the Beacons of Magic at all four theme parks or celebrate with dessert parties and receptions during new nighttime spectaculars at Magic Kingdom Park and EPCOT.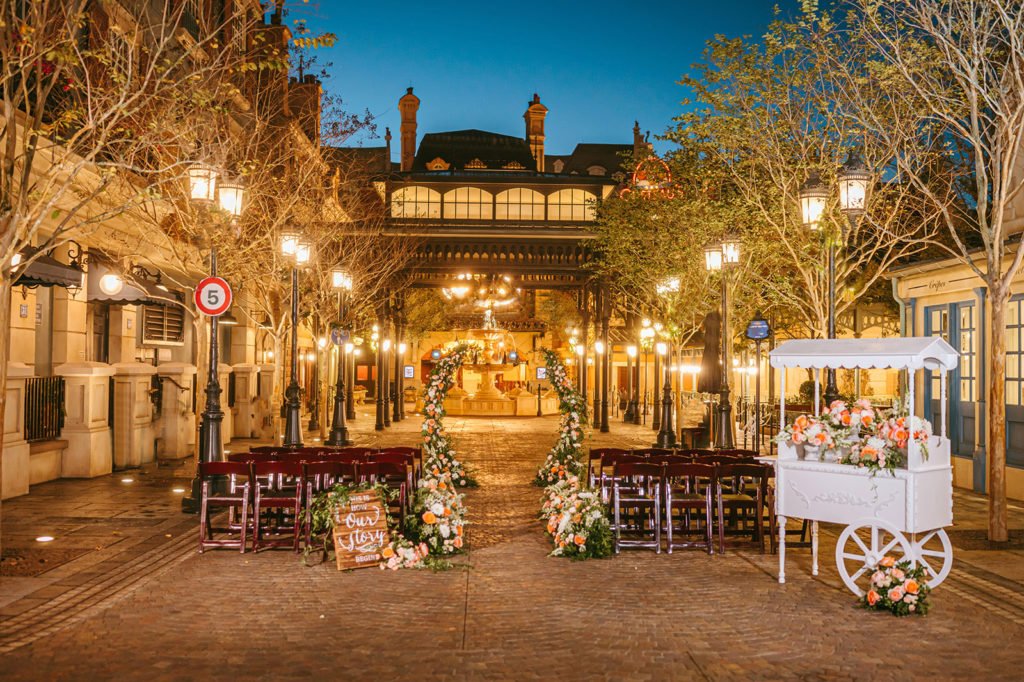 Disney's Fairy Tale Weddings Can Help Plan Your Entire Wedding
Disney's Fairy Tale Weddings, which is Disney's dedicated wedding planning service, can be a one-stop-shop. Not only can you pick a magical venue, but Disney's wedding planners can also help you with decor, food and beverage, hotel logistics and transportation for your guests, even your wedding gown and wedding bands. The Enchanted Disney Fine Jewelry collection from Disney's Fairy Tale Weddings offers timeless wedding rings inspired by Disney princesses and other favorite characters.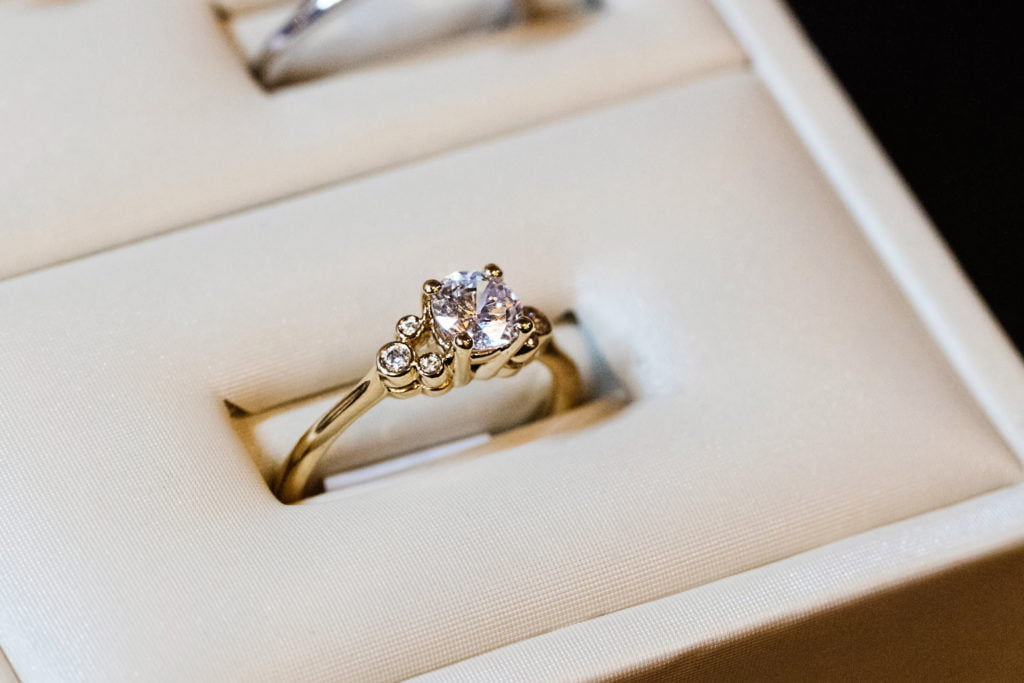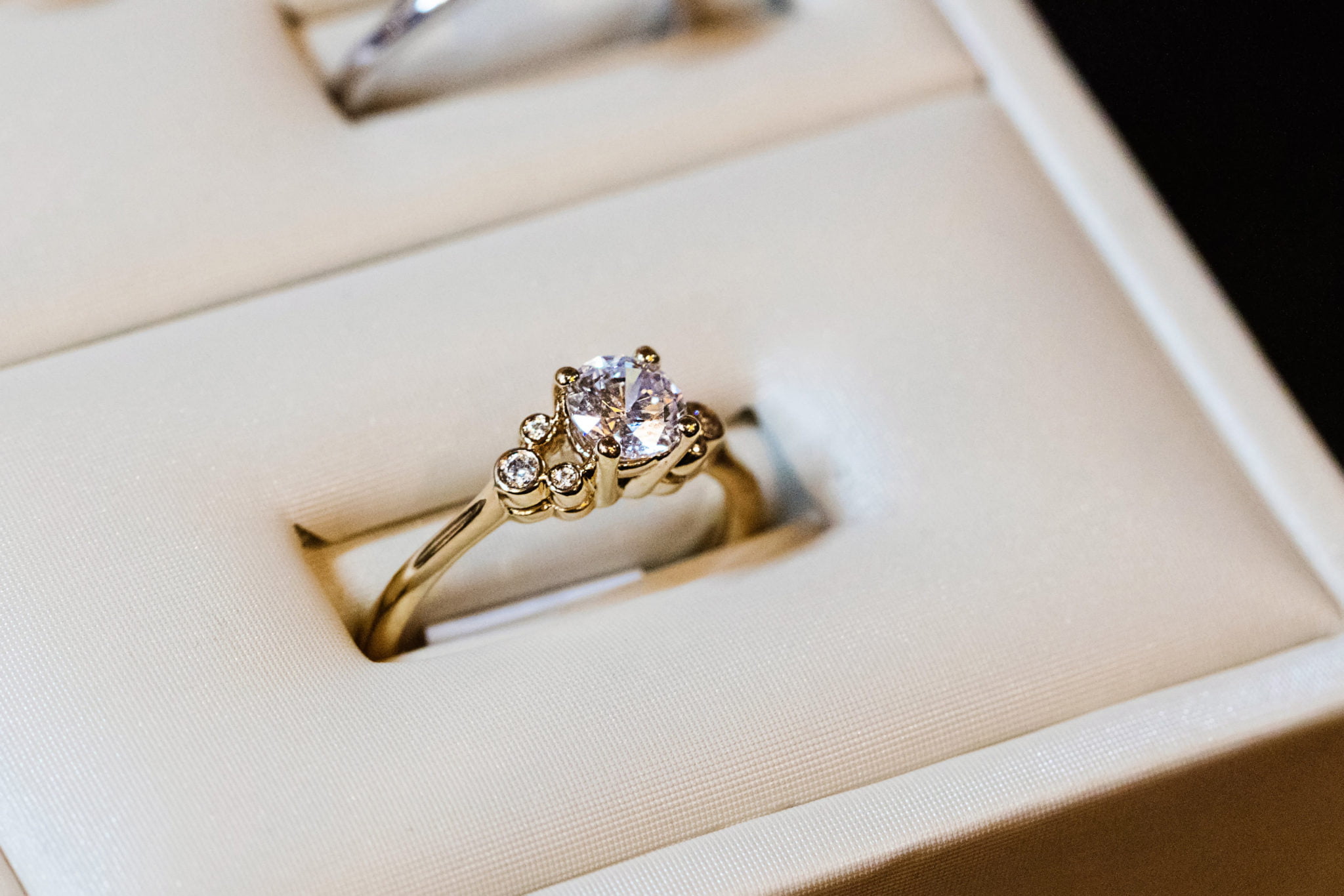 Although the Disney World wedding venues are magical enough as it is, the details that can be added to your floral arrangements (including hidden Mickeys and park icons), as well as on your place settings and menus, are truly incredible.
The wedding planners can match the theme of your venue with music, floral arrangements, and so much more.
Even the way you make your grand entrance can be made magical. Imagine arriving in Cinderella's Coach pulled by stately ponies. Or, make your Disney wedding reception the most talked about occasion by adding an appearance by some of your favorite Disney pals like Mickey and Minnie Mouse.
Walt Disney World has earned a reputation for its delicious dining options. They are also well-known for the way they can accommodate food allergies and dietary needs. So you can rest assured they will put together a phenomenal menu for your special day. What's more, the incredible Disney-themed wedding cakes they can create are often jaw-dropping.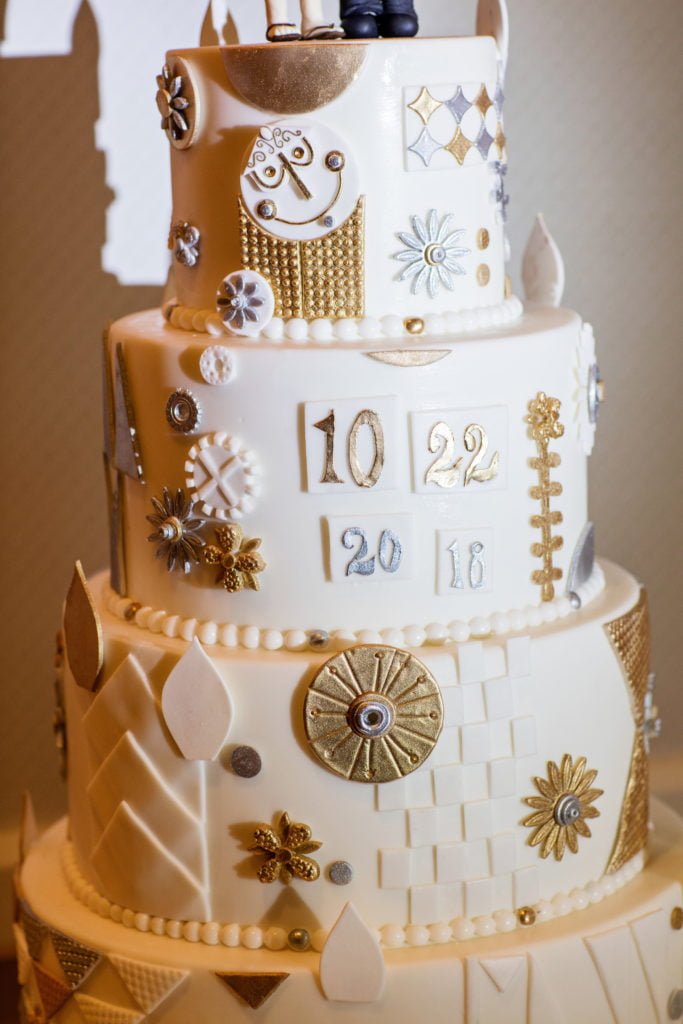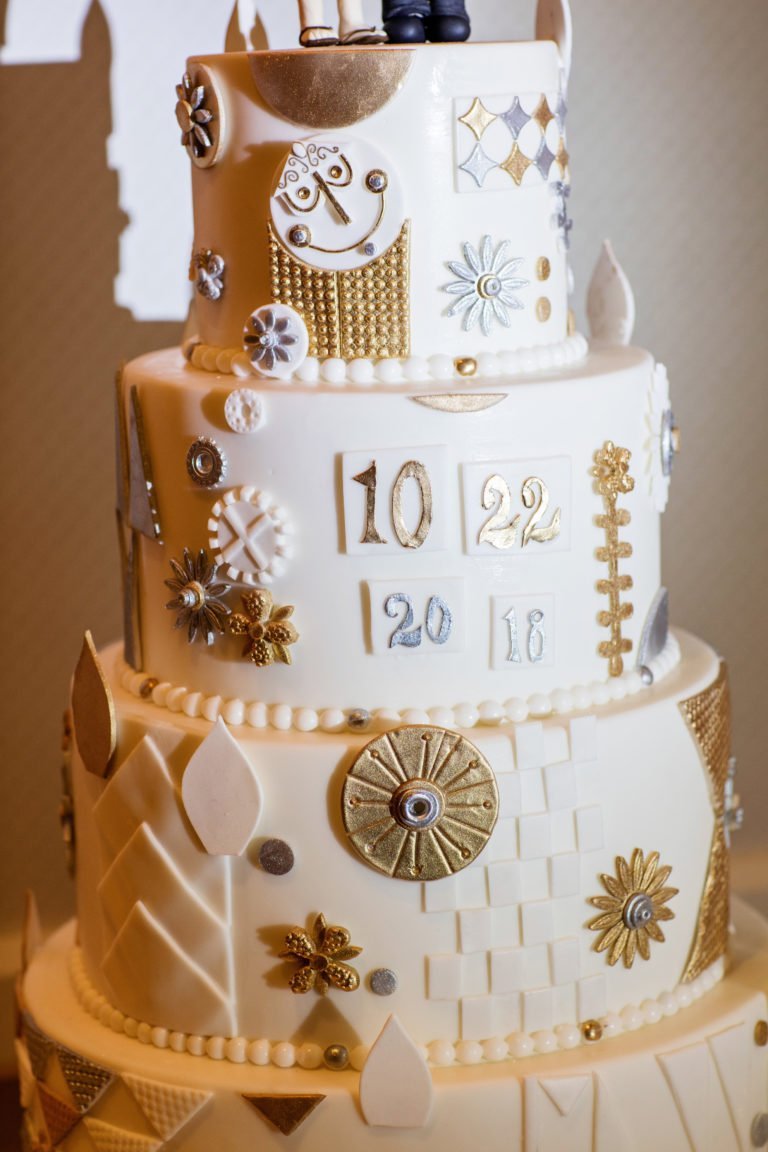 Steps to Take to Plan a Disney Wedding
Visit the Disney Fairy Tale Weddings and Honeymoons website
Create a "Dream Board" so you can save venues and other ideas that you like
Determine the number of guests for your wedding
Establish the budget range with which you are comfortable
Choose a range of dates so you can be flexible
Contact a Disney Wedding Specialist
Begin to plan your Happily Ever After
Dates Book Out Fast
Weekends and holidays are definitely the most popular dates for a Disney wedding. They also cost more. If you have your heart set on a specific date, then you need to get the booking process started as soon as possible.
On the other hand, if you can be flexible in your dates you will find it much easier to plan. If you cannot be flexible in your date, then be flexible with your venue choices. If the date you want and the venue you want aren't available there are other options on Walt Disney World property as well as other Disney destinations. The other options can also be easier on your budget.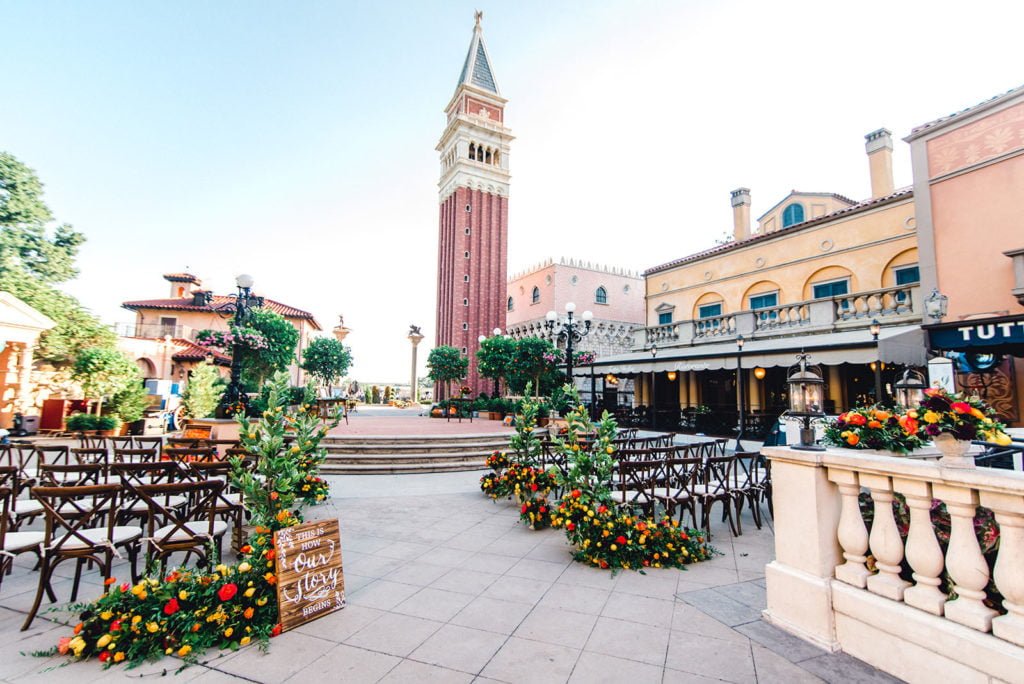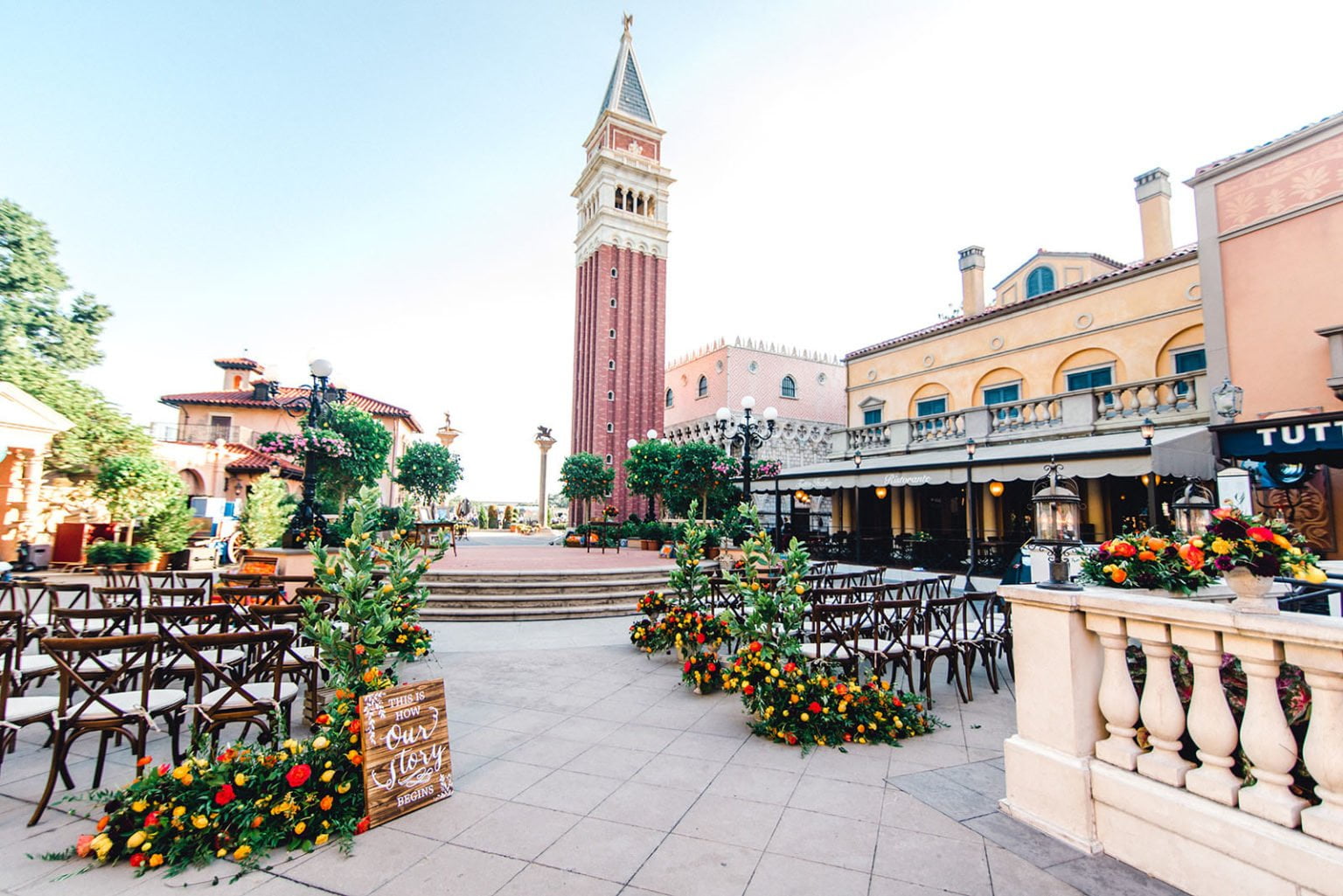 Consider Other Alternatives
While the most magical way to have a wedding at Walt Disney World is by planning your wedding with Disney's Fairy Tale Weddings, there are some other hotels on Disney property that offer wedding options too. These are generally much more affordable while still offering special touches and some of the magic of being on Walt Disney World property.
You can also get married at Disneyland in California, with Disney Cruise Line including at The Wedding Pointe located on Disney's private island Castaway Cay, and at Aulani, a Disney Resort & Spa in Hawai'i.
This venue isn't as budget-friendly as other alternatives, but it is a beautiful resort and the service is wonderful. Our pal Stephanie Machado, @datinginDisney, enjoyed an exquisite wedding here. Two of the unique features here are the beautiful lawns that make for memorable event spaces, and the ability to transition from wedding to honeymoon. The team here specializes in providing a variety of special touches during your honeymoon and planning couples activities.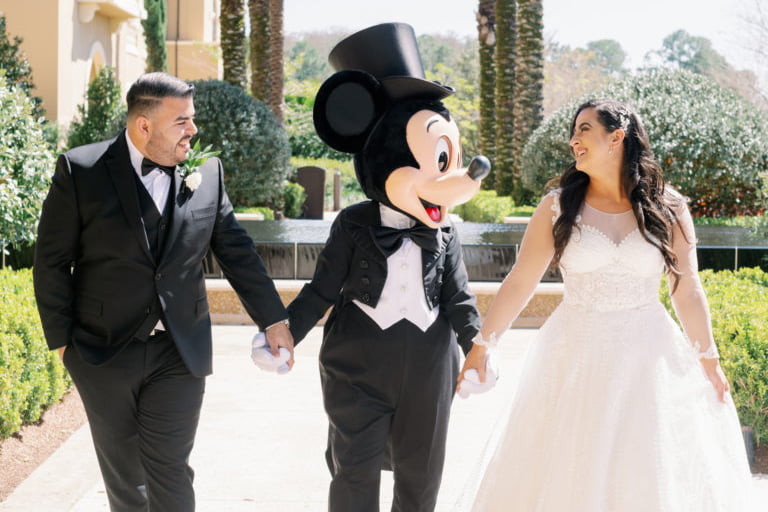 Located in the very center of Walt Disney World, the Swan and Dolphin hotels are iconic and have unique wedding venues from which to choose. Plus, their culinary team works wonders. And, with the brand-new Swan Reserve property, you can book a phenomenal rooftop location with the best views on Disney property and cap off your wedding reception with a view of EPCOT's fireworks! They are also happy to plan wedding showers and proposals.
One of the newest Walt Disney World area resorts, the JW Marriott Orlando Bonnet Creek has become a fast favorite. The resort itself is captivating. It blends modern touches with classic resort style. A popular wedding location is the breathtaking rooftop restaurant and lounge.
Getting Married at Disney Springs Hotels
B Resort – A stylish hotel with unique venue options like a poolside terrace and a restaurant with a rustic Americana feel.
Hilton Orlando Buena Vista Palace – Host an extravagant reception at 20Seven, on the top floor of the 27-story Tower Building.
Wyndham Lake Buena Vista – The closest hotel to Disney Springs is very affordable and has a few venues from which to choose.
Disney Springs Wedding Venues
Many couples don't realize they can get married at Disney Springs. There are a handful of venues that offer private events.
Weddings at Paddlefish – This riverboat-style building has been a part of Walt Disney World since the early days and offers a beautiful rooftop option.
Terralina Crafted Italian Restaurant – Enjoy the romance of this northern-Italy inspired restaurant, right on the water.
House of Blues Orlando Wedding – Make sure your special day hits all the right notes with a wedding at House of Blues Orlando.
Disney Aerophile Balloon Wedding – Does your spouse-to-be make your heart soar? Then get married aboard the Disney Aerophile Balloon floating high above Disney Springs.
Bonus tip: Splitsville Orlando is a fun place for a bachelorette or bachelor party at Disney Springs.
Couples can share their special day at sea with Disney's Fairy Tale Weddings. Amidst beautiful sandy shores and tropical blue waters, The Wedding Pointe located on Disney's private island Castaway Cay, provides an unforgettable experience.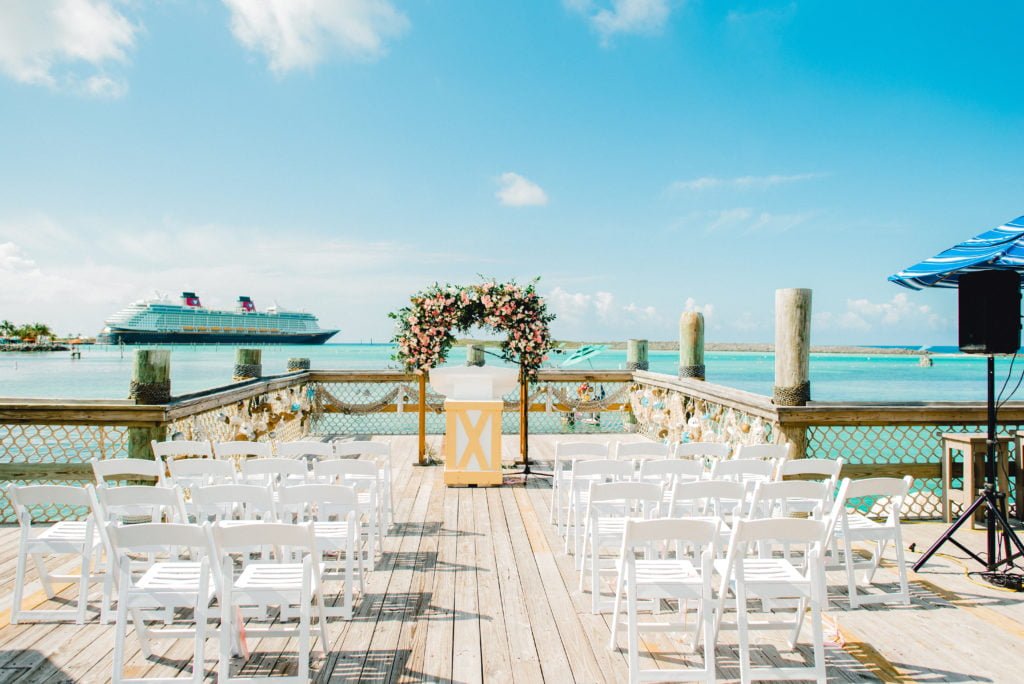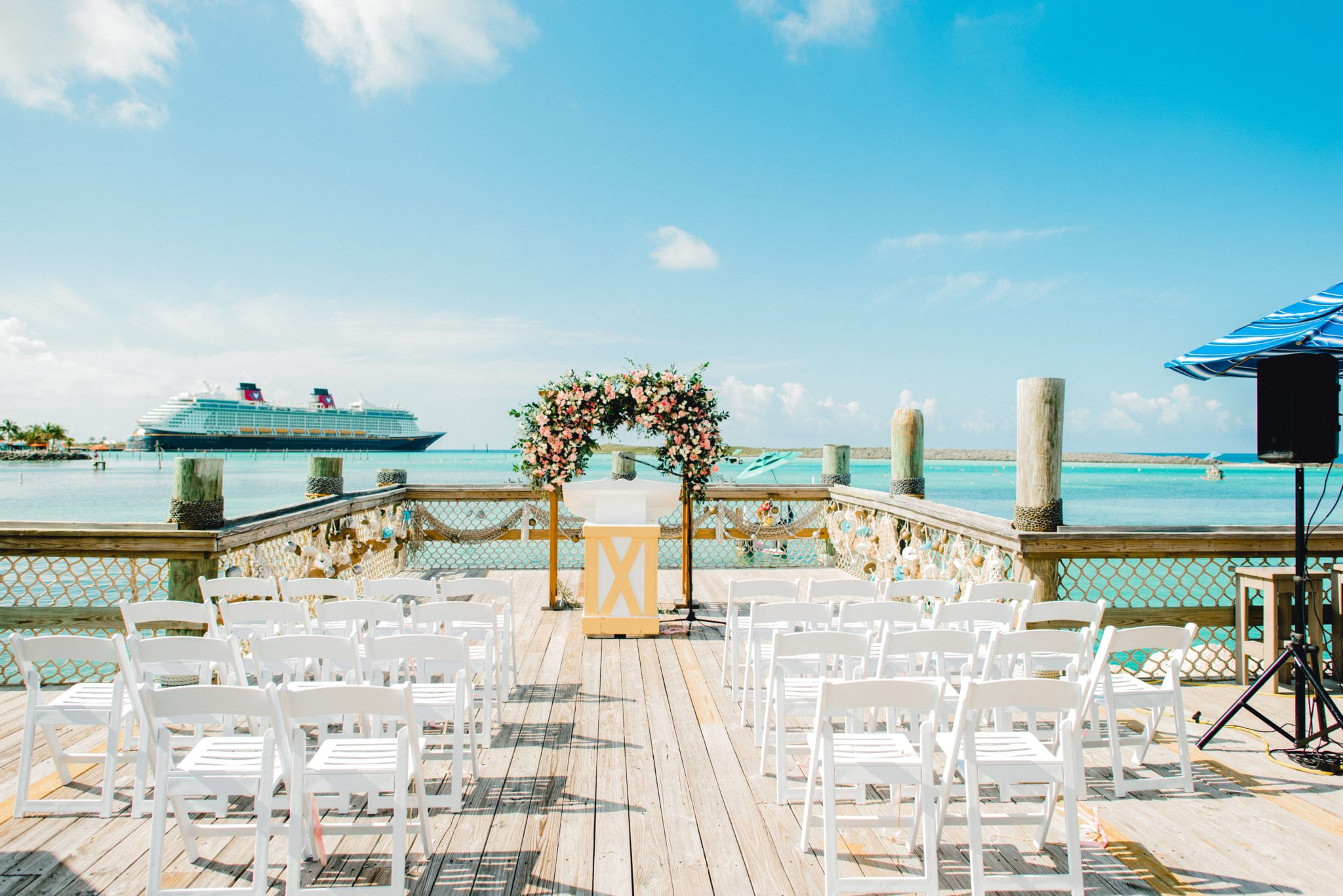 You can also have your ceremony on the high seas. Each Disney cruise ship has a stunning atrium lobby featuring a grand staircase, colorful chandelier, and elegant Disney touches. The newest cruise ship coming into the fleet later this year, the Disney Wish, has the most stunning atrium lobby of them all.
If you're not a Disney loyalist and looking for an alternative that still packs the fun and excitement of Orlando's theme parks, consider a wedding at Universal Orlando. Four of Universal Orlando's hotels, ranging from Italian elegance to rock star style, serve as beautiful wedding venues.
The excitement of Universal Orlando's theme parks is just steps away. And each Universal Orlando hotel is operated by Loews Hotels, which has a reputation for service and attention to detail.
It is possible to host a wedding, reception, or other special events inside the Universal Orlando theme parks. Not much information is available, however, so you'll need to fill out their event information form.
A Disney Honeymoon Extends the Magic
Walt Disney World is the most booked honeymoon destination in the continental United States. Whether you get married at Walt Disney World or not, take advantage of the honeymoon options available. The best feature of a Disney honeymoon is the ability to create a Honeymoon Wishes Registry.
With the Honeymoon Wishes Registry you and your honey select Disney experiences you wish to enjoy on your honeymoon. Then your friends and family can contribute Disney gift cards towards your honeymoon. You are able to use those gift cards to make the Disney honeymoon of your dreams come true.
Want to Plan a Different Private Event at Disney World?
Besides incredible fairy tale weddings, you can have your own private birthday party at Walt Disney World, or other special events like a family reunion, bridal shower, and more. Check out How to Host a Birthday Party at Walt Disney World – and Other Special Events
All images courtesy of Disney